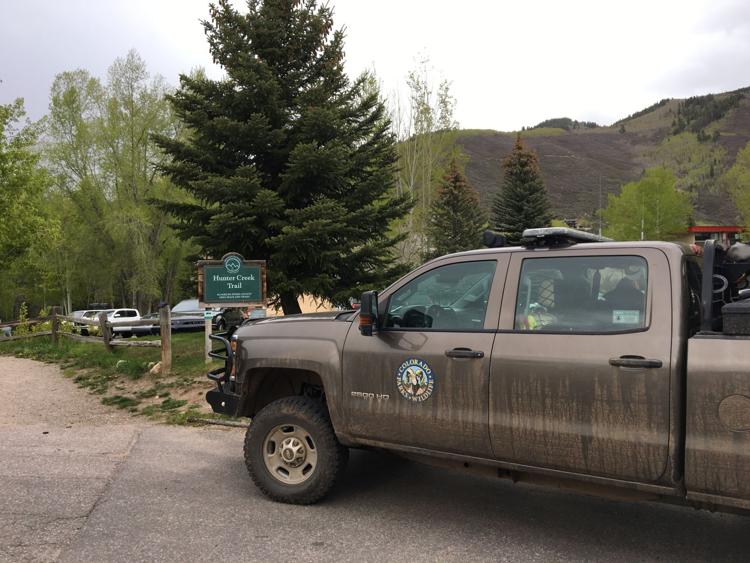 A bear suspected of biting a hiker Monday on the Hunter Creek Trail was shot and killed by wildlife officials on Thursday.
A witness reported seeing the bear near the Hunter Creek trailhead at 8:30 a.m. Thursday. Members of Colorado Parks and Wildlife and the United States Department of Agriculture's Wildlife Services tracked the bear to the intersection of Highway 82 and McSkimming Road and put it down at 1 p.m.
Mike Porras, spokesman with Colorado Parks and Wildlife, said the officers were confident that the bear was the same one that bit the hiker, whose name has not been released to the public.
"We had the eyewitness account, a very good description of the bear, and this bear certainly matched that description," Porras said.
Based on the hiker's account of the incident, the bear was light brown and weighed 200-300 pounds. Because the bear reported Thursday was seen close to the original incident and matched that description, officials were certain they had the right bear.
When CPW first arrived to the Hunter Creek trailhead area Thursday morning, the bear was no longer present. The team secured the area so that the bear's scent would remain intact and brought in hounds from USDA Wildlife Services. The dogs quickly tracked the bear to Hunter Creek and officers were able to confirm a match with the victim's description. Officers attempted a kill shot on the bear but it was not successful. The hounds continued to follow the wounded bruin as it traveled south, toward Highway 82 and McSkimming Road. Two more shots were fired, as well as a fourth shot to the head to quickly end the bear's life once it was down.
Matt Yamashita, acting area wildlife manager for CPW, responded to the original report on Memorial Day and was on the scene throughout the incident on Thursday. His team has spent days responding to reports of bears in the area.
On Wednesday night they were able to track down and tranquilize a bear. The canine measurements did not closely match the victim's puncture wounds and its belly was lighter than the initial report. A photo of the tranquilized bear was sent to the victim who said it was not the same bear, so they ear-tagged and relocated the bear this morning.
"We weren't just indiscriminately going in," Yamashita said. "We were trying to be diligent about investigating things."
The bear killed Thursday was a male, approximately 3 or 4 years old. The carcass will first be examined in Fort Collins, where CPW has a forensic pathologist on staff who will perform a necropsy. They will test for evidence of disease, including rabies, that may have caused the bear to be starving or aggressive. They will also check for injuries or abscesses that may have changed the bear's behavior.
"Based on everything we learned from the interviews and what was on site, it seems like it was an unprovoked attack so we are trying to find answers just like everybody else," Yamashita said.
DNA from the necropsy will then be sent to the Wyoming Game and Fish forensic lab where evidence from the victim is being stored, to see if there is any match between the bear and the wound.
"Here's the kicker on that one — everyone wants confirmation but there is no guarantee, even if it is exactly the right bear, that we are going to get a positive DNA match on this," said Yamashita.
When the bite was first reported, CPW released a statement assuring that encounters between humans and bears are rare.
"Bears usually stay away from people but if a bear has been fed or has lost its natural fear of humans, they can be extremely dangerous," according to the press release.
CPW removed all traps that had been set out for the bear by Thursday afternoon. And while Yamashita is confident that they killed the aggressive bear, he said hikers still need to be aware of bears in the wild, and make them aware of humans too. He said that bears are almost in a trance-like state as they are using their sense of smell to look for food and it is best for humans to make loud noises and draw attention to themselves.
"We want to snap them out of the trance for a second so they can recognize that you are there and they can take the proper precautions to help avoid you in addition to you avoiding them," Yamashita said.
The victim told CPW officials that she and her hiking companion had moved aside when they encountered the bear but had not made any noises.
Porras said individual bears differ in their reactions to humans.
"Bears tend to have their own personalities and some bears just tend to be aggressive," Porras said.
It is CPW policy to kill wildlife that has injured a human, because their priority is public safety.
"Nobody likes to put down animals, none of our officers got into this business to kill animals, but when it comes to human health and safety they are obligated by law and policy," Porras said.