There is an unusual looking airplane sitting at the Aspen-Pitkin County Airport.
It almost looks like an IKEA set in which someone held the instructions upside down and put it together backward. Two rear-facing, large propeller engines sit on a large wing that is located where one might expect the tail to be. Instead, the plane has two horizontal stabilizers on the nose, without a vertical tail fin in sight.
To the average person, it might almost look as if it belongs in space, which helps explain the name of this eye-catching plane: The Beechcraft Starship.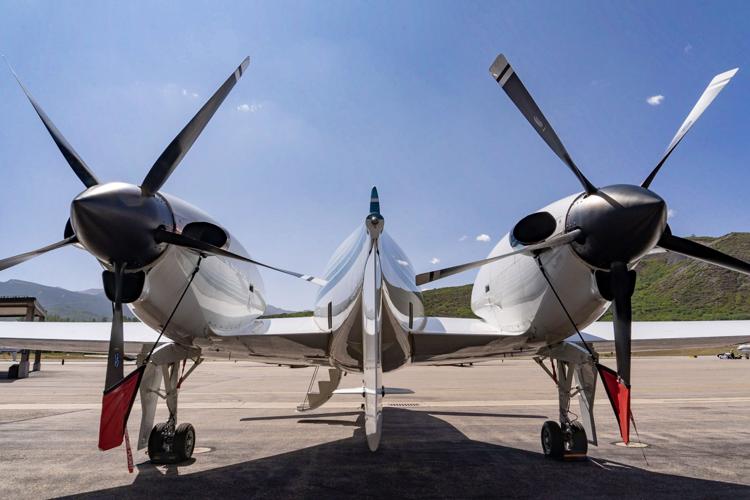 "It always draws a crowd," said Robert Scherer, the owner and pilot of the Starship based in Aspen. "When you're flying into an airport, people will look up and drive to the airport to see it."
Scherer, who has lived in Aspen for 18 years, has become known to some as "The Starship Guy" and to others as the "Starship Parts Guy." That's not unwarranted. Not only does he have one of three privately owned Starships that regularly fly, he also owns a warehouse full of parts for the plane and is the sole supplier for many such parts.
A sky-high dream
Scherer grew up in Michigan in the 1960s and said that his mom drove him and his siblings to Detroit fairly often. His affinity for aviation began when his uncle John learned to fly and purchased a Queen Air, another Beechcraft aircraft. One day, instead of driving to Detroit, he got to take the trip by air.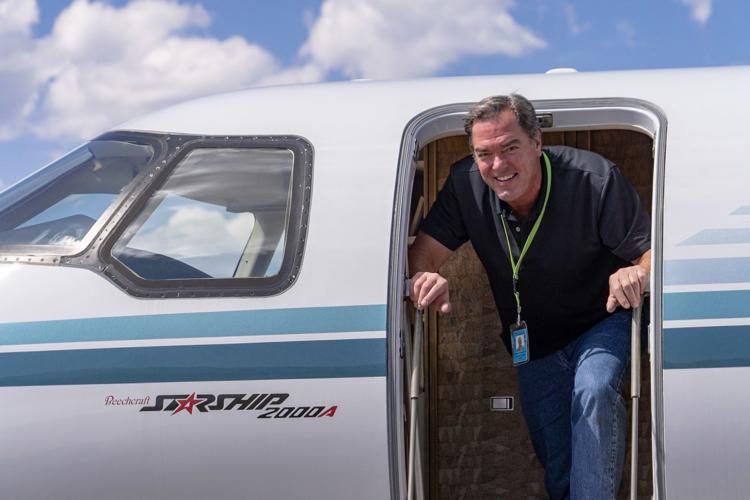 "I stood in the aisle and watched my uncle pilot the airplane and I thought, 'Wow, this is way cooler than my mom's station wagon,'" Scherer said. He wanted to fly from then on, although the opportunity did not come for a while.
Scherer graduated with a finance degree from Boston University during a recession, in a time when "nobody was hiring a finance guy." He moved to St. Louis, where his mom was living and, with nothing else to do, got his pilot's license. With the new skill, he started an aerial photography business with a friend, spending his days taking pictures of corporate headquarters for promotional materials.
Eventually, Scherer was offered a job with General Dynamics in California. The campus was large, with around 11,000 people, and it had, lucky for Scherer, a flying club. The club had a Cessna 172 that could be rented for $21 an hour wet, meaning that fuel was included.
"Even back in 1981, that was really cheap flying," Scherer said. "So I got to fly all over the West Coast."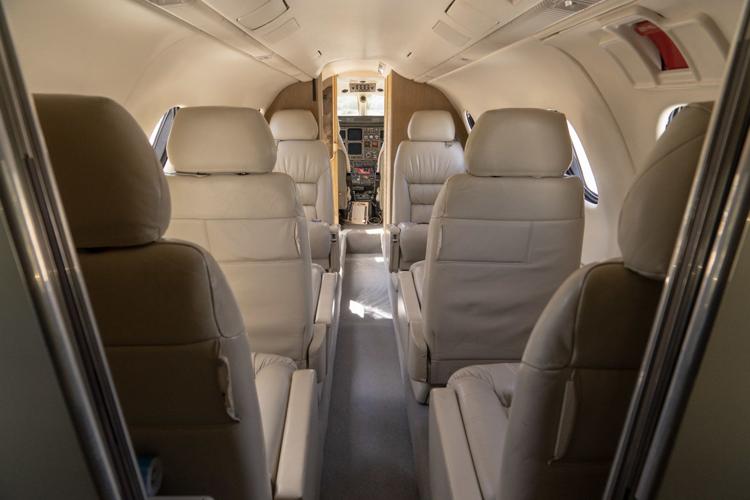 He was still working and flying at General Dynamics when his grandmother passed away, and he inherited a reasonable sum of money. A self-titled "computer guy," Scherer said he didn't know anything about investing, but he knew something about computers, including that Microsoft DOS was at the core of the systems he was using. So, he invested all of his inheritance into Microsoft.
"In retrospect it was a really great decision, but in reality any financial advisor would say you're nuts," Scherer said. "It was a very lucky decision."
He started making more in gains than he was making at General Dynamics, and so he left the job, began to focus on the stock market, and bought a Cessna t210.
Mountains and upgrades
Scherer had spent time in Aspen skiing as a kid, and his family had owned a condo back in the early 1960s. He said that at some point he wanted to be a professional skier, and although that didn't pan out, he nevertheless wanted to live here.
So, once he had his own private airplane, he began to fly into Aspen more. Realizing that his small, single-engine Cessna was not enough to handle flying through the mountains, he began to look for a plane that could make it easier to visit his favorite ski town. He was looking at King Airs, the larger version of the plane that made him fall in love with aviation, when his eye caught something.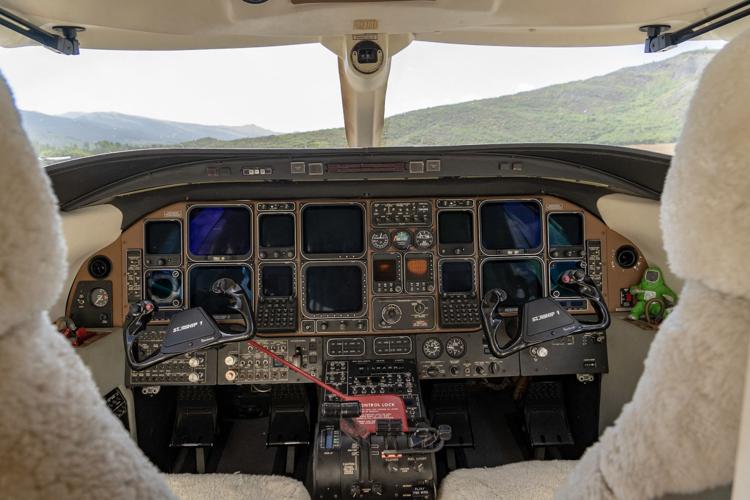 "One day, there in Trade-a-Plane [an airplane buy-and-sell publication] was a Beech Starship at the bottom of all the King Air 200s," Scherer said. "I've always had pictures of 'em, had models of 'em, admired 'em."
Scherer said that he'd never considered buying a Starship, because only 50 of them were ever produced. The next morning, he flew up to see the plane, and became the proud owner of NC-51 a week later.
The fall of a legend
When Beechcraft designed the Starship in the late 1970s, it was intended to be the successor to the extremely popular King Air. The airplane was designed in the canard style, with the smaller flight surface placed near the nose, rather than the tail. After the initial design was finished, Scaled Composites was contracted to finalize it, as its founder, Burt Rutan, the famed aerospace engineer, was instrumental in popularizing the style.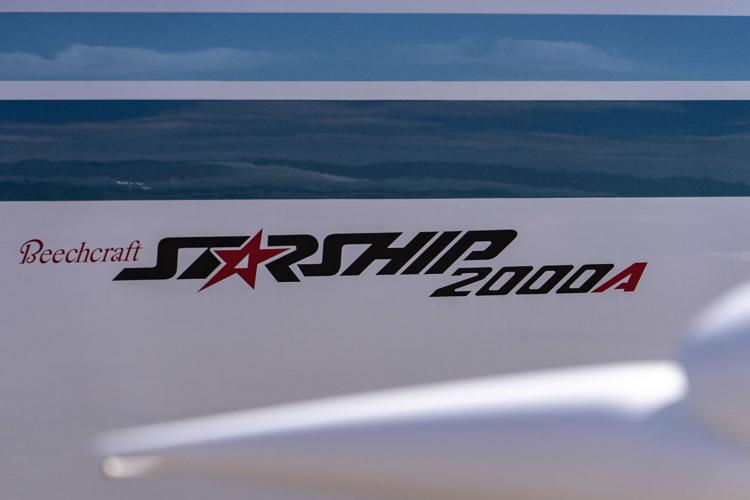 Scherer said the Starship was the first, all-composite civilian aircraft, as well as the first with digital screens for the instrument panels in the cockpit and the first certified "pusher" canard with the propellors facing the rear of the plane. He said that all of these things, although revolutionary, scared people.
"Corporate pilots took a look at it and said, 'This is really cool, but we're going to wait until the next airplane to see how this whole story pans out,'" Scherer said.
Because of these new, unprecedented ideas, among other things, the Beechcraft Starship was decommissioned. Scherer found out about the decommissioning in an article, and said about half of the Starship owners sold immediately.
Scherer, along with some other Starship owners, decided to stick with the plane. And when Beechcraft lined up a collection of the decommissioned aircraft at an airport in Arizona, he saw an opportunity to acquire parts to maintain his plane and bought four of them.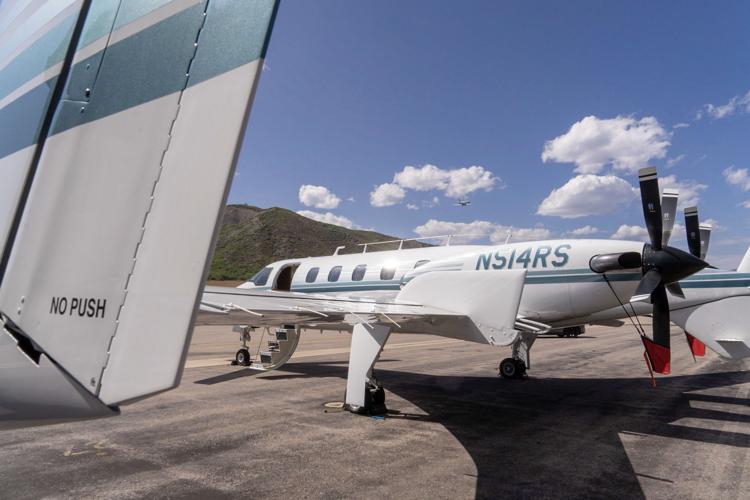 Years later, with a reputation for his ownership and support of the plane, he received a call from the parts division for the aircraft. They told him they had $38 million worth of parts they were looking to sell. He told them he didn't have that kind of money, and they told him to make an offer. After flying out to see the warehouse, he offered $250,000, and they accepted.
Now, with enough parts to "keep the aircraft going for 100 years," Scherer was in position to not only keep his Starship maintained but to also support the other planes that had been kept despite the decommissioning. Of the five still registered as active, one in Mexico and another in Germany are out of contact with Scherer, but the other two, in Tulsa, Okla., and Dallas, are supported by Scherer's warehouse corner of parts.
Star passengers
Scherer said that owning the Starship has given him some amazing opportunities. He was set up for an interview with Air & Space Magazine when the initial location fell through. They decided to head to the Mojave Air and Space Port in Mojave, Calif., where the plane was designed by Scaled Composites. Upon landing, a group of people left one of the buildings to see the plane. That group happened to be from Scaled and included Burt Rutan.
Scherer took the group for a flight in his Starship, and afterward Rutan showed him his latest project: SpaceShipOne, designed to fly into space and win the X Prize. Rutan asked if Scherer and his Starship would act as chase planes for the project, to help make observations from the air.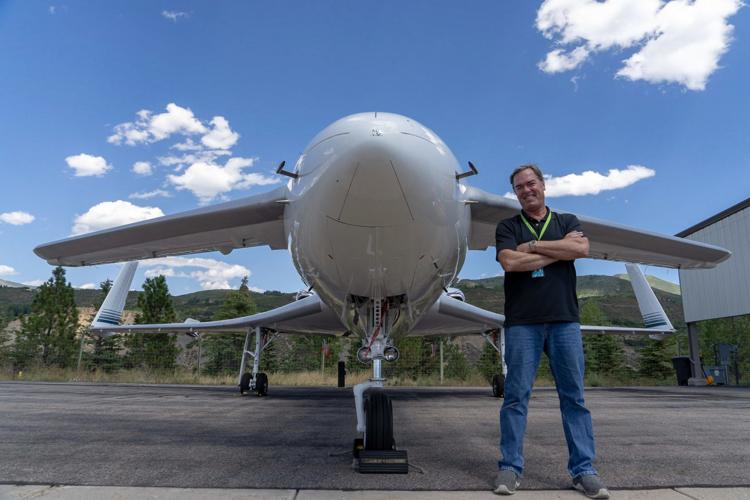 After this, Scherer and Rutan maintained a close friendship. This also connected Scherer with Rutan's brother, Dick, as well as Sir Richard Branson, founder of Virgin Airlines and a supporter of the SpaceShipOne project. Branson's signature is visible inside of Scherer's Starship, alongside Walter Cunningham and two other Apollo astronauts, and several other major names in the aerospace industry.
From wide-eyed child to Starship pilot to parts dealer, Scherer said that it's been a privilege to own the airplane. He said that he loves it and flying in and out of Aspen, the place he always wanted to live.
"The best thing about owning the airplane, in retrospect, is getting to meet Burt Rutan," Scherer said. "He's always been a hero of mine."