It's entirely possible that no one in Aspen knows just how many art galleries there are in town. There are many, to be sure, but they seem to come and go frequently, new ones pop up in unexpected places out of the blue, and a number of retail outlets, including antiques shops and jewelry stores, seem to blur the line between what is and what isn't technically a gallery.
Couple that glut with the fact that many of Aspen's galleries (and their exorbitant prices) can be downright frightening to those with no art background, and it makes for a gallery scene that, while decidedly thriving, can feel a little overwhelming for neophytes. It's a lot to digest if you don't know where to begin.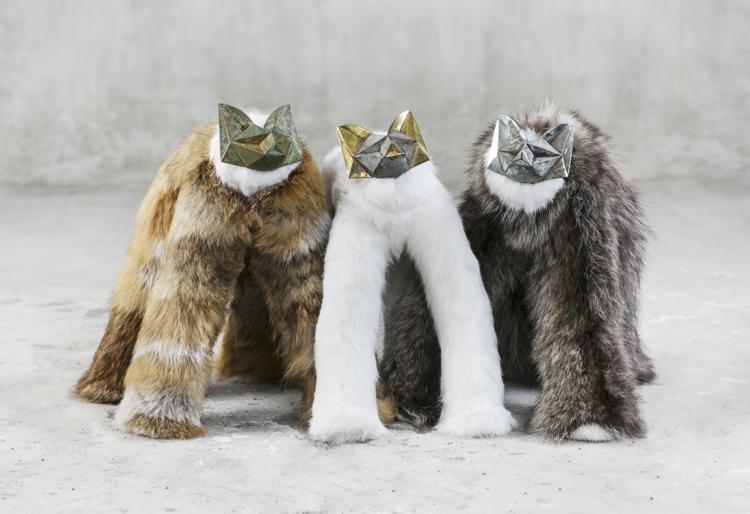 Recognizing that conundrum, one local entrepreneur decided to try to do something about it this winter and near the end of December launched a new enterprise called Aspen Art Tours. Bearing the slogan "Art Is Not to Fear," the business can be booked for private art tours and even artist studio visits, but it's the outfit's free gallery tours on Thursday evenings that have the most potential to bring new art fans into the fold.
It was that very service that this reporter — with virtually no knowledge of fine art — sought out on a recent Thursday in an attempt to better understand an industry that is seemingly everywhere one looks in Aspen and yet unapproachably esoteric at the same time. Having lived here for more than a quarter-century, I decided it was finally time to delve deeper into this intrinsic side of town and find out what Aspen Art Tours has to offer.
Under a playful Skye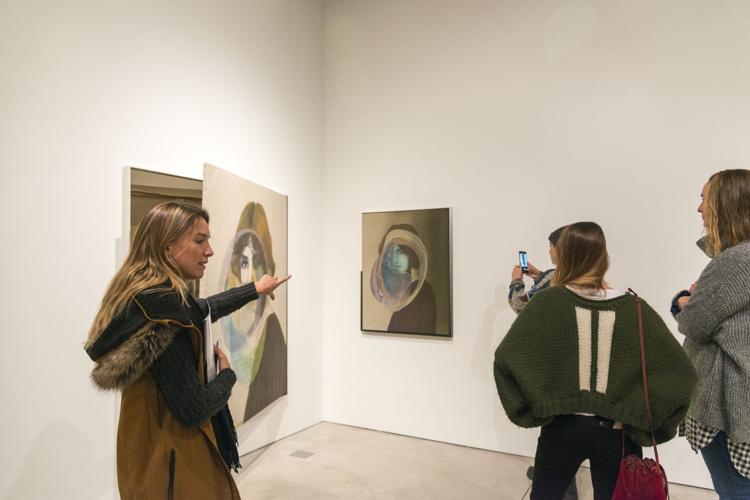 All I know about the tour as I set out is that it begins at Skye Gallery on Cooper Avenue at 5 p.m., and it will be led by someone named Agustina, the owner of Aspen Art Tours. I arrive at the gallery, owned by Skye Weinglass, daughter of Aspen icon and philanthropist Boogie Weinglass, a little before 5 and take in the current exhibition, called "Please Play," which features the whimsical creations of Spencer Hansen, an artist from Idaho who now spends most of his time in Bali gathering and compiling natural materials for his works.
Comprised mainly of fur-covered creatures that look a little like monkeys — some with masks for faces, some with crystals for heads and one roughly eight feet tall — the exhibit breaks with gallery norms by inviting viewers to touch, feel and play with the works. It adds a wonderfully tactile element to the normal viewing process, and it makes me feel almost childlike, but with no background information, I'm forced to admit I don't entirely get it, and I find myself eager for Agustina to show up and shed some light on things for me.
The Aspen Art Tours operator herself arrives a little after 5 p.m. and greets her friends at the gallery before turning her attention to the handful of us who have showed up for the tour. I don't know what I thought she might be like, but the reality is not what I expected.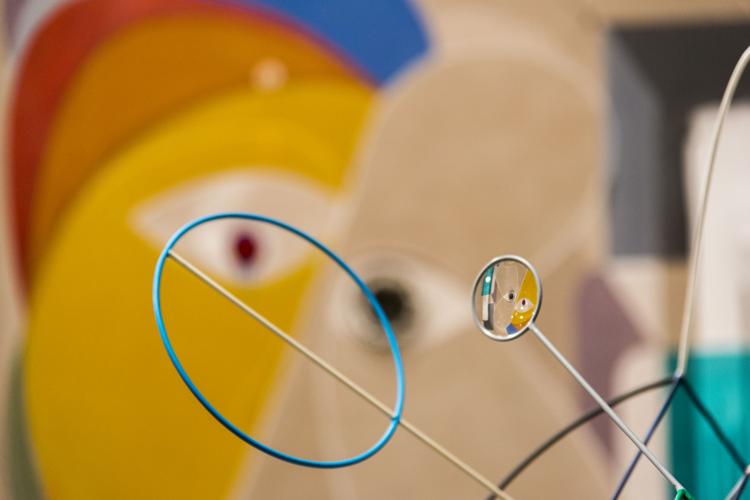 Young and petite, with long brown hair and a small gold ring protruding from her pierced nostrils, Agustina Mistretta appears every bit the ski instructor she was at Snowmass for the last six winters and nothing at all like one might assume an art expert would look. That initial impression proves misleading, however, when the native of Bariloche, Argentina, tells me about her background, which includes a degree in curation (and what she calls "cultural management") as well as a side business managing mostly Argentine artists.
She clearly knows her stuff as she describes some of the finer points of Hansen's work, and she touches on what made her start the tours in the first place.
"I realized a lot of people were a little intimidated by art galleries," Mistretta says. "Some folks honestly couldn't even tell the difference between a gallery and a museum, so I thought it might be a good idea to have something to help people."
The feng shui of fine art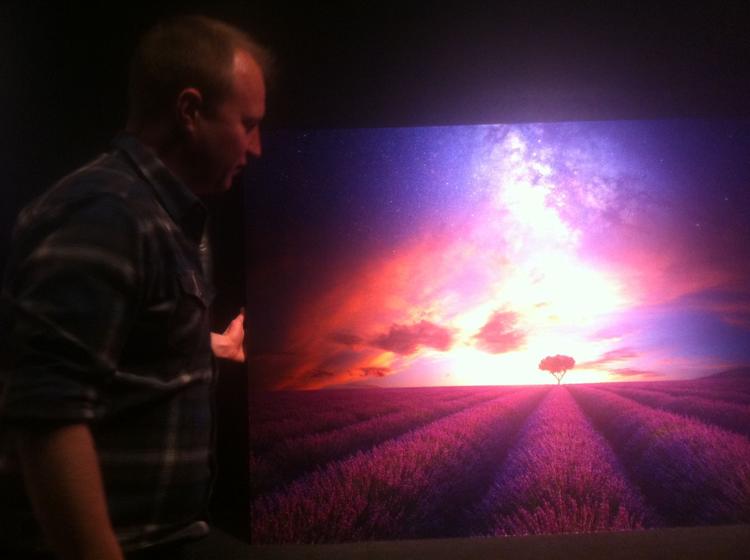 between Aspen and Miami — moves on to Boesky West. A three-year-old spinoff of New York's  
Having learned a bit about Hansen's works, the tour — Mistretta, two young friends of hers from Argentina, another young local woman and an artist woman closer to my age who splits her time between Aspen and Miami — moves on to Boesky West. A three-year-old spinoff of New York's Marianne Boesky Gallery, the small two-story space on Spring Street currently houses an exhibition by the German artist Matthias Bitzer called "3."
The point of the exhibition's name is never fully explained, but that doesn't keep me from marveling at the pieces, which include large wall hangings and wire sculptures that all seem to have some hidden element that makes them more interesting; one sculpture contains magnifying lenses through which other pieces become distorted, while a sizable painting swings wide to reveal a mirror and its own reflection. The effects lend depth and import to the works, which are presented at different eye levels and hung in a way that minimizes clutter and draws more attention to each individual piece.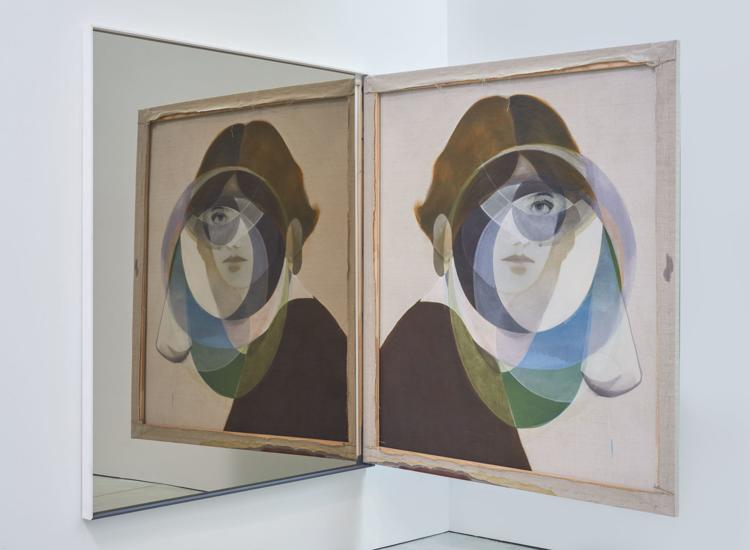 I ask Mistretta if there is a method or strategy involved when displaying art and learn that there most certainly is. Much depends on the gallery walls and the available lighting, but, in short, curators try to place things in a way that gives each piece ample space and helps set it apart from the rest of the works. It's a point that is driven home later as we pass another gallery with walls so overly festooned with paintings that it's difficult to focus on any one work. The result is that nothing stands out very much, whereas everything did at Boesky West.
The art of hanging works comes further into focus at our next stop, Galerie Maximillian, where the main exhibit consists of works by the renowned American artist Jeff Koons. Known mostly for his use of pop culture objects in his art, Koons instead turned to the classics this time around. The exhibition, called "Gazing Ball," takes reproductions of famous works by the likes of Van Gogh, Gauguin and Manet and adds a mirrored blue circle to them right at eye level.
"It's a way for the viewer to be included in the work," Mistretta said. "It allows one to gaze beyond what's purely physical." But then she brings up an interesting point that I was also wondering about. "But is it original?" she asks. "And does that really matter?"
Shedding tiers
The issue of originality lingers over the works at our next stop, the Casterline/Goodman Gallery on Cooper Avenue, which describes itself as "committed to bringing first-tier, investment-grade original artworks from the 20th and 21st centuries to market." Indeed, among the artists are household names that even I'm familiar with — Damien Hirst, Keith Haring, Ed Ruscha — and Mistretta explains that while some galleries are for buying stuff to hang on one's walls, Casterline/Goodman is all about investment art that is likely to go up in value.
The pieces are nice, to be sure, but other than the names behind the works, nothing jumped out at me and it serves as an intriguing look into the power of reputation in the art world. Is Hirst a better artist than Bitzer? Not to my eye, but Hirst is more famous, so his piece, a painting of different colored circles, is on a whole different level — making it "first-tier" and "investment grade."
It's an object lesson that while beauty may be in the eye of the beholder, at a certain level subjectivity kind of goes out the window, to be replaced by the art-world equivalent of name brands. It makes sense on an economic level, but spiritually the pieces don't move me the way the photographs at our next stop do.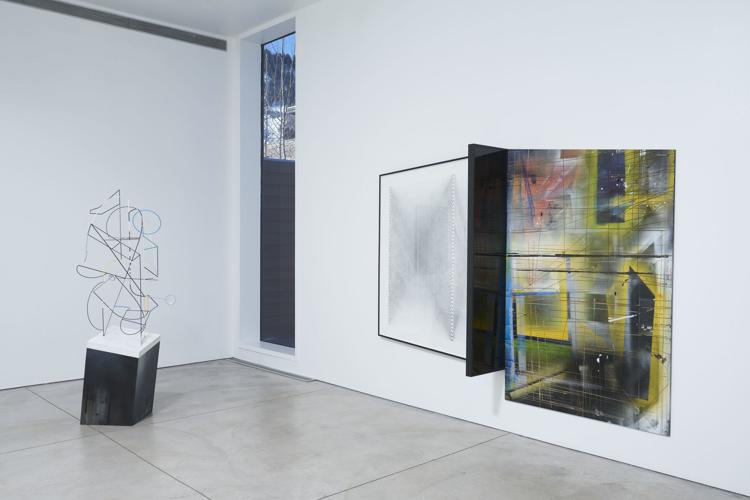 Owned by the only artist it represents, Lik Fine Art on Hopkins Avenue (one of 17 in the U.S.) displays Australian photographer Peter Lik's stylized, large-format images of the natural world. From aspen groves to seascapes to the Maroon Bells, Lik's photos, often made up of multiple exposures and brushed with crystallized silver halide to help them better catch the light, are super cool, to my eye anyway. They're rendered even cooler when the gallery's Jacob Schmidt takes us to a back room to show how the silver halide holds the light even as the room goes dark, creating a sort of artificial sunset.
It seems an appropriate denouement for the tour and proves to be just that when we learn that our last stop, the Cha Cha Gallery on Hyman Avenue, has closed while we were lingering at the others. It's all right, though. What we've seen in the last two hours is plenty enough for a noob like me, and I've absorbed about as much knowledge as I can for one night.
Strictly gratuity-based, right now the Thursday tours are a labor of love for Mistretta — "I do it because I want to get people interested," she says — but she's delivering a good product that many people in Aspen would be enthused about if they knew it existed, so it's likely the tours will grow in popularity as word of mouth spreads. Mistretta hopes to reach out to sponsors and nonprofits (the Miami artist, a member of the venerated philanthropy group Les Dames d'Aspen, offers to help with this) and turn the tours, which can include galleries besides just the ones we visited, into more full-fledged social events.
It's a good strategy in a party town like Aspen, and while it may never educate people in everything there is to know about art in town (a task that would be virtually impossible), it will certainly help participants overcome the intimidation factor that keeps them from going into galleries in the first place. I know it did for me, and I feel like a whole new side of Aspen is now open for me to explore.