Aspen Skiing Co. was dealt at least a temporary setback when two of four Pitkin County commissioners indicated at Wednesday's regular meeting that they would not vote to support an ordinance rezoning 167 acres on the back side of Aspen Mountain to accommodate ski-area expansion.
Commissioners Kelly McNicholas Kury and Steve Child expressed numerous concerns about the Pandora's proposal, many of which are related to the project's environmental impacts and its perceived incongruity with the East of Aspen/Independence Pass Master Plan. George Newman and Greg Poschman wanted to pass the ordinance, although Poschman sought to place additional conditions on its approval.
With a 2-2 split apparent — Patti Clapper, the board of county commissioners' fifth member, has recused herself from the proceedings because her son-in-law works for the company — Kury offered a motion at the end of the discussion to deny the rezoning request. However, before a vote could be taken on her motion, SkiCo representatives asked for a continuance to give the company another chance to respond to issues raised during the meeting.
Commissioners ended up unanimously agreeing to continue the matter to Sept. 11. Wednesday's meeting marked the seventh gathering this year in which the county's elected officials have listened to details of the rezoning request or its related component, a resolution that seeks to update the Aspen Mountain Master Plan. 
At a special meeting last week, Child voiced doubts about supporting the major part of the rezoning package, which would move 131.83 acres zoned as Rural and Remote to the SKI-REC classification necessary for the expansion. The ordinance also would transfer 35.28 acres of property zoned as AR-10 (agricultural-residential) to SKI-REC, a change to which Child said he did not object.
Newman's previous comments and his June 26 affirmative vote on first reading suggested he would support the request upon a final vote. That left Poschman, who also advanced the proposal in June but had numerous reservations, and Kury, who couldn't attend the June meeting because she had just given birth to a child, as potential undecideds.
Kury clued Wednesday's audience in to the outcome when, prior to public comments, she announced that she would not vote to rezone. For the next 90 minutes and the remainder of the discussion, it was apparent that SkiCo did not have the three votes needed for passage.
Kury joined the BOCC in January after winning her election, without opposition, in November. She admitted before announcing her decision that she was a little nervous, speaking in front of the biggest meeting-room crowd she's faced in eight months.
"It's certainly the most difficult application and complicated decision that's come across my desk in my short term here," she said. "I've tried to look at this from every point of view, and argue with myself back and forth on all the merits on all the requests … and there's a lot here that I support and a lot I don't."
Kury said zoning decisions are among the most serious actions a local government can consider. "And while this may not technically be a 'spot zoning' request, it kind of smells like one to me," she said.
She referred to the East of Aspen Master Plan, and noted that the document includes language about maintaining Rural and Remote zoning on privately held parcels on Richmond Hill Road and east of the ski-area boundary.
"It's difficult to overcome that language, I think, in this application," she said. "The evidence that's been presented to us [by SkiCo] as 'changed conditions' I think is fairly sloppy."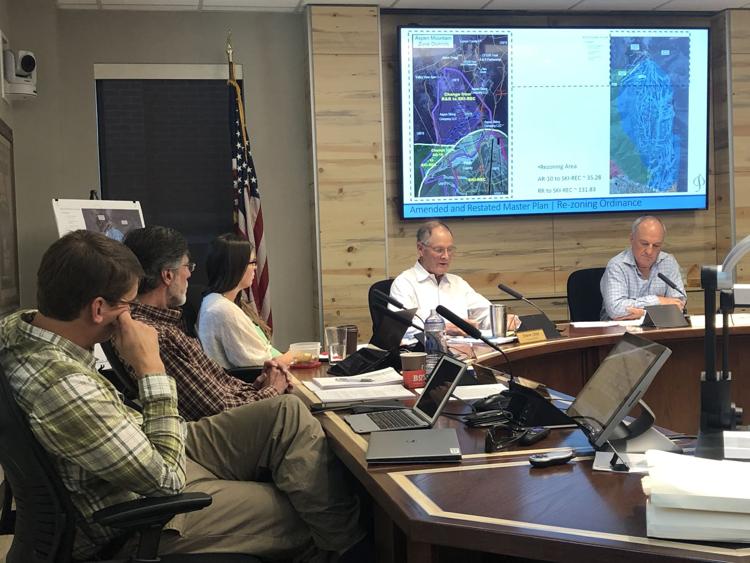 Kury said she needed more data about how recreational use in the backcountry has increased and identification of the commercial outfitters doing business in the Pandora's area. SkiCo contends that the backside of Aspen Mountain has seen increasing use by skiers and snowboarders in recent years and that expanding its operations to the area would make it safer.
Kury further noted that while SkiCo is touting its expansion as a public benefit, the public will no longer be able to use the area without paying. The land to be rezoned is a mix of U.S. Forest Service and SkiCo property.
"The lands are private, and the proposed use is not public. People have to pay a pretty penny to get access to Pandora's. And, the Forest Service lands that are in there are now going to be restricted once they come into the ski-area boundary, and I'm sensitive to that," she said.
One of the arguments in support for the rezoning relates to climate change. Top-of-the-mountain skiing, such as in the Pandora's area, will be more consistent in the future than activity at lower ski-area elevations, should temperatures continue to climb.
Kury said while she's sympathetic to that concern, "I don't feel that that's a 'changed condition' now. That may be a 'changed condition' in the future, or in the near future perhaps."
She added that Rural and Remote zoning is supposed to serve as a buffer to increased intensity of development and uses "and now we're changing that for an increase of intensity and uses."
Child, who last week offered the concept of shifting the expanded ski area to a lower area of Pandora's, accessible by the existing Walsh's trail and a shorter lift, suggested Wednesday that SkiCo could improve its existing operations by rebuilding Lift 7, which is seen as slow and outdated.
He said the public and the residents of Aspen Mountain's back side "have a right to rely on" existing zoning regulations. Rezoning the Rural and Remote area would jeopardize the entirety of such districts, setting a bad precedent, he said.
Like Kury, he argued that activity in the Pandora's area don't represent "changed circumstances," as the company claims. People have been skiing in the backcountry area for decades, he said.
As for the climate change comments and the need to increase operations at higher elevations, Child said he believes there's "nothing we can do to prevent complete lack of snow within 50 years here. 
"I think the days of downhill snow skiing are numbered," he said. The seasons are getting shorter and Aspen is getting a different kind of snow — a heavier, wetter product than before, he said.
"Given the long-term trends that are happening in the world, I'm more concerned about the survival of human civilization than about whether people can get 50 more years of snow-skiing out of Aspen Mountain," Child said.
He said if SkiCo wants to utilize the Pandora's area, it could expand its backcountry snowcat tours there. Bringing up the Aspen Chamber Resort Association slogan "Defy Ordinary," he suggested that the company's plan to expand to the backside was more on the ordinary side. The company should "think outside the box," he said, to come up with a more extraordinary proposal. 
In the end, Child said he wasn't necessarily saying no to expansion, just expansion in an area designated as Rural and Remote.
Poschman asked SkiCo to provide additional data at the Sept. 11 meeting relating to carbon emissions that would be produced from removing trees to create new trails and gladed areas in the Pandora's zone.
He said he would prefer that SkiCo phase its logging plan over several years in lieu of doing it all at once. He asked whether the company could reduce the amount of heavy machinery it would use to create the expanded ski zone, perhaps building it the way it might have been done decades ago.
He acknowledged that his request might be viewed as "pie in the sky," but suggested that if any company could take a revolutionary approach, SkiCo could.
"This has been difficult for everyone," Poschman said, before saying he would support the request. "I think that maybe it's messy, the way it's gone forward, in some people's minds. I would like to see the applicant move forward, in the most carbon-responsible way possible, as only the ski company can."