A student-led pride parade will march down Main Street in Carbondale today, making it the first LGBTQ+ event of its kind in the town. Members of the Carbondale Middle School Gay Straight Alliance (GSA) club have been planning the event for the entire school year, as a public display of support for the community's gay youth and allies.
"Carbondale has always been a great community but we've never specified that this is something we stand for," said seveth grader Annabelle Stableford."I think it'll be nice for everyone to see that no matter who they are, Carbonale is a place they can be."
The march is one of many events being held as part of Carbondale's First Friday Family Block Party. Beginning at 3:30 p.m. attendees can gather at True Nature for face painting and a drum circle. The parade will begin at 5:30 p.m. with all welcome to join as it makes its way onto Main Street and past Fourth Street Plaza.
"There are now four rainbow flags hanging off lampposts in Carbondale — that has never happened before," said Janet Gordon, a counselor who works with GSA groups in schools throughout the valley. "Can you imagine being a young LGBT kid and for the main street of your home town to basically say 'who you are is good.'"
The middle school's GSA formed one year ago, and when students found out that there had never before been a pride parade in their town, they set out to plan the event. Students spoke in front of the town trustees where they earned unanimous support for their event. A host of local LGBTQ+ nonprofits have gathered to bring in volunteers and host booths at the family night.
"I just think it's an amazing thing that all of these factors have now come together with PFLAG and AspenOUT and Gay4Good and the middle school kids leading the charge. It really has been like the kids have led the charge and the adults are like 'okay, we are on it,'" Gordon said.
Gordon cited statistics that youth who identify as LGBTQ+ are significantly more likely to contemplate or attempt suicide. She said those numbers go down for kids who are accepted by their families and their communities.
"I think adults sometimes like to sugarcoat the world — especially in this valley we go, 'We are so accepting, why would we need a parade if we are so accepting?'" Gordon said.
Aspen's signature LGBTQ+ event is Gay Ski Week, put on by AspenOUT. Proceeds from that event are donated to area GSAs and go into a fund for youth or their families to receive counseling services. The massive rainbow flag that gets skied down Aspen Mountain at the end of each Gay Ski Week will be present at this evening's march.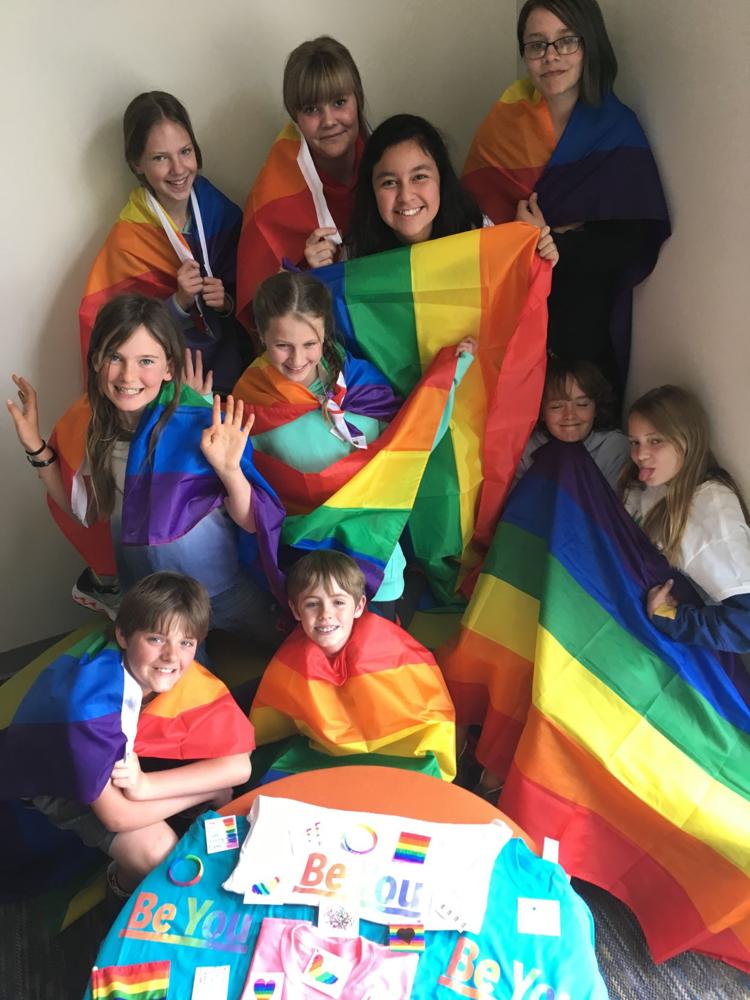 "My family has always been super accepting of everybody and everything," Stableford said. But she added attending the GSA at her middle school isn't always easy.
"It's not the most popular thing according to some kids, it's kind of hard to stand up to them but it's the right thing to do," Stableford said.
Lucy O'Byrne, seventh grade, is also a member of the Carbondale Middle School GSA. She finds the group helpful, but acknowledges that it might not work for all students who are not ready to come out or label their sexual or gender identity.
"The GSA is really open and it feels really nice to have a space you can feel safe in," said O'Byrne. "It is worrisome though because people in your school know you are going and then it's just like rumors and yeah, you definitely do have to be brave to participate in that."
She said the parade is a good way for everyone to be involved, without specifically coming out. And a strong turn out of community members might help show others that being gay or being accepting of someone who is gay is well-supported in Carbondale.
"The parade is definitely going to make a difference in our community with how open this town is to unique people and new ideas," said O'Byrne.
Lorri Knaus is a co-sponsor of the Carbondale Middle School GSA, which has about 30 participants, double that of area high schools. She pointed out that middle school is a really hard time for all students as it is, but she has seen GSA members thrive in the last year as the group has formed and begun to support each other.
"This generation — and this is going to make me cry — I am so impressed with this generation. They are activists and advocates so much more than my generation and they are leading by example," said Knaus, a school library aide.
"It's so important to actually make the statement," said Gordon, the GSA counselor. "Kids, people, all of us, need to hear 'we love you, we want you, we accept you for who you are.'"
Gordon hopes adults and families throughout the valley will show up in support.
"This parade is about everybody, and it's about time we did this," she said. "It's about time we actually stood by what we say about this valley which is that we accept. God, it's just so important to these kids. I can't think of anything more important to be doing on Friday night than to be on Main Street in Carbondale to show these kids that they matter."