An empty chair. Fragments of old clothing, once worn. Warm colors and imagery of home, of a space where someone once felt safe. A human has been there but is not currently there. Their figure is absent, but their presence is in the stitching, the fabric, the materials and textiles, handcrafted into "Elegy Quilts."
Artist and curator Jesse Krimes has worked with formerly and currently incarcerated people to create "Elegy Quilts," a series of large-scale textile works constructed using personal clothing and other artifacts of people who have found themselves in prison. The quilts depict scenes inspired by the subjects' memories and descriptions of spaces in their homes from the last time they felt safe.
The numbers are staggering — "2.2 million people are in prison, but that's just a cold statistic, a number in the sky," Krimes said — but the humans behind bars, and the statistics, are what inspire Krimes' art.
"When you put an actual human experience to that number, when you show people visible, tangible art and say, 'This is Jemal, who's incarcerated, and this is his house and this is his clothing and this is him,' it has the ability to connect on a much more personal level."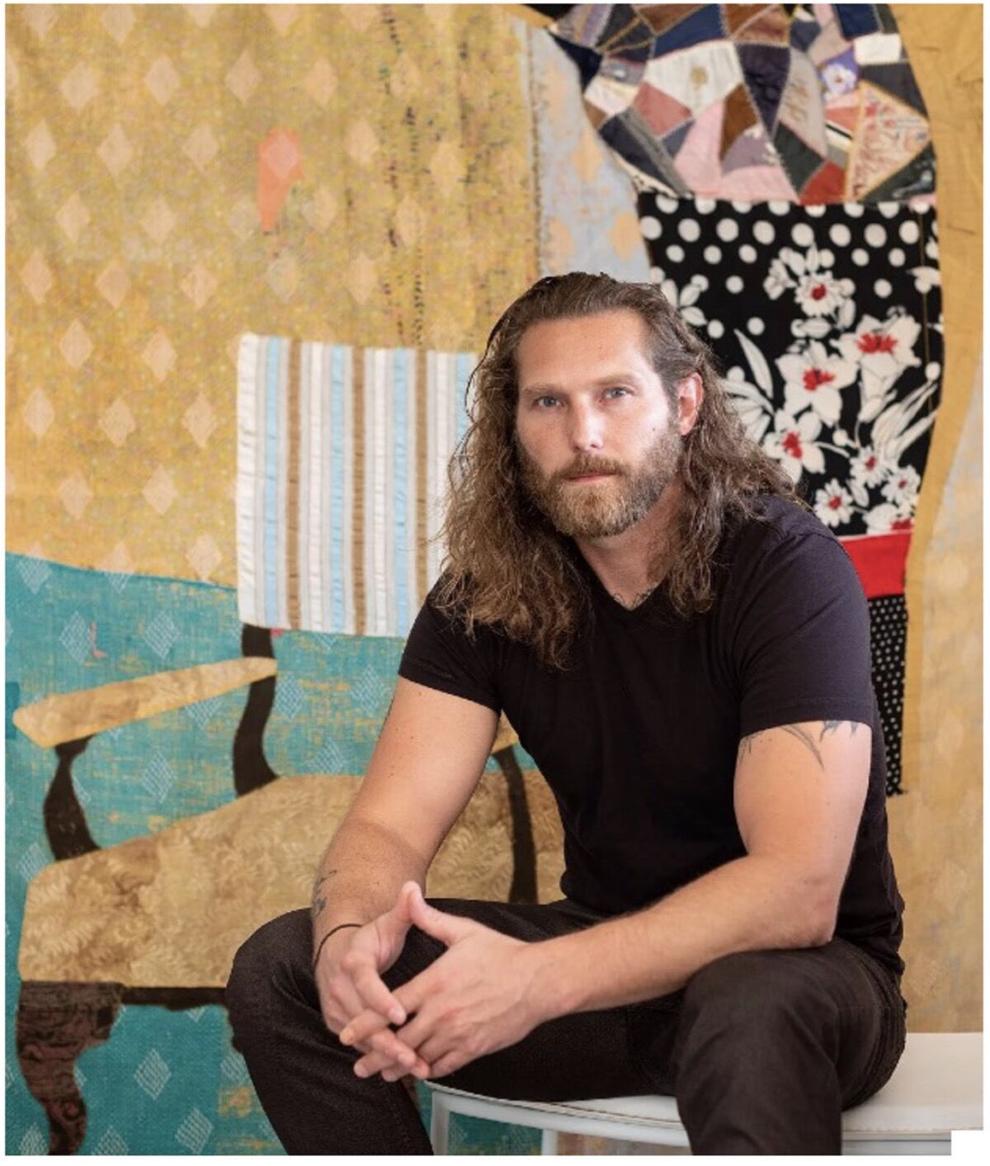 The "Elegy Quilts" exhibit, which is on view at the New York-based Malin Gallery's Aspen pop up through mid-September, is part of a much larger project. Krimes aspires to create 2.2 million quilt squares — one for every single person who is in prison.
The artist donated one of his elegy quilts, entitled "Aurora, 2021," to the Aspen Art Museum for ArtCrush 2021. Krimes made his first-ever visit to Aspen in early August to participate in the ArtCrush week of events and introduce his works, as well as the conversations around them, to the Aspen community. On its online auction page, Sotheby's estimated Krimes' donated piece as being valued between $40,000 and $50,000.
"My experience in Aspen has been one of genuine kindness and openness to my work, which I was a little shocked by," Krimes said. "Being able to talk to people here about something so traumatic and complicated actually allowed a lot of them to open up and connect with my story."
Krimes himself was in prison for six years after being charged with an initial 140 grams of cocaine — the drug weight later inaccurately increased to 50 kilos after he refused to serve as an informant at the jail in his hometown of Lancaster County, Pennsylvania, according to Krimes.
When Krimes was transferred to another county jail in Harrisburg, now facing federal charges and a mandatory minimum of 10 years, he was placed in solitary confinement.
"As soon as I settled in solitary, I started to make art," Krimes said. "I had the time, and I was left to create."
Krimes explained how he began collecting fragments of soap and would transfer mugshots from newspapers onto the surface of the soap by removing the newsprint to create a "ghost-like, delicate image."
During his time in solitary, the artist also became interested in the poker games the other men played through their cell blocks. Because nobody could physically see anybody else, they would yell out the suit of the card they were playing, place it in a sock and pass it down the long corridor stacked with small cells. A game based on body language, bluffing and deceit turned into a game based on trust.
"I picked up on this really interesting shift that happened through the obscuring of vision," Krimes said. "And they were playing cards to maintain their sanity in solitary in the same way that I was creating art to maintain my own."
Krimes began collecting their used playing cards, cutting the faces off of the queens, jacks and kings and gluing stacks together with toothpaste in order to create containers for his imprinted soaps. Krimes discussed how he played with the faces of the cards, using them and the mugshot images to depict shifts in identity formation and masculinity and royalty versus that of the offender.
Piece by piece, the artist smuggled out 292 mugshot portraits on squares of soap kept in their respective symbolic house of cards. The final product, "Purgatory," marks Krimes' first project as an incarcerated person. It certainly wasn't the last.
Plenty of gray area in Black and white sentencing
Krimes reflected on a specific moment of his sentencing that he feels encapsulates everything that is wrong with our country's criminal justice system. He explained how the judge was supposed to give him a 100-month sentence at minimum but "saw value" in Krimes and decided to give him the "largest variance the court has ever handed out," settling on a 70-month sentence instead.
"But in the same breath, the judge said to me, 'Just so you know, someone came before you just earlier today who had the exact same criminal offense with the exact same criminal history, and I just gave him 22 years,'" Krimes said. "So, I got six years, that guy got 22 years, and the only thing that was different? That guy was Black."
Across the country, Krimes has found that people connect with his story, mentioning how one in two people in the United States have a loved one who is incarcerated. He pointed out how he's been home for eight years now and the Black man with the exact same criminal offense and history, who stood before the exact same judge that day, is still in prison.
"You can say it's directly racist or internally biased, but there are a whole lot of Black people serving sentences that are just so draconian — for nothing," Krimes said. "That lit a fire in me; it's what drives my work. It drove my practice while I was inside federal prison and everything I've done since I've come home."
Following his sentencing, Krimes was sent to federal prison, where he taught art classes and could order supplies through an approved art list for the facility's recreation department, providing him with access to more materials like colored pencils.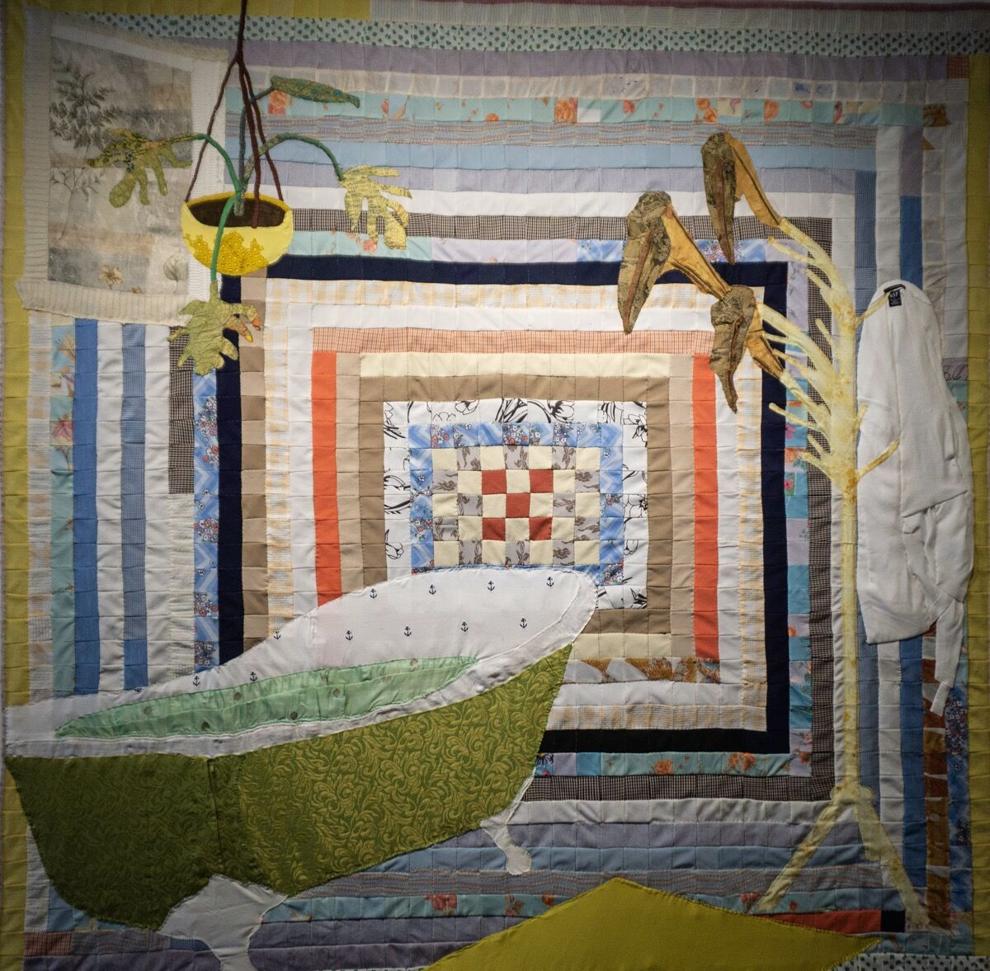 Stationed in a little "closet-like" room with three or four guys who were also making art, Krimes embarked on his three-year ­masterpiece, working on the project for 12-14 hours a day, every single day.
"I never missed a day because I made the decision very early on that no matter how many years I got, I was not going to let the time do me — I was going to come out of this better than when I came into it," Krimes said. "And if I didn't make it out, this piece will convey the experience of incarceration, or the ­experience of the world as seen from someone who is incarcerated."
With only hair gel, newspaper and a plastic spoon, Krimes developed a hand-printing process to transfer images he collected from The New York Times onto disembodied prison bedsheets. He explained that one panel, which is about 3.5 feet wide by about 5 feet tall, would take him a month to complete, imprinting 30 to 50 images onto the bedsheet and then using colored pencils to draw figures and color in the backdrop.
"Immediately after I completed one of them, I would give it to my friend, who'd been incarcerated for almost 10 years before I got there, to ship it out," Krimes said. "I knew that if I held onto them for too long and the guards did a shakedown, they would know I was taking prison bedsheets — contraband — and send me to the shoe or back to solitary confinement."
Krimes created and shipped out 39 individual panels, all done by hand, and though he had an idea of what the final product would look like in his head, he never saw the whole piece compiled until he was released from prison.
"When I laid it out for the first time, it was empowering," Krimes said. "I had made it through this system with myself intact, and I had something positive to show for it."
With watery eyes, Krimes pointed to an image of the final artwork, "Apokaluptein: 16389067," that was pulled up on this reporter's computer screen during the interview and quietly said, "This, this was the one and only thing the prison could not take away from me."
Pushing new boundaries
Krimes had only been out of prison for about two weeks and was still residing in a federal halfway house when he was asked to show the piece and give a talk at Eastern State Penitentiary through his job with Mural Arts Philadelphia. From then on, the piece attracted attention and press. Or as Krimes puts it, "blew up into this thing."
"Still, at that point, no one was really paying attention to me as an artist or my art career other than the sensational parts of my story," Krimes said.
But in 2016, Krimes was brought into a newly opened, small gallery in New York City by the name of Malin Gallery and was introduced to the gallery's founder and owner, Barry Malin.
"I offered to represent Jesse without even seeing his work in person — only from briefly speaking with him," Malin said. "It was obvious to me that he was the real deal, it was just about seeing if people would give him the chance."
Krimes was one of the first artists that Malin agreed to represent, putting on the artist's first solo exhibit, in which "Purgatory" and "Apokaluptein" were the two works presented. Both Malin and Krimes commented on how they took a leap in the art world and successfully grew together.
"I knew all along that he deserved it, but this mass incarceration art was just not something a lot of people were open to at the time," Malin said.
Today, major, influential institutions in the art world are working to change the narrative and open up conversations through exhibitions, programming and ongoing projects that explore the social and cultural impact of mass incarceration.
From Sept. 2020- April 2021, "Apokaluptein" was featured in "Marking Time: Art in the Age of Mass Incarceration," an exhibition hosted by MoMA PS1 that showcased "art made by people in prisons and work by nonincarcerated artists concerned with state repression, erasure, and imprisonment," as stated on the MoMA website.
The exhibition was organized by guest curator Dr. Nicole Fleetwood, professor of American studies and art history at Rutgers University, who spent a decade researching the creative processes of incarcerated artists and art that responds to mass incarceration. The exhibition followed the release of Fleetwood's book, "Marking Time: Art in the Age of Mass Incarceration."
Krimes was one of 47 other artists in the exhibit, and according to MoMA PS1 Director Kate Fowle, he was one of the stars of the show. Fowle described "Apokaluptein" as "one of those epic works that you rarely see in this day and age."
"The scale and ambition for his work, the way he encapsulates key issues and brings them back to humanity and individuals rather than names and numbers, is extremely important and extremely powerful," Fowle said.
Fowle mentioned how "Marking Time" was only the starting point for more projects and programming related to art and artists within this field. MoMA PS1 is currently working with Krimes on developing a school for former incarcerated artists.
"Jesse is a leader within this field," Fowle said. "He's changing the narrative and opening up conversations with people through his art."
In addition to his artwork, Krimes founded "Right of Return," an organization that offers fellowships for formerly incarcerated artists across the country to create artwork, providing them with opportunities to build careers and connect with other advocates.
Through his artwork and activism, Krimes strives to change perspectives on people who are locked behind walls, making their full humanity visible.
"Art creates a space for people to come into a subject that is often very dark, very hidden, and experience it on their own terms," Krimes said. "I try to create artwork that anyone can enter into, but once they enter into it, then I challenge them, push them to think about not only what an empty chair may mean to them, but its significance and impact on other people's lives — people who are, or were, incarcerated."