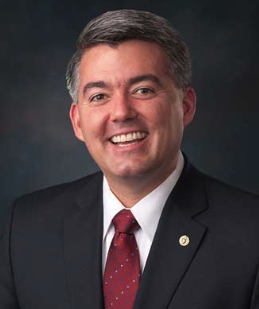 Republican U.S. Sen. Cory Gardner of Colorado and Pitkin County officials met Monday morning for a discussion on various local issues, including future federal funding for possible airport runway and terminal improvements.
The nearly one-hour meeting was held at the Aspen-Pitkin County Airport. Gardner, Airport Director John Kinney and county commissioners Greg Poschman, Patti Clapper and Kelly McNicholas Kury were in attendance, Kinney and Poschman confirmed.
A primary point of discussion, according to Poschman, was the Federal Aviation Administration's displeasure over a previous county decision not to accept a recent FAA offer to provide funding for airport upgrades. In lieu of accepting the money, local officials wanted first to undergo a public visioning process to determine the future of the local air-transportation facility.
Under the ASE Vision process, more than 100 community members assigned to a handful of committees have been meeting since the spring to study numerous airport issues with the goal of making a formal recommendation to county commissioners by the end of this year about the scope of the expansion. Since millions of dollars in federal funding will be needed to make the project a reality, commissioners sought Gardner's support in helping to ensure that FAA money will still be available after the community visioning process is finished, Poschman said.
"We announced we were going to do a public process on the airport, and that was news to them," Poschman said, regarding the FAA. "It immediately caused a lot of concern from the FAA. There's been a lot of stress about this [among airport and county officials]. You have to get in line for a grant, and when your number comes up, I think what they expect you to do is take the money, and we said, 'No, we're not ready to do that yet.'"
Commissioners asked Gardner if he would assist the county in securing federal funds for the project once the ASE Vision process is completed, Poschman said.
"That was the big ask. We said, 'This is the process we're doing, it's working, the community's engaged, we've all been acting in good faith, so when it comes time to be talking with the FAA, would you help us out?' And he said he would," Poschman said.
"He said he'd be there for us. I'd call it a success."
Gardner spoke about what's going on at other airports around the state, including the creation of "virtual control towers" that rely on technology to sidestep new FAA regulations about the height of more traditional types of air-traffic control towers, Poschman added.
Kinney said Gardner's office called Friday wanting to arrange a meeting. He then invited commissioners to the airport for the discussion.
"We gave him an update on where we were with the visioning process and why we're doing it, and then they went into some other policy discussions," Kinney said, adding that the discussion was largely "informational."
With regard to future expansion, he said federal funds could cover up to 90 percent of the runway portion of the project. The percentage of the project involving upgrades to the terminal, parking lots and roads that would be covered by federal grants would vary, Kinney said. Some items will be eligible and others won't, he said.
Kinney will provide an update to commissioners at their work session today about ASE Vision. He also is expected to discuss parking issues, interim terminal improvements and other airport matters with the elected entity.
Kinney said the ASE Vision initiative is still on track to finish in December — that's when a recommendation from the overarching committee would be provided to commissioners — although he added that the process could roll into the first few weeks of 2020.
Poschman said commissioners expressed concern to Gardner about the need for consensus support among the state's federal lawmakers for the Colorado Outdoor Recreation and Economy Act, or CORE. The proposed federal legislation, which is co-sponsored by U.S. Sen. Michael Bennet, D-Colorado, seeks to protect about 400,000 of public lands in the state. It also aims to establish new wilderness areas and safeguard current recreational opportunities to boost the economy for future generations, according to Bennet's website.
Other discussion items with Gardner included a U.S. Forest Service funding crunch and tax-credit programs for affordable housing.
Overall, Gardner "had some interesting suggestions about where we could look for money for certain things," Poschman said.
Gardner, who is a member of the Senate Foreign Relations Committee, also was scheduled Monday afternoon to speak at the Chabad Jewish Community Center on the topic of challenges faced by Israel in the Middle East.