Early, in-person voting for the June 30 primary election got underway at the Pitkin County administration building in Aspen on Monday.
County Clerk & Recorder Janice Vos Caudill said she's already in "full-on election mode." Special precautions are being taken to ensure the health and safety of election staff, judges and voters alike, given the continuing threat of COVID-19 spread.
Though in-person voting is underway at 530 E. Main St., in the first-floor room in-between the county commissioners' meeting room and the entrance to the sheriff's office, the county building remains mostly closed due to coronavirus and public health orders. Voters can enter the building now — a mask is required — and once they are inside, signs and staff will direct the way to safe ballot-casting procedures.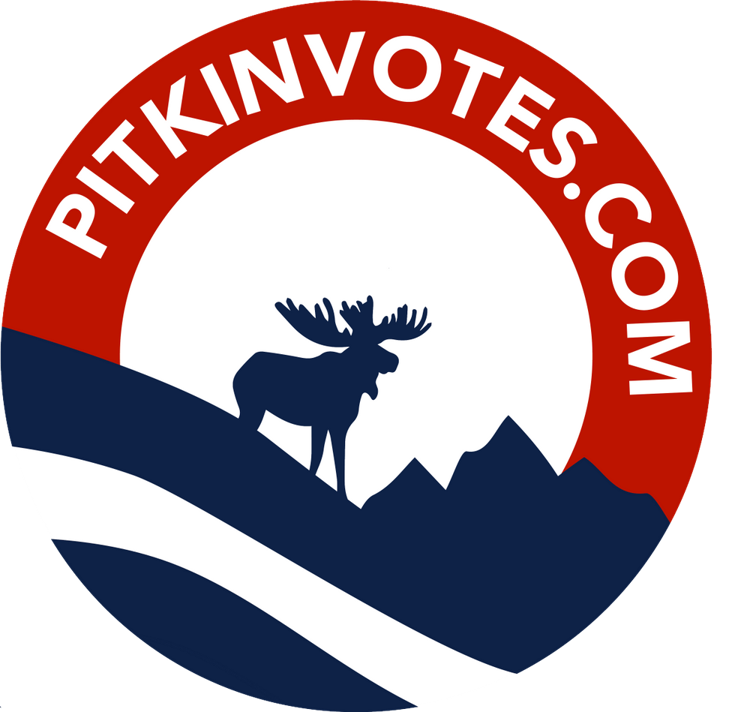 Still, Vos Caudill is urging county voters to drop ballots off in the elections box in front at the county building. Boxes also are located outside of the town hall buildings in Snowmass Village and Basalt.
"I appreciate the community's initiative in voting their mail ballot and dropping it in the drop box," she said. "Unless it's essential that you vote in person, please vote the mail ballot. It's safer for everybody."
The primary election features party races for U.S. Senate and U.S. House District 3. Democrats in the Senate contest are John Hickenlooper, Colorado's former governor, and Andrew Romanoff, a former state legislator. Republican incumbent U.S. Sen. Cory Gardner is unopposed in the GOP primary. Two Libertarians also are running against each other in that party's primary: Gaylon Kent and Ramon Anthony Doane. The Democratic and Libertarian winners of those primaries will go on to face Gardner in the Nov. 3 general election.
The U.S. House race has Democrats Diane Mitsch Bush and James Iacino pitted against each other; meanwhile Republican incumbent U.S. Rep. Scott Tipton has a challenger this year in Lauren Boebert.
The party primaries for state House District 61 are uncontested, but names of the candidates appear on the ballots anyway. Incumbent Rep. Julie McCluskie is listed on the Democratic ballot while Kim McGahey is represented on the GOP ballot. They will square off on Nov. 3.
Other Nov. 3 races include the contest for State Board of Education featuring Republican incumbent Joyce Rankin against Democrat Mayling Simpson. Republican Jeff Cheney is unopposed in the race for 9th Judicial District Attorney; his name appears on the Republican primary ballot anyway. 
Registered Republicans were mailed a ballot containing the candidates in the GOP primaries; registered Democrats received a ballot with the Democratic candidates. Libertarians received their own ballot as well. Voters unaffiliated with a party were mailed Democrat and Republican ballots, but they may only vote in one party primary. Those who cast ballots in both races won't have their votes counted.
Vos Caudill said she has two county employees assisting her with the election, but that could increase as the election draws closer. There are three election judges and that number will increase as well, she said.
To assist the elections department, Vos Caudill not only asks that voters drop off their ballots in one of the three boxes located in Aspen, Snowmass Village and Basalt, she also suggests that voters refrain from mailing them back. The election is one week away and ballots that haven't been received in the mail by 7 p.m. won't be counted. 
"Postmarks do not count! Therefore, it is encouraged that voters do not mail their ballots after June 22 because it may not arrive in time," the county's election website notes. More details about the June 30 election can be found at pitkinvotes.com.
Vos Caudill provided information showing there are 12,821 "active" voters in Pitkin County, which includes 5,355 in Aspen. "Active" is defined as a voter who has been mailed a ballot in a recent election and participated. Voters whose ballots were returned via mail without anyone having picked them up become "inactive," and there are between 2,000 and 2,500 such voters in the county, she said.
Among the county's "active" voters, the breakdown by party is as follows: Democrats, 4,827; Republicans, 1,842; unaffiliated, 5,948. There are 126 registered Libertarians in Pitkin and 78 other voters linked to other parties.
Vos Caudill reminded participants to bring some type of identification if voting in person. A driver's license, state-issued ID card or U.S. passport will do. Voters may even bring a utility bill with them to provide proof of identity.
Vos Caudill, who became the county's clerk and recorder in 2005, said she's never had to conduct an election this way. COVID-19 precautions include having voters stand at least six feet apart from each other, whether standing in line in the building lobby or casting ballots in the polling center; the requirement that everyone wear facial coverings; and the constant sanitizing of counters, ballot boxes and other election-related items and equipment.
Voters are also encouraged to take their pens with them after casting a ballot instead of leaving them behind. 
"I've never had an election like this in my lifetime," she said.
Because of COVID-19 precautions, it's highly likely that the local votes won't be fully counted on election night. Vos Caudill said the counting is likely to continue on Wednesday morning (July 1) before the process is complete.
"We only have so much space," she said. "Production is slower."
Early, in-person voting continues this week, from 8:30 a.m. to 4:30 p.m. from today through Friday. On Saturday, voting hours are from 10 a.m. to 2 p.m.
No in-person voting will occur on Sunday. The process resumes on June 29, moving to the Board of County Commissioners meeting room, from 8:30 a.m. to 4:30 p.m. Hours on Election Day are 7 a.m. to 7 p.m. 
Vos Caudill estimated that as of Monday afternoon, some 2,150 votes had already been cast via mail, drop boxes or early in-person voting.