Pitkin County commissioners on Wednesday gave their first blessing to the revised Carbondale-to-Crested Butte Trail Plan, a 293-page document that outlines plans for a project that will take countless additional meetings, many millions of dollars and over two decades to fully implement.
Commissioners met jointly with the county's Open Space and Trails Board in Carbondale for nearly five hours to pore over various aspects of the plan and the complex process involved in establishing it. Residents throughout the Roaring Fork and Crystal River valleys provided nearly two hours of comments for and against the idea. OST officials voted 4-1 to recommend the plan's approval to commissioners, who adopted it on first reading. A second reading and another public-comment period was set for Dec. 19.
The concept behind the plan has been discussed for years, but Pitkin County's work to create a draft proposal began in earnest about two years ago, open space director Gary Tennenbaum said. Prior to Wednesday, numerous public hearings had been conducted with regard to the plan, with the county accepting over 800 responses to surveys and draft plans.
Tennenbaum stressed that the document, available for review at pitkinostprojects.com, involves much more than a trail. In the past, he has called it a "corridor" plan in that it includes ideas for improved environmental and wildlife management, as well as pedestrian and bicyclist safety, along Highway 133 from areas near Mount Sopris all the way through Redstone to the top of McClure Pass at the Gunnison County border.
In response to concerns about high costs and environmental impacts, Tennenbaum and other officials noted that the trail won't be constructed all at once. It has several segments for which environmental studies, engineering designs and cost discussions will be tackled in steps. Public comments will be taken into consideration, and votes of the Open Space and Trails Board and county commissioners will be required, before each section moves forward.
"All sections of this trail can be stand-alone segments," Tennenbaum said. A two-year U.S. Forest Service environmental review is expected to begin next year, with input from the Colorado Department of Transportation and homeowners on the portion of the trail from Redstone to the top of McClure Pass, a section that officials consider to be the least contentious in terms of previous comments from opponents.
Through the large amount of public comment, open-space planners this year revised much of the plan from its original draft, especially among the segments from Redstone to the KOA campground near Mount Sopris. Other additions include biodiversity initiatives that go hand-in-hand with recreational aspects of the trail.
Tennebaum said over 85 percent of respondents favor a trail. The issue is the alignment: whether the trail should closely follow Highway 133, whether it should be located on the opposite side of the Crystal River, or a combination of the two. Planners have been deeply involved in trying to create balance, he said, adding that many segments on the Pitkin County side of the trail do not yet have a recommended alignment. Some will be chosen after environmental and engineering assessments.
While cost estimates for one alignment have been tagged at over $100 million, Tennenbaum said the estimates are preliminary. Cost savings can be realized in a variety of ways, and neither alternative has been fully engineered.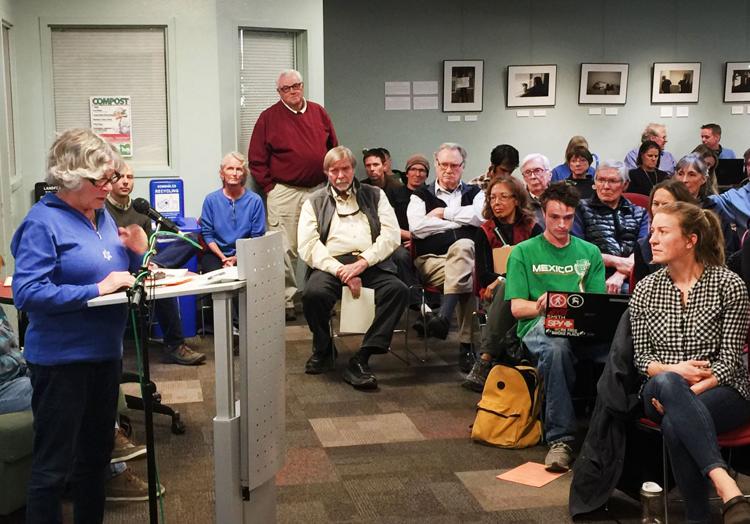 Public comments were passionate on both sides. Some trail supporters accused critics of NIMBY-ism, and of wanting to keep the pristine nature of the upper Crystal Valley to themselves in lieu of creating amenities that would bring outside recreationalists into the area. Detractors of the plan voiced concerns about the harm to wildlife and the riparian habitat in addition to fears about the loss of private-property rights.
Redstone resident Doris Downey, who is in favor of the plan, said she was "thrilled" that the trail would allow people to ride their bikes or walk to Redstone safely without the threat that looms from cars and trucks speeding along Highway 133. She said she was impressed with the work conducted by Open Space and Trails staff who have been transparent and willing to listen.
But another speaker, Jennifer Craig, brought up the impact on the environment and said there were plenty of recreational opportunities along the Crystal River corridor already. If a trail is to be constructed, she said it should follow the highway in order to have the least effect on wildlife.
Chuck Maloy, a resident of the Prince Creek area, said he supports the trail alignment that would follow the railroad grade on the other side of the Crystal River, away from the highway. He acknowledged that many residents will have a hard time accepting the trail users who will come from outside of the area for new recreational opportunities.
Aspen resident Ruth Harrison, a prolific writer of letters to the editor of local newspapers, was adamantly opposed.
"Why are we even doing this?" she asked. "I think it should be put to a vote."
Another man pointed out that in recent history, dogs owned by local residents that roam freely have had more negative impacts on wildlife than people.