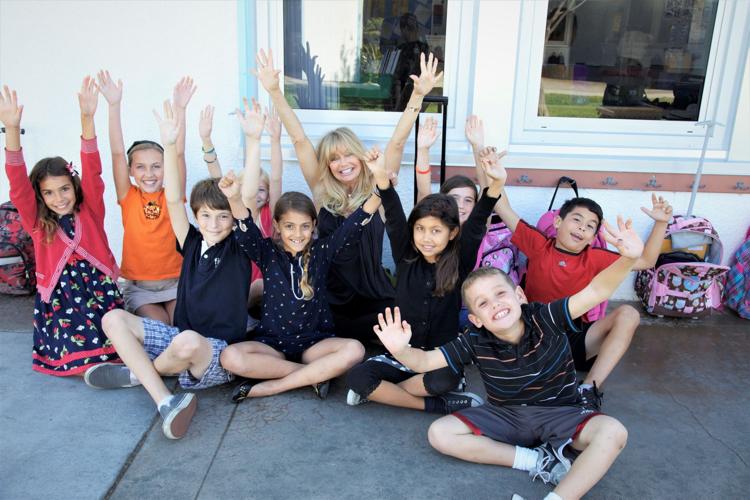 Actress Goldie Hawn and Pitkin County Sheriff Joe DiSalvo are joining forces to raise money Saturday evening for Hawn's 16-year nonprofit, MindUp, a program for schools that aims to help children develop the mental fitness needed to achieve, both academically and in life.
The sheriff said L'Hostaria's owner asked him to choose any charity for a spring fundraiser. Picking MindUp was an easy decision, DiSalvo said.
The event gets underway at 5:30 p.m., and DiSalvo and some of his department personnel will be on hand as hosts at L'Hostaria, 620 E. Hyman Ave. A three-course dinner (featuring three wines from the Italian winery Ronco delle Betulle) is being offered at $120 per person. A percentage of the proceeds will be donated to MindUp.
DiSalvo said he was in Palm Springs in November when he heard Hawn speak about the work that MindUp is doing. It involves helping young students learn alternative methods of dealing with stress and anxiety; the enhanced coping skills are said to improve classroom focus while leading to better social behavior.
The program has been implemented into school curriculums worldwide, including learning institutions in Basalt and Aspen.
"Goldie is incredibly passionate about this program," DiSalvo said. "It's real. I struggled with learning my whole life. When I first heard her MindUp pitch, I was blown away.
"I said, 'This could have been life-changing for me.' I spoke with [a local school principal] and he agreed, saying this is a new way for kids to learn and individualize learning. It's been an incredibly effective tool for learning, and teachers support it overwhelmingly," he said.
Hawn, a resident of Old Snowmass, is expected at the restaurant Saturday evening and will make a few remarks about MindUp and the neuroscience behind the program, the sheriff said.
He added that he also plans to make MindUp the recipient of proceeds from his annual charity golf tournament in 2020 and 2021. This year's recipient for the June 23 event at Aspen Golf Club is Huts for Vets.
In a phone interview this week, Hawn said the program has reached over 6 million children to date.
"We've gained a tremendous amount of traction," she said. "Our children are definitely becoming more self-aware and aware of others. They are taught self-regulation, so that when they have emotions, they know how to deal with them."
Under the program, kids are taught how their brains work, Hawn said, "and how feelings and emotions work in a certain part of their brain."
Life's pressures are at an all-time high, she said. "We are dealing with so much stress today: more suicides than ever. Our valley is suffering from a lot of things that our children are experiencing; anxiety is one of them."
She said MindUp's program often is confused with the burgeoning trend of "mindfulness," which is rooted in meditation.
"We are not a meditation organization," Hawn said. "We have three 'brain breaks' a day. Brain breaks are what we do because every brain needs a break. That break has a correlate to actual brain function. We're all about brain fitness and brain stability, and giving children the tools to manage some of the issues they're dealing with today."
She said the MindUp program creates a compassionate and optimistic classroom.
"That's how children learn. They don't learn when they're stressed, they don't learn when they're in fear," Hawn said.
Funds raised locally will help MindUp with the cost of Roaring Fork Valley regional training "so that we can get more schools and teachers involved in this program," she said.
"This valley has been my home for almost 40 years," Hawn said. "If I don't bring what I have been doing for 16 years into my valley, then I'm not doing my job to serve my community."
In 2011, she authored a book on the subject called "Ten Mindful Minutes." It's still selling, she said, calling it a useful primer on the tenets behind MindUp and its program.
To reserve a spot for the fundraising dinner, call (970) 925-9022. The event gets under way at 5:30 p.m., and DiSalvo and some of his department personnel will be on hand as hosts. For more information about MindUp, visit mindup.org.