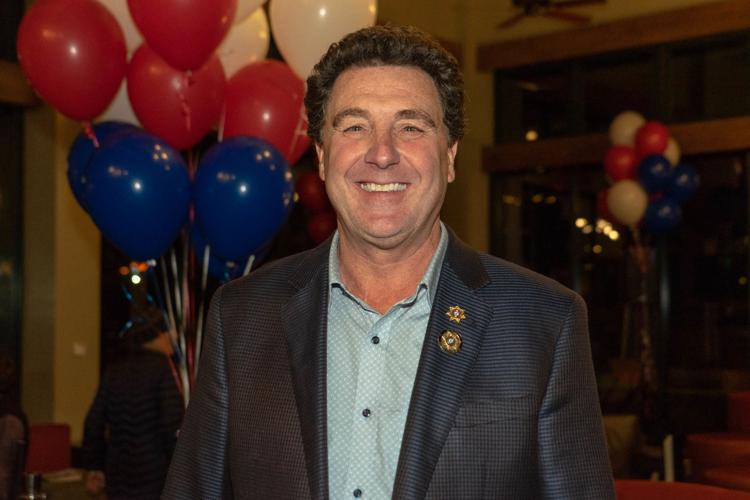 Pitkin County Sheriff Joe DiSalvo scored a decisive victory over opponent Walter Chi to win a third consecutive term in Tuesday's election.
As of 10:15 p.m., with roughly 80 percent of the ballots counted, DiSalvo, 57, had 5,958 votes, or 78.9 percent, compared with Chi's 1,591 votes, or 21.1 percent. Chi, 55, is an Aspen police officer who attempted his first foray into politics.
DiSalvo, speaking at his victory party at the Limelight Hotel, said the election showed that the county's voters weren't willing to trade experience for the unknown.
He described the election as his only chance to get a job evaluation.
"I don't know how I'm performing, except every four years," DiSalvo said. "I think this was a very good evaluation for me and my office. It's basically a message from the people 'to keep doing what you're doing.'"
As for his next four years at the helm of the sheriff's department, DiSalvo declined specifics, except to say that in the coming days he will announce big plans for the jail, and, later, a project in the Redstone community.
"I have some things I want to accomplish over these next four years and I'll be talking about them soon," he said.
DiSalvo said he always felt that he'd be re-elected, but during the campaign, "micro moments of anxiety and self-doubt" crept into his mindset. He said politically, it's better to run as though you're behind.
"Any candidate is capable of doing anything that could cost them an election," DiSalvo said. "But I knew that me and my team at the sheriff's office were doing a good job and that we would get re-elected to serve another four years."
Despite raising more than $40,000 for his campaign bid, DiSalvo said his effort was scaled back compared to the last time he had opposition for sheriff, in 2010. That was his first political campaign, when he was vying to become sheriff in the wake of the decision by his mentor, longtime Sheriff Bob Braudis, not to see re-election.
Braudis was at the Limelight, along with about 50 other supporters, for DiSalvo's victory party. DiSalvo said his campaign eight years ago had some 20 people working to help him win the job. "This year, my campaign was me and Valerie Ryan," he said, referring Undersheriff Ron Ryan's wife, who managed the re-election effort.
Last week, DiSalvo commented in a news story that Chi had been slinging mud throughout the campaign, making inaccurate statements. A Chi newspaper advertisement painted DiSalvo as soft on the drug trade and suggested that the sheriff failed to follow up on a tip to investigate a heroin dealer four years ago. DiSalvo, who has carried on Braudis' style of community policing and treating drugs as a health issue in lieu of more conservative tactics, quickly denounced the attack.
On election night, the sheriff declined to go into detail about his opponent.
"Valerie and I both made a promise that we would run a clean campaign and I think we held up our end of the bargain, and I think the voters appreciated it," he said.
Chi, reached at Home Team BBQ, said despite the outcome, he's glad he ran for sheriff.
"I have no regrets," he said. "It was my first time to run for political office. I didn't think it was going to be so cutthroat."
Chi was making reference to the possibility the election was influenced by recent events related to a criminal investigation. On Squirm Night, the annual Aspen political forum hosted by both local newspapers and GrassRoots TV, DiSalvo criticized Chi for failing to report a sexual offense involving a child that he heard about from a friend — the alleged victim's grandmother — more than two years ago. Law enforcement personnel are mandated to report such incidents.
As it turned out, the alleged perpetrator of that crime, a local 17-year-old male, has been officially charged over the last month of two other sexual assaults said to have occurred in July and faces numerous felony charges. The 17-year-old also is facing charges in the incident involving the child.
DiSalvo has inferred that if Chi had reported the first incident, and the boy had been brought to justice and received counseling, the incidents this year may not have occurred.
Chi has said that his side of the story has been largely ignored, and he contends that he never knew exactly what the allegations were in the case involving the child. He didn't know a sexual assault had occurred, and he was trying to help out a friend with advice about certain options she could pursue.
DiSalvo said he believes the outcome of the election would have been the same regardless of the controversy concerning the  sexual-assault cases.
Chi has been working for the Aspen Police Department for 26 years and has maintained a job at the local airport for more than 30 years. He said he wasn't sure what his next steps would be. For now, he will remain at the police department, though retirement could be in his future.
As for election night, he said he was happy to be "around a super group of friends." Though the first round of election returns showed that he faced a nearly impossible route to victory, he said he expected his numbers to climb before the night was over.
"And I think that shows there are some people who believe there's a need for change," he said.