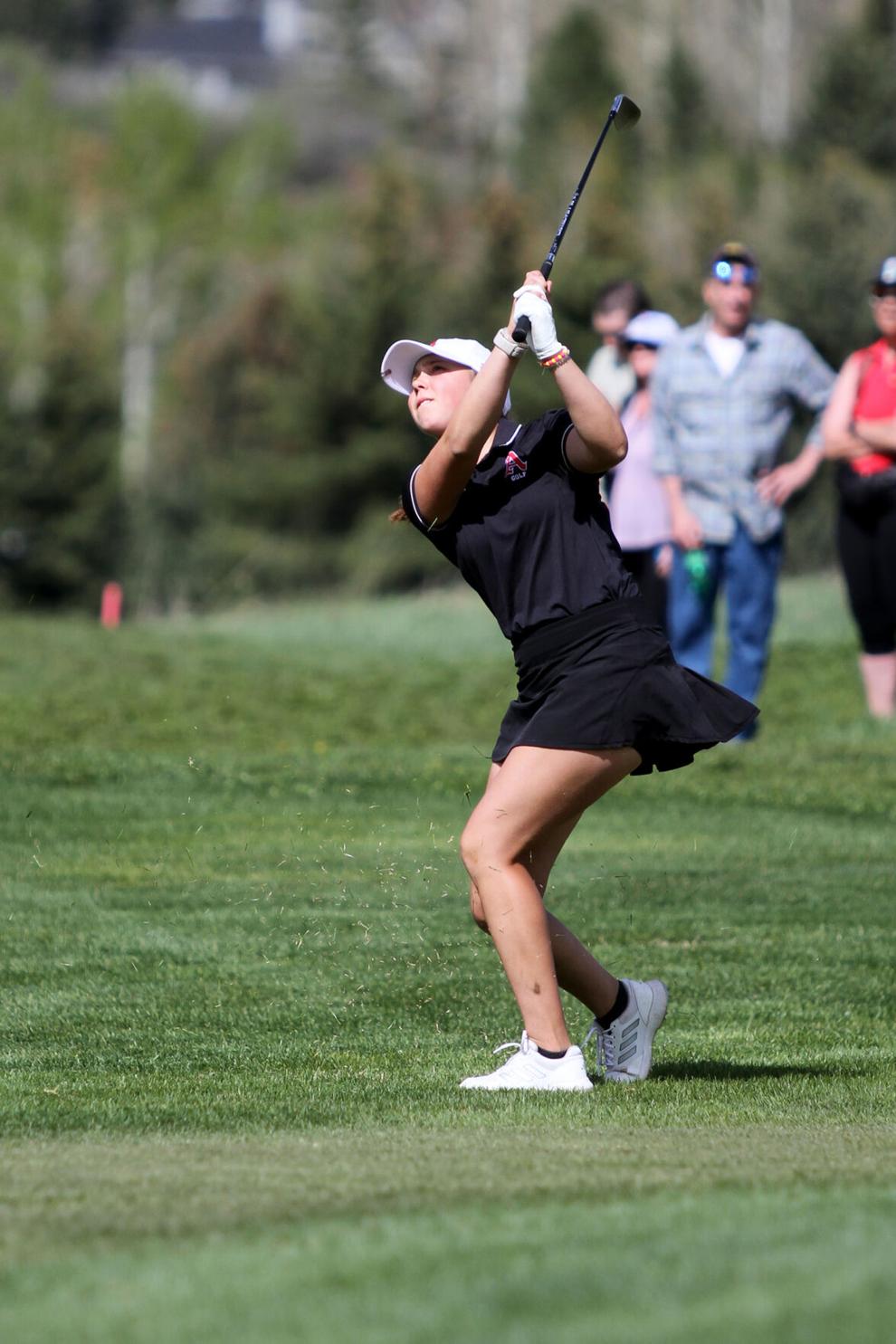 Aspen High needed to shave two strokes off somewhere between Lenna Persson, Brooke O'Sullivan and Audrey Woodrow to take first. But a tie for second place individually for Persson and O'Sullivan would have to suffice in the Skiers' home golf invitational, two weeks before they likely return to Aspen Golf Club to vie for the girls 3A state title.
The Skiers finished with 258 strokes across their top three scorers with Persson and O'Sullivan each shooting an 80. Steamboat Springs' Kaitlyn Grommeck edged them with a score of 79, leading the Sailors — a 4A team — to a first-place finish. It was a duel between Aspen and Steamboat; the third-place team, Vail Mountain, was 30 strokes behind the leaders.
While the win would've been nice, Tuesday's tournament was in effect a practice round for the teams as Aspen will play host to the state finals on May 30-31.
"It's a little taste of what states is going to be like," O'Sullivan said. "We weren't really firing on all cylinders today but overall I think it was pretty successful."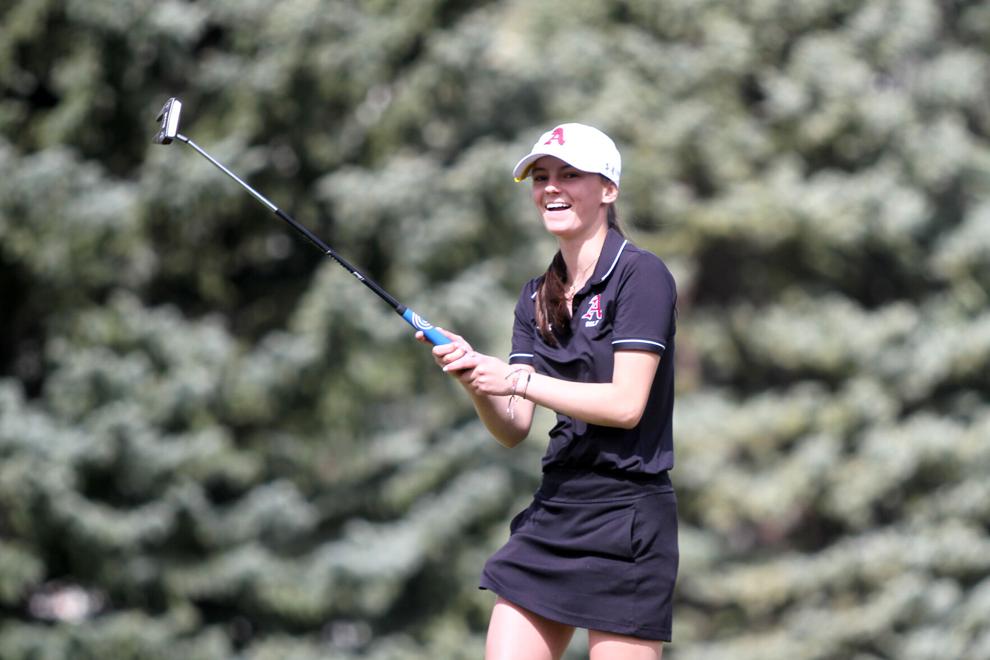 Aspen narrowly missed qualifying for the state championship as a team last year, sending Persson and Woodrow as individuals. But they were without O'Sullivan, who was recovering from an injury but finished 10th overall individually as a freshman the year prior. 
Now, they've been the top-placing 3A team in five of their last six stroke-play tournaments with two overall wins. Across the state they're ranked as the fourth highest 3A team. Assuming they push through qualifiers in Craig on Monday, they'll have a home course advantage over the three teams above them, none of which were present on Tuesday. On top of using Aspen Golf Club's practice facilities, they'll often try to play nine holes of the course when they can.
"When you're used to a course, you know where you need to put the ball," O'Sullivan said. "That's definitely a struggle on this course because although it's relatively flat, there's a lot of key spots that you want to hit. Having that flexibility and awareness is really important."
Persson added that knowing the course is especially helpful when it's as difficult as Aspen's, which is ranked among the hardest they'll play on the handicap index, she said.
"This course is ranked so hard, but we've played it our whole lives so we don't think of it that way," Persson said.
Of course there's still the obstacle of getting through regionals. Aspen will have to score among the top two highest teams for an automatic team bid or send three through individually to compete as a team at state.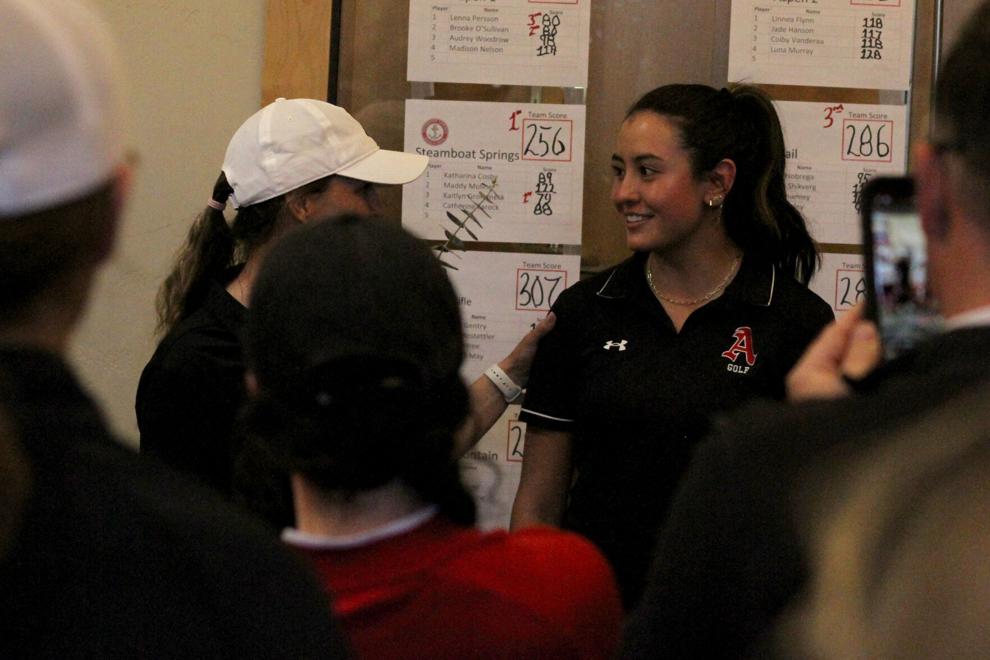 To cap off the Skier Invitational, Woodrow shot a 98 and Madison Nelson shot a 114. Aspen recognized the team's lone senior, Jade Hanson, in the awards ceremony. Hanson shot a 117 for Aspen's second team.
Following are further results from around the last week of prep sports.
Girls soccer
Aspen's playoff run ended in the second round on Saturday at the hands of No. 5 Colorado Academy in a 10-0 rout. The Skiers entered the playoffs as the No. 12 seed and survived an upset bid from No. 21 STRIVE Prep on Thursday on the strength of two goals from senior Sam Edelman, including the overtime winner. Aspen went 7-5-1 in the regular season, finishing sixth in the 3A Western Slope League at 2-3-1. Per MaxPreps, they graduate eight seniors.
No. 17 Roaring Fork also saw their season end in the second round, dropping 8-1 to top-seeded Jefferson Academy on Saturday. The Rams toppled No. 16 St. Mary's on the road on Thursday 5-0, representing the 3A bracket's lone lower-seed upset in the first round. They went 8-6-2 in the regular season with a 3-3-1 league record, good for fifth. They graduate only one senior, Hadley Peery, according to MaxPreps.
The Basalt Longhorns saw their season end in the first round, falling to No. 14 Salida 3-0. They entered the playoffs as the No. 19 seed following a 7-6-2 regular season and a 4-3 WSL record, placing them fourth. The Longhorns graduate five seniors.
Boys lacrosse
The No. 14 Skiers routed No. 19 Littleton 12-2 on home turf on May 9 to open the playoffs but ran into a wall in No. 3 Dakota Ridge on Friday, ending their season in a 14-6 loss. Aspen went 9-5 in the regular season and 8-4 in league, finishing third in the 4A Western League. The team bids adieu to a group of 10 seniors.
Girls lacrosse
After an upset of No. 7 Aspen in overtime, No. 10 Roaring Fork saw its first ever bid to the state quarterfinals end at the hands of No. 2 Mead on Saturday, 18-4. The Rams topped the Skiers 8-7 in overtime on Thursday in the second round after beating No. 23 Grand Junction 16-7 on May 9. They went 10-5 in the regular season with a second place in the 4A Mountain East League and graduate 10 seniors.
The Skiers also went 10-5 in the regular season and finished third in league play, but won five of their final six games to climb up the state rankings. They send off three seniors: Jude Hanson, Stella Sherlock and Michaela Kenny.
Baseball
Entering regionals season, Basalt and Roaring Fork look destined for the postseason while Aspen and Glenwood Springs are on the outside looking in.
The Longhorns concluded the regular season with a 12-6 win over Meeker on Monday to finish 11-12 and 6-3 in league play. Per Colorado High School Activities Association seeding, they sat at 20th in 3A in the state — the top 32 advance to regionals. 
Roaring Fork also concluded on Monday falling 8-0 against Delta to put them at 14-9 overall and 7-2 in the WSL, third in the league. They sat at No. 17 in the state rankings as of Tuesday.
Aspen finished their season on a high note on Saturday, taking the second game of a doubleheader at Olathe 23-10. The Skiers won three of their last four games to finish 7-13, their best record since the 2018 season. Still, they sat at No. 44 in 3A on Tuesday, well outside the bubble for regional consideration. The team has no seniors listed on MaxPreps.
Entering Tuesday's season finale at Summit, Glenwood Springs sat at 6-15 overall and 46th in 4A seeding. The Demons are set to graduate four seniors.
Track and field
Local teams prepare to send athletes to the state championships in Lakewood starting Thursday.
Aspen qualified four individual athletes and three relay teams, with Yasmine Khan-Farooqi's eighth-seed in the triple jump setting the highwater mark for the Skiers. Basalt is sending four athletes to compete in individual events and three relay teams, with top-10 qualifiers in Jacey Read (sixth in 100-meter dash, sixth in 200-meter dash and 11th in the high jump), Ava Lane (fourth in 400-meter dash and sixth in the 800-meter run) and the 800-meter sprint medley. Roaring Fork is sending junior Kyra Reeds to compete in the 100-meter and 300-meter hurdles.
In 4A, Glenwood Springs is sending three athletes, Sophia Connerton-Nevin (13th in the 3,200-meter run), Ruby Patch (ninth in 100-meter hurdles and 11th in 300-meter hurdles) and Breauna Sorenson (12th in the long jump).
Boys swimming
Glenwood Springs' boys swimming finished 16th in the 4A state finals in Thornton over the weekend. Sophomore William Jones led the way with a seventh place in the 500-yard freestyle and an eighth in the 200-yard freestyle. The team placed three relay teams in the top 20 and freshman Brian Mollay finished 17th in the 200-yard IM.