"Flabbergasted" is how curator and author D.J. Watkins described his reaction when he came to understand the sheer volume and subject matter of the work of Brendan Missett, a collage artist he discovered on Instagram last year.
The works displayed on the social media platform numbered 12,000 posts in a few years. To Watkins, it felt bottomless. It struck a chord with the Aspen resident, who has authored two books documenting, respectively, the legacy of print artist Tom Benton and Hunter S. Thompson's 1970 campaign for Pitkin County sheriff. In Missett's work, cut-out images of political figures are jumbled together with imagery depicting violence, sports, sex and nature.
"He's saying really beautiful, powerful things about America," Watkins said. "I think he was talking about America in a patriotic way, a critical way."
The online connection was made in real life when Watkins met with Missett in Los Angeles and began making plans to show his work in Aspen.
Shortly after that meeting, Missett, 36, died of an opioid overdose on Feb. 21.
On the day of Missett's memorial, Missett's father, Jack, of northern San Diego County, received a text message from Watkins sharing the news: The show that they were planning together would go forward. It opened on Friday night, with another reception planned for Saturday from 6-9 p.m. and it will hang in the most recent iteration of the Gonzo Gallery, now in the corner space at 601 E. Hyman Ave., until Sept. 25.
In the wake of Missett's death, both his family and Watkins began to understand just how prolific Missett was. In a garage that the artist had converted into a studio, Jack Missett found 700 pieces in one corner of the space.
The showcase piece on the wall of the Gonzo Gallery in Aspen is a large collage containing hundreds of images. The most prominent text in the middle of the work says "America needs a faith lift." It shares the frame with images of guns, women cuddling small animals and smaller sections of text, including lines such as "loud wives lose lives," "solace from an unseen world," "dressed to suppress" and "preparing for the big event." That's just scratching the surface.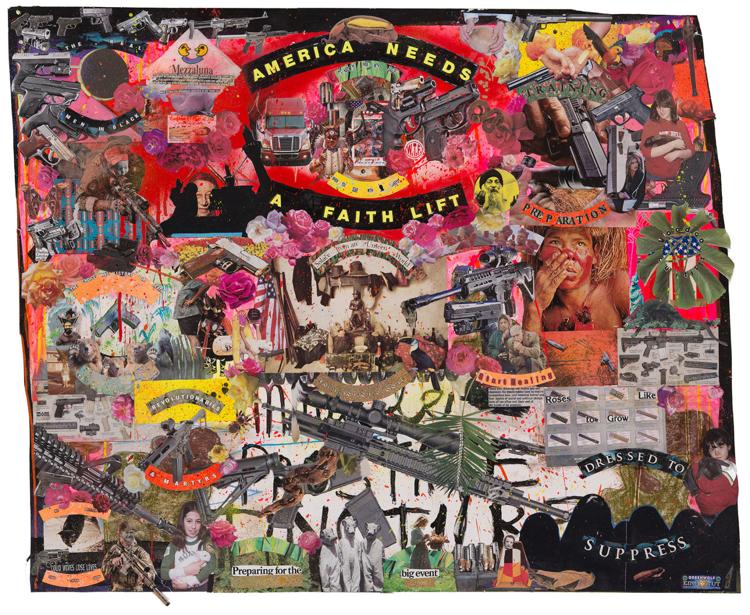 Jack Missett and Watkins both noted that they saw the "America needs a faith lift" piece for the first time when they were going through the studio on Aug. 3, the day a gunman motivated by racial hatred killed 22 people at a Walmart in El Paso, Texas.
"I thought, holy cow, this so illustrates what Brendan was trying to say and what is happening in our world," Missett said. "I said to [my wife] Judi, could this be any more appropriate to this time and this country?"
Watkins concurred: "America does need a faith lift."
Other works featured in the show include "Timeless Agenda" showing a woman in latex wearing a veil and a refugee woman carrying a child; "The Fine Art of Bordermaking" with a sniper encircled by a poisonous snake; and "Awareness, The Smell of Latex" showing ISIS fighters, the Trump family, roses and an upside-down American flag.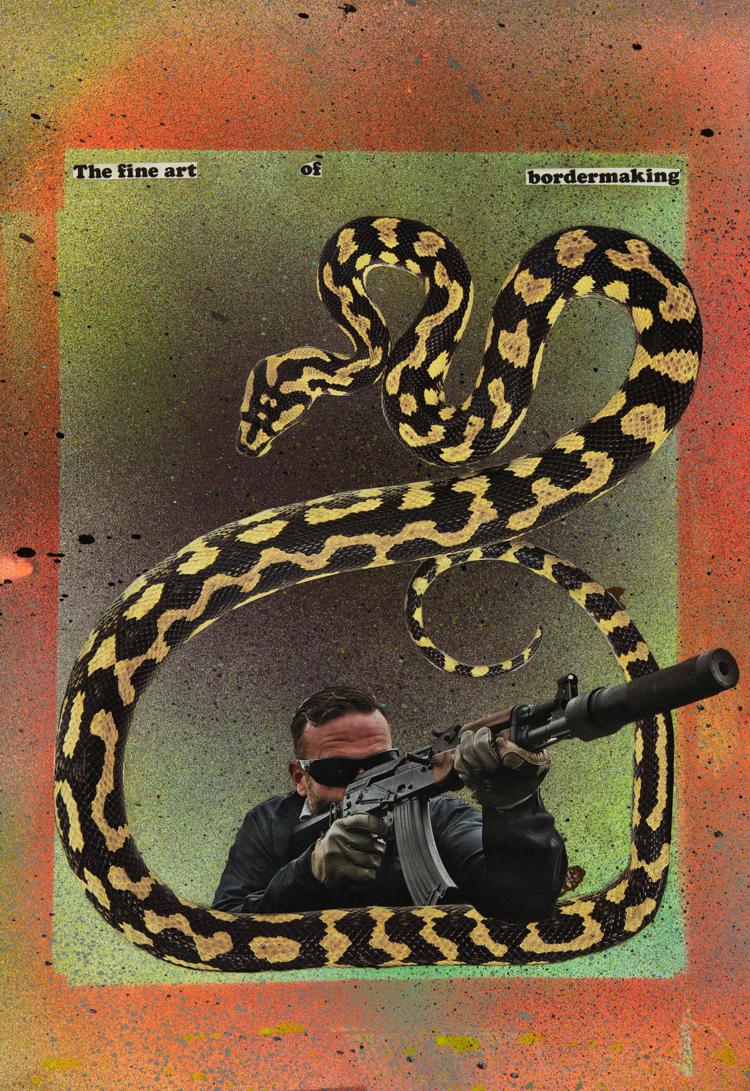 "You know how a song, like a Beatles song, might just have a simple refrain, but because of its simpleness, and just a few words, you convey a message really quickly?" Watkins said, describing a pattern he sees in Missett's work.
Some images contain pornography; those have been hung in the Gonzo Gallery bathroom.
Jack Missett said he would occasionally hear from his daughter that her brother's artwork was provocative and included offensive content. "That what he would be doing on Instagram is provocative is not news," Missett said he replied.
"He liked to say things and do things that at first glance were outrageous but when you saw the message behind it or in it, it made sense," Missett said.
He described his son as a "very kind soul" who encouraged others — especially other artists — and who used art to express himself since he was three years old.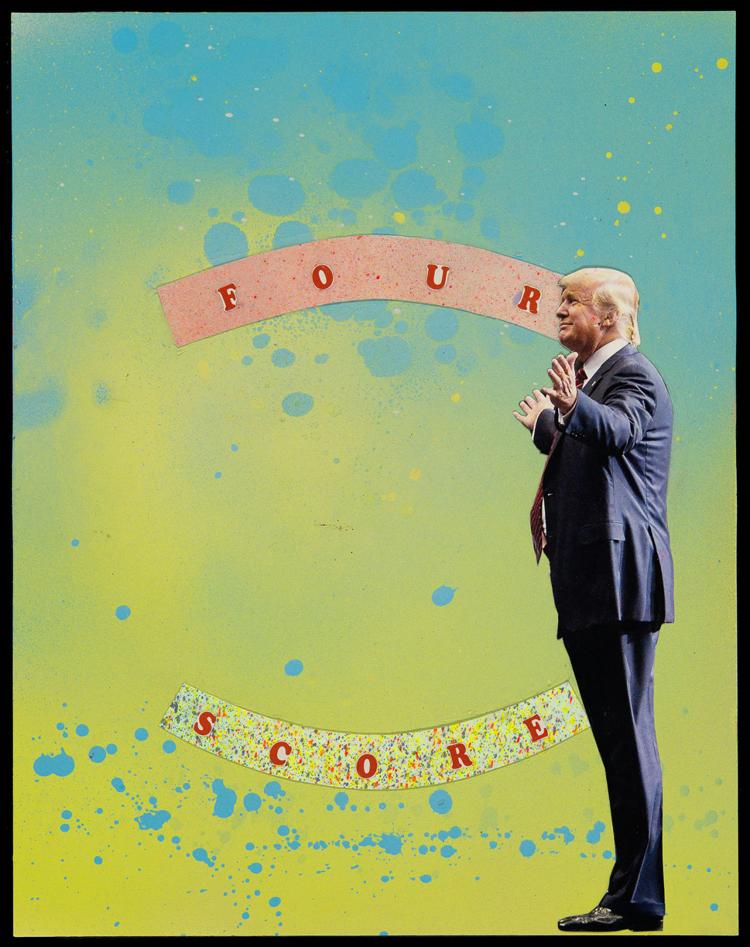 "There are so many people he had touched, inspired, helped," Missett said. "That to me was as important about his life as his art and what is defined as success."
But addiction was a struggle that was with Brendan Missett for half his life, said his father, who knows the struggle well and is himself 25 years sober.
"The flip side of it is, with drugs and alcohol, you end up all by yourself and it's sadly what happened with him," Jack Missett said.
The family is launching The Brendan Project in his honor, which has a mission of helping artists of any stripe who are struggling with drugs and alcohol. All proceeds from this weekend's opening and the show's two-week run will be dedicated to the effort.
Bringing a recovery message to the artistic community requires a "more delicate process than dealing with someone who is being arrested or drunk in public," Missett said.
The approach is that "sobriety might work for you if you just try it," he said.
Though the project is still in its early phase, the idea is to establish a helpline or an email where people can reach out and be connected with help, along with a messaging campaign, targeting the artistic community.
The last six months of Missett's life were some of the best, Jack Missett said. He had sobered up, prior to the relapse that would be his last. The interaction with Watkins and the opportunity to have a show in Aspen meant the world to him.
Now, the family is working to pick up the pieces and is contemplating how to present Missett's artistic legacy.
"It is with me every minute of every day," Jack Missett said, of the emotional loss he feels. "The sadness in me is offset by what we're doing — and it does not diminish the sadness, but this is the beginning of showing Brendan's artwork to others and giving him the exposure and the credit that he deserves."
All the work for sale starting this weekend will be prints. The family is keeping all of the originals together for now. Watkins has big ideas for what may come of it.
"When we saw the enormity of the work, we said, 'There is a book here,'" Watkins said. "We could do a book and we could do a traveling museum show — and I believe it's museum caliber and it's powerful and it should be seen by everyone. It makes people think."