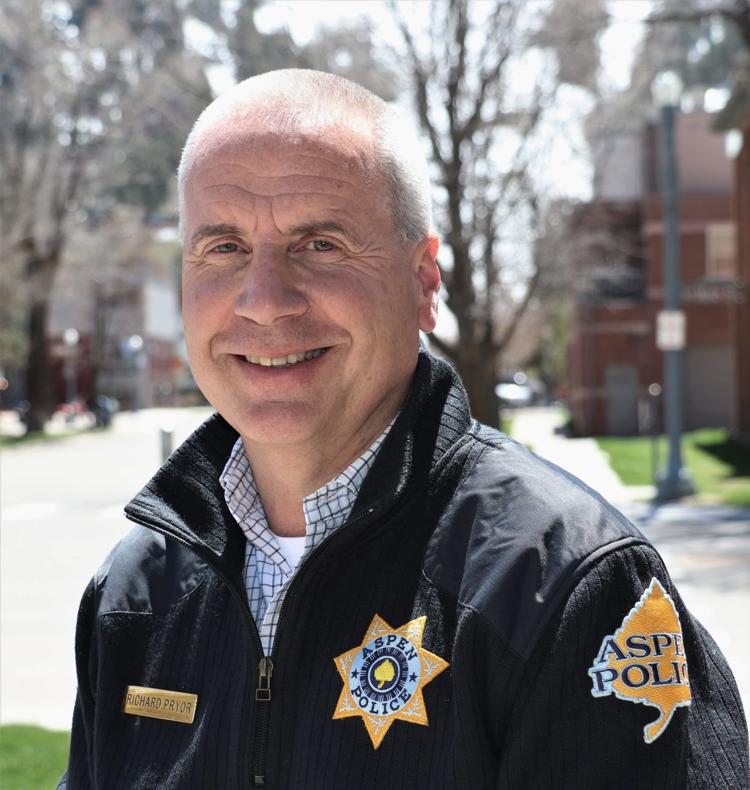 It is probably safe to say that James Magee, Aspen's first police chief, didn't have to grapple with where to house his constables or attend seminars about how best to respond to a terrorist attack.
Magee only served from 1881 to 1885, according to a plaque in the Aspen Police Department. Many of the town's 39 police chiefs served similarly short terms, and no one has been the top cop in Aspen longer than the incumbent, Richard Pryor.
Now in his 12th year as chief, and 25th with the department, he recently spoke about his tenure in the appointed position, his style of leadership, and how a farm boy from north of London became the longest-serving police chief since Aspen was incorporated (which was the same year Magee became the law).
Pryor noted a sense of accomplishment about that milestone "in some context," underscoring both his reluctance to address the topic at all ("I don't really know what it means") and his careful way with words.
"I've always been surprised to find myself where I am," he said. "Really, the only way to think about the job is a year at a time, see if I can last through this year, and then the next year. Because you just don't know what's going to happen."
A dual national — his American mother met his father on a trans-Atlantic boat trip — he moved to the Roaring Fork Valley in 1989 after exploring the United States and visiting a cousin in Carbondale. A job at Stein Eriksen's ski shop in Snowmass Village followed, and five years later he was hired to be what is now called a community response officer with Aspen police, handling bear calls, directing traffic after fender benders and the like.
"I saw an ad in the paper, it looked interesting, decided to throw my hat in the ring," Pryor recalled.
By 1996, he was a police officer, having gone through the cadet academy at Colorado Mountain College's Spring Valley location with Greg Daly, an Irishman who was appointed Avon's police chief in 2016.
"We had all the Irish and English jokes that we could bring up at the time," Daly said. "I consider him a good friend and a caring person for his community and staff."
He said Pryor is analytical and well-versed on law enforcement trends, both national and international, and believes his former cadet peer is respected by his staff.
"He's a great builder of relationships, not just business ones but sincere, meaningful relationships," Daly said, noting that Pryor hosts a Christmas party annually at his home for the entire department. "It's not something he brags about, but he really treats his staff as family."
Rick Magnuson, a sergeant under Pryor, said morale at the department is high, despite the abrupt, and pressured, resignation of longtime officer Walter Chi recently. In a letter to the editor, Pryor wrote that he felt Chi "had not fully carried out his duties" and declined to elaborate, calling it a personnel matter.
Such disciplinary matters obviously are not easy for Pryor. But Magnuson, who noticed Pryor's historic tenure after reading the plaque, credited his boss with instilling "his values on the department. And his values are aligned very well with the community."
Those include "tolerance, fairness and the rights of our citizens," said Magnuson, who has been with the department for 23 years. "He's reluctant to cross the line and push boundaries when it comes to search warrants. I think he's just in line with where our community is, and he's instilled that in us."
'People here demand something different'
Pryor, 53, was promoted from sergeant to assistant police chief in 2001; then-city manager Steve Barwick tapped him for the top job in 2007.
Asked about the quick ascension up the ranks, Pryor said, dryly, "Timing."
"I'm just an ordinary person who happens to be in this job, doing the best I can," he said. "I'm certainly not a traditional cop. People here demand something different, and for me that's great: That's all I can do."
The department has hired more female officers and "quietly and persistently" pushed forward conversations regarding mental-health support systems and support for youth and families during his tenure, he said.
Pryor said he believes the patience it takes to find and hire the right officer for Aspen is greater than at other departments. He said he's tired of the constant mention of the upper valley's community-policing ethos, but acknowledged that empathy and a "broader worldview" are characteristics he wants in his officers.
"Community policing in so many other police departments has been taken on as a program, rather than a core philosophy or understanding of how to engage with your community," he said. "To be able to interact with visitors, workers or our very engaged community — the community expects that high level of engagement.
"I expect they demand it."
He said he sets himself small goals to accomplish annually, but the department in 2018 accomplished something larger that Pryor takes pride in: Last year, for the first time he could recall, not a single sworn officer resigned.
"Which is fantastic, because I expect turnover, I expect people to leave for whatever reason," he said.
To have such department stability is "very satisfying," he said.