Basalt residents and other concerned parties in the midvalley had one last chance to weigh in on the town's forthcoming master plan en masse last week during a public open house at Basalt High School.
The event — organized by CTA Architects Engineers, which has offices in Denver and elsewhere, and Basalt-based Connect One Design — was the last of a series of information-gathering open houses that started last spring, but it's not the last chance the public will have to weigh in on the matter.
Charged with drafting a new master plan for the town of Basalt, CTA and Connect One launched an adjunct to the town's website, letstalk.basalt.net, that helps them disseminate ideas about the town's future and garner feedback through surveys and other interactive features. Information shared at last week's open house went live on Tuesday, as did two surveys that will only be open until Monday.
"We're hoping the short turnaround will get people to be like, 'I'm going to go online and get 'er done,'" said Heather Henry, a partner with Connect One.
Available online at letstalk.basalt.net/engage, the first survey, Primary Parcels, concerns four key plots of land close to downtown Basalt and asks survey takers to identify their preferred options, as far as density and usage, for development on each parcel. They're also welcome to share any additional thoughts they might have.
The plots in question are the Southside parcel, a narrow strip along Southside Drive near Basalt High School; the Meyer's Property, a large open-space parcel between the Elk Run neighborhood and the Roaring Fork Club; the Jadwin-Stott parcel, which lies between the Roaring Fork River and Highway 82 west of Basalt Regional Library; and the Clark's-Basalt Center Circle plot in the heart of downtown.
"There were a series of key parcels that were identified early on, about 10 of them, as we went into the process," said Henry, "and of that group, those four were identified for a greater depth of land-use, density and mix evaluation."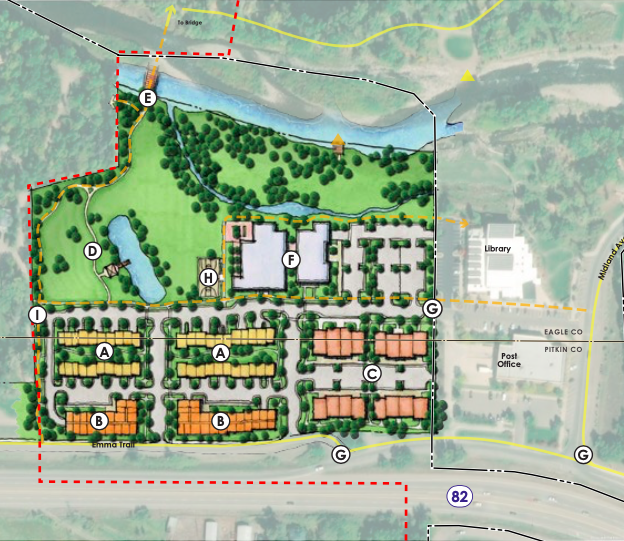 The second survey, Community Projects, organizes a long wish list of civic endeavors into four "buckets" based on what each would cost and then gives survey takers $500,000 to allocate in increments of $100,000 to the projects they would consider the most important. The projects range from small tasks like finishing the sidewalks near 7-11 to mammoth public works like constructing a vehicle overpass or underpass connecting Southside Drive and Midland Avenue.
"People are asked to consider what types of projects they want to invest their money in," Henry said. "It's really a simple prioritization exercise, but we're helping people to understand that it costs money, so they can get that perspective of it and see that they can do a bunch of small projects or put their money toward something bigger."
Last week's open house, described by Henry as "phenomenal," drew roughly 125 people, "which was far and above the best turnout we've had for any of our events so far for the master plan."
"That was really exciting to see," said Henry. "There was a lot of lively discussion and a lot of questions."
Having been involved in the process since its inception, Henry also was struck by the way the tone of the discourse about Basalt's issues was markedly different last week than it was last spring.
"While there's still disagreement on the specifics of the issues — 'I like option A; I like option B,' there's still that happening — I think that the dialogue, from our perspective standing on the outside a little bit, feels more productive," Henry said. "It feels more engaged and less frustrated, perhaps. There's a sense that we may not necessarily agree on everything, but it's starting to feel like we have a process where we can actually make some of these decisions."    
Once the surveys close on Monday, CTA and Connect One will synthesize all the information and feedback and get back to the town of Basalt with a full draft document of the master plan around the middle of December. The draft will go to the town planning and zoning commission and council members before being released to the public shortly afterward.
"From there, we'll be in the public-approval process," Henry said. "So there will likely be no more open-house-type events, but instead we'll have P&Z public meetings for final adoption, council meetings for final adoption, and then we're hoping to have everything ready to go and approved with a rubber stamp by about March."
With the finish line in sight for the master plan and Connect One's latest proposal for Basalt's River Park garnering positive reviews at last week's council meeting, Basaltines could soon have a much clearer picture of the town's future than they've had in many years — and possibly in the town's history.
Those who disagree with some of the plans and decisions being made still have a few days left to take the online surveys and provide input that will be added to the mountain of data already collected.