With talk of the possibility of a "telemix" lift to serve Aspen Mountain through a recreated Lift 1A portal, recollections of other unusually named, built or operating lifts have come rushing forward like the first blast of winter weather.
Long before there was a single chairlift on Aspen Mountain, the Boat Tow carried skiers from the Lift 1A base area to near the bottom of Corkscrew. Generations of children have been pulled on a rubber mat behind a snowmobile on the Panda Peak "skitch" lift. A collection of warhorse lifts at Aspen Highlands were derided as being museum-worthy before they were retired in the 1990s.
Recalling the back story of these uphill transport modes seems apropos as we schuss toward the opening of the 2018-19 ski season, lest the quirky lift tales be lost to history. Yet this is not meant to be a comprehensive look at the history of local lifts and skiing; for that check out author and veteran patroller Tim Cooney's deeply researched timeline at aspenjournalism.org.
Boat tow
The first lift-like contraption on Aspen Mountain was the Boat Tow, which was built by locals and perfected from its original rudimentary tow line and toboggan into a more rugged contraption where riders were able to remain dry and happy.
The eight-passenger Boat Tow ran roughly from the bottom of Lift 1A chairlift to the bottom of Corkscrew, according to Cooney, a ski historian and writer.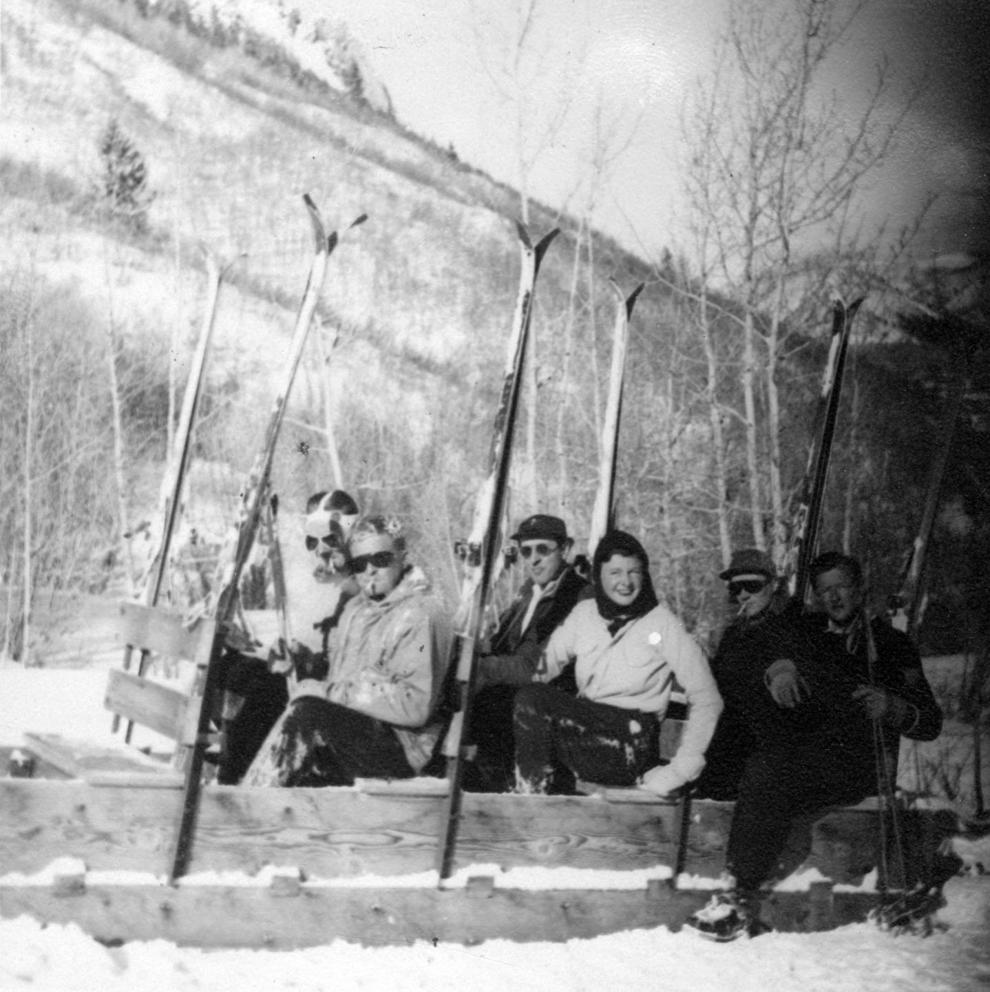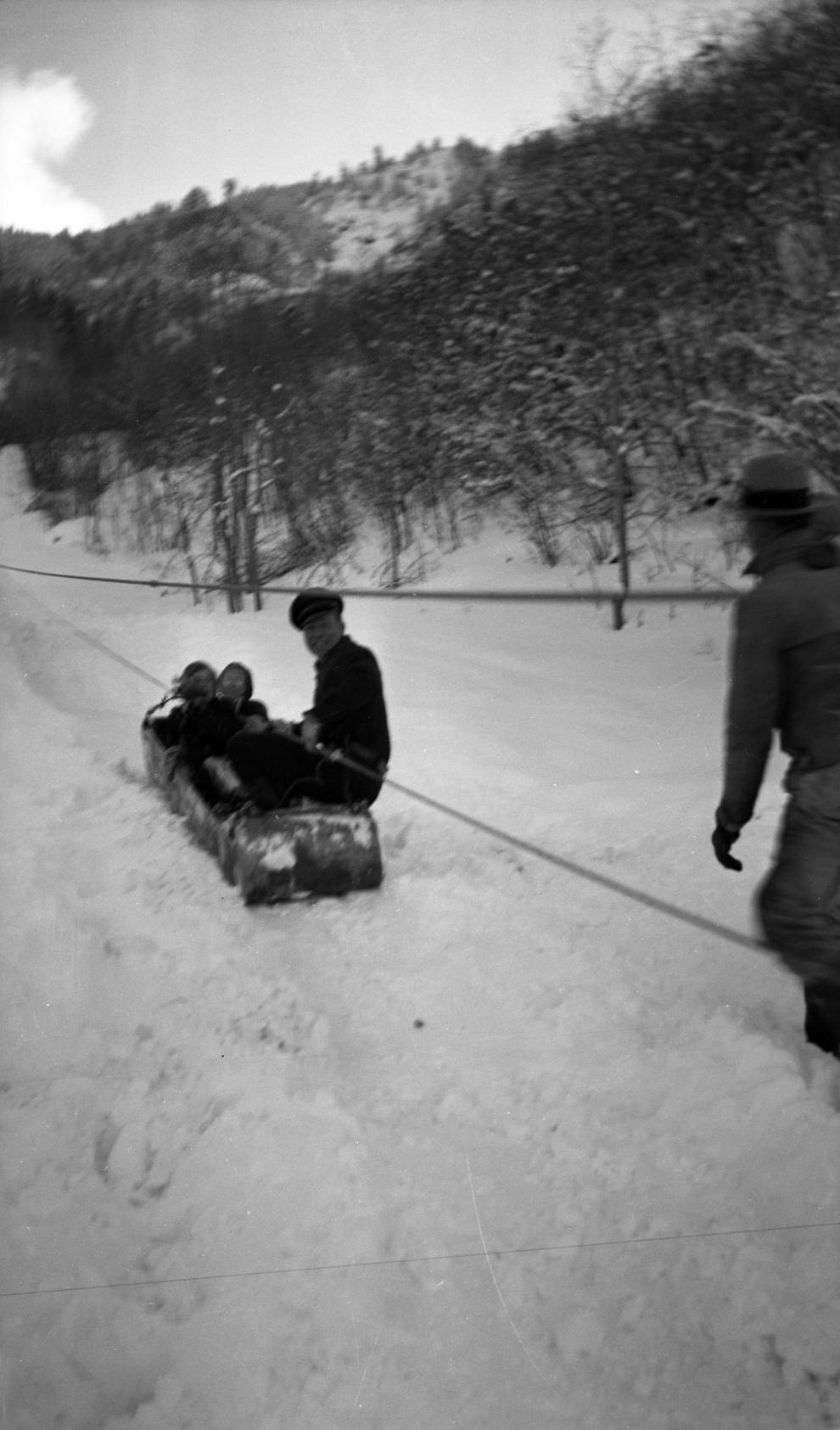 "Materials are a secondhand Studebaker motor, two old mine hoists, and two eight-person sleds that went up and down in opposition," Cooney reported. According to his research, the Boat Tow cost about $600 to build. Skiers paid 10 cents a ride.
Photographs of the Boat Tow provided by the Aspen Historical Society that were taken about 10 years apart illustrate its evolution.
AHS Archivist Anna Scott explained how the Boat Tow changed: "It was originally a ski tow that was a cable only constructed in 1937. Then in 1938 two six-passenger 'toboggans' were added to the ski tow and then in 1945, they added a more robust version with built-in seats and racks for skis."
Its original bullwheel and cable may still be seen near the bottom left of Corkscrew and just above Tower Ten Road on the corner before Corkscrew Gulley, according to Cooney.
Telemix 
If Aspen Skiing Co. builds a new lift in the reconstituted Lift 1A base area, pending a web of approvals connected to the two lodging projects that SkiCo doesn't control, and a public vote on the new corridor plan, it will likely be a hybrid mix of gondola cabins and chairlifts manufactured by Leitner-Poma called a Telemix.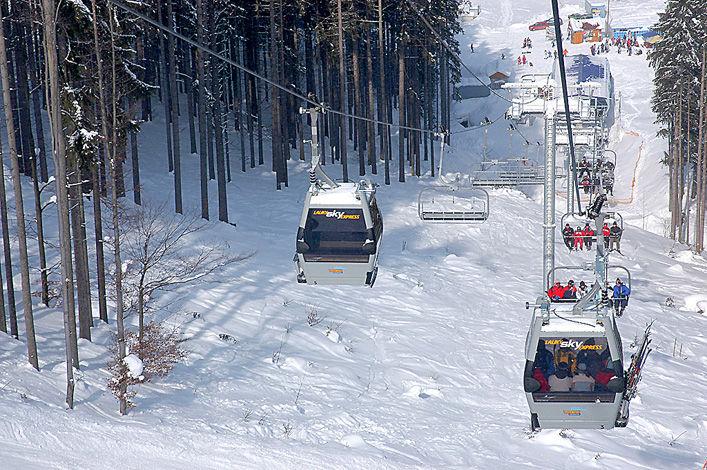 "I'm not sure why Poma chose that name," said David Corbin, SkiCo's senior vice president of planning and development. But it's probably preferable to the "chondola" moniker that another lift maker calls its hybrid lift. 
A chondola example may be seen at Beaver Creek and it provides an attractive option for foot passengers or those interested in on-mountain dining at night. That could be handy if the long-dormant Ruthie's Restaurant on Aspen Mountain is ever reopened.
Corbin said early feasibility studies on the portal, angles of lift departure and other aspects of the lift are currently underway in cooperation with the SE Group, which is helping to plan the project. When all costs are considered, he said the Telemix could run on the order of $8-9 million but stressed that no contracts have been entered into with the lift manufacturer.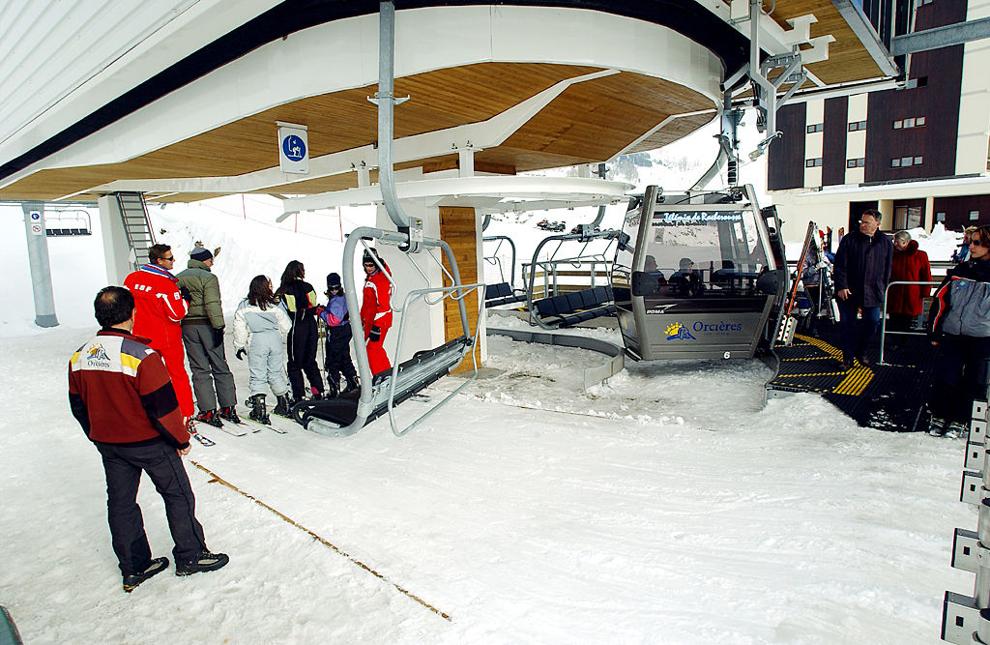 "There are fairly substantial site costs with respect to new towers and site walls where needed," he said. The proposal has received federal approval, has cleared a NEPA review process and is included in the mountain master plan submission to Pitkin County. Corbin provided two examples of Leitner-Poma telemix-style lifts currently operating in Europe.
Asked if European resorts are using more advanced lift technology than that of the U.S., Corbin said that's true for several reasons.
"Europe is certainly ahead of us. They're always rolling out new equipment in advance of what hits the states," he said. "There are a whole lot more ski areas and a lot more lifts purchased than in the U.S."
Substantial public subsidies of lift equipment – similar to how Telluride was able to leverage public funding for its people-mover gondola between town and Mountain Village – are another reason why European resorts are able to acquire more leading-edge equipment, Corbin suggested.
The Skitch
Throughout the generations of Aspen skiing, one of the most endearing images is the line of tiny skiers being pulled behind a snowmobile on the east side of Panda Peak.
The origins behind the Powder Pandas "skitch" lift at Buttermilk can be traced to Don Rayburn, one of the area's early mountain managers, according to Victor Gerdin, who himself has been behind the planning of many SkiCo lifts. 
"Don Rayburn was such a genius at finding solutions to situations like that," Gerdin said.
Mimi Schlumberger, longtime director of Powder Pandas was also a big part of the skitch's design, she said Sunday by email. 
"I also got a patent from James Hume, an old local who would do patents for free for any local that came up with an idea," she added.
Schlumberger directed Powder Pandas for decades.
According to Gerdin: "What made the 'skitch' work was the kids would walk their skis up to a big piece of rubber that was chained" to a structure attached to a snowmobile.
The rubber mat laying flat on the ground that moved slowly uphill provided an ideal way for otherwise wobbly legs and slippery skis to remain in place and a solution that has endured for years.
The Cirque lift
With a top elevation of more than 12,000 feet above sea level, the Cirque poma-pull is one of the highest-altitude lifts in North America, but it was the conscientious construction to build it in an environmentally sound way that's most notable.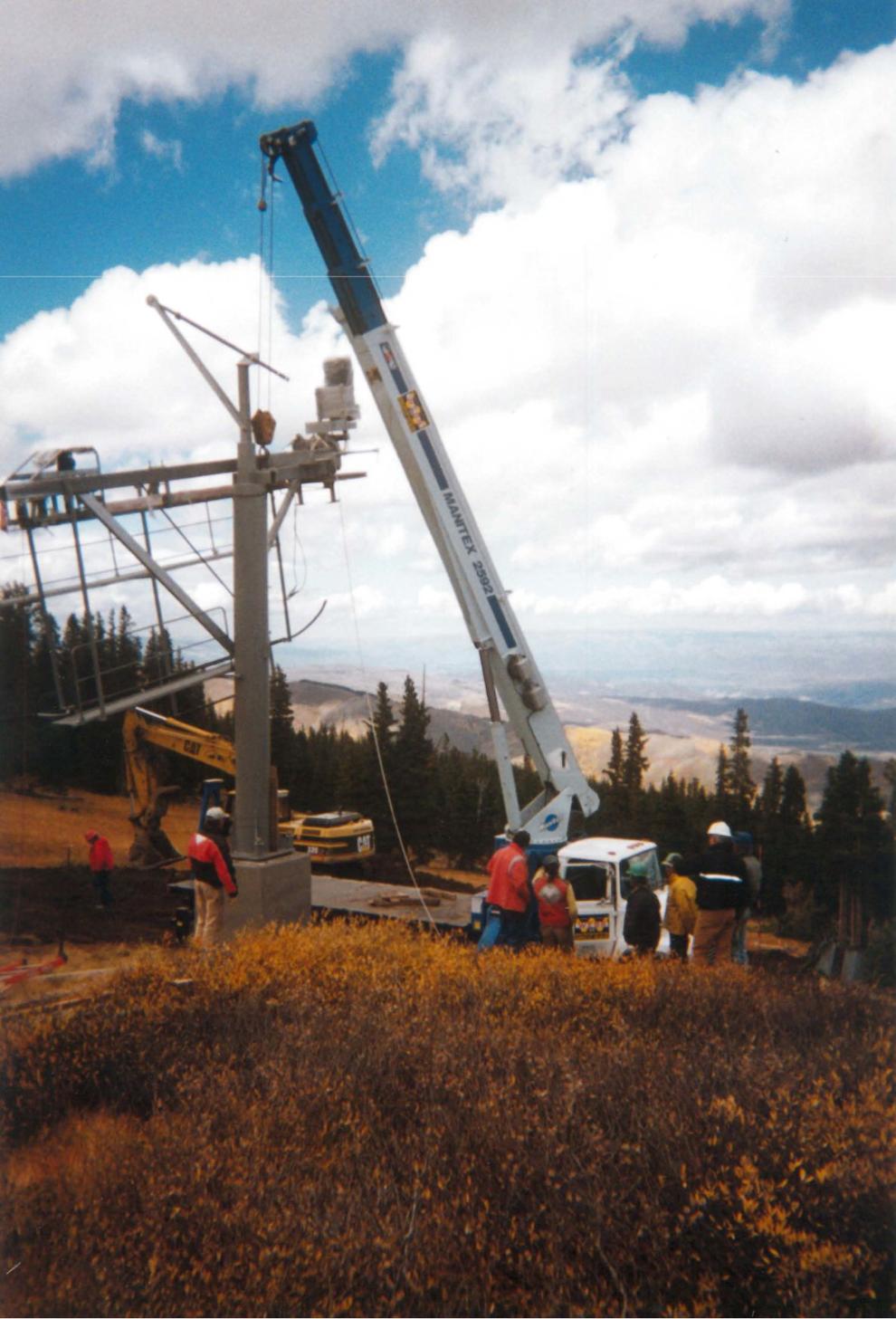 Preparation work for the Cirque began in April 1997, as soon as the ski area closed and while there was still snow on the ground. That way, building supplies could be transported via snowcat to the area above timberline, according to Gerdin. "We were going to do everything we could to not touch the ground" of the high altitude wetlands, he recalled.
Longtime Snowmass mountain manager Doug Mackenzie focused on environmental stewardship throughout the project, Gerdin said, which had buy-in from all who would painstakingly help build the lift. Hal Hartman was in charge of the lift alignment planning and surveying and Mark Gressett was the backhoe operator, he said.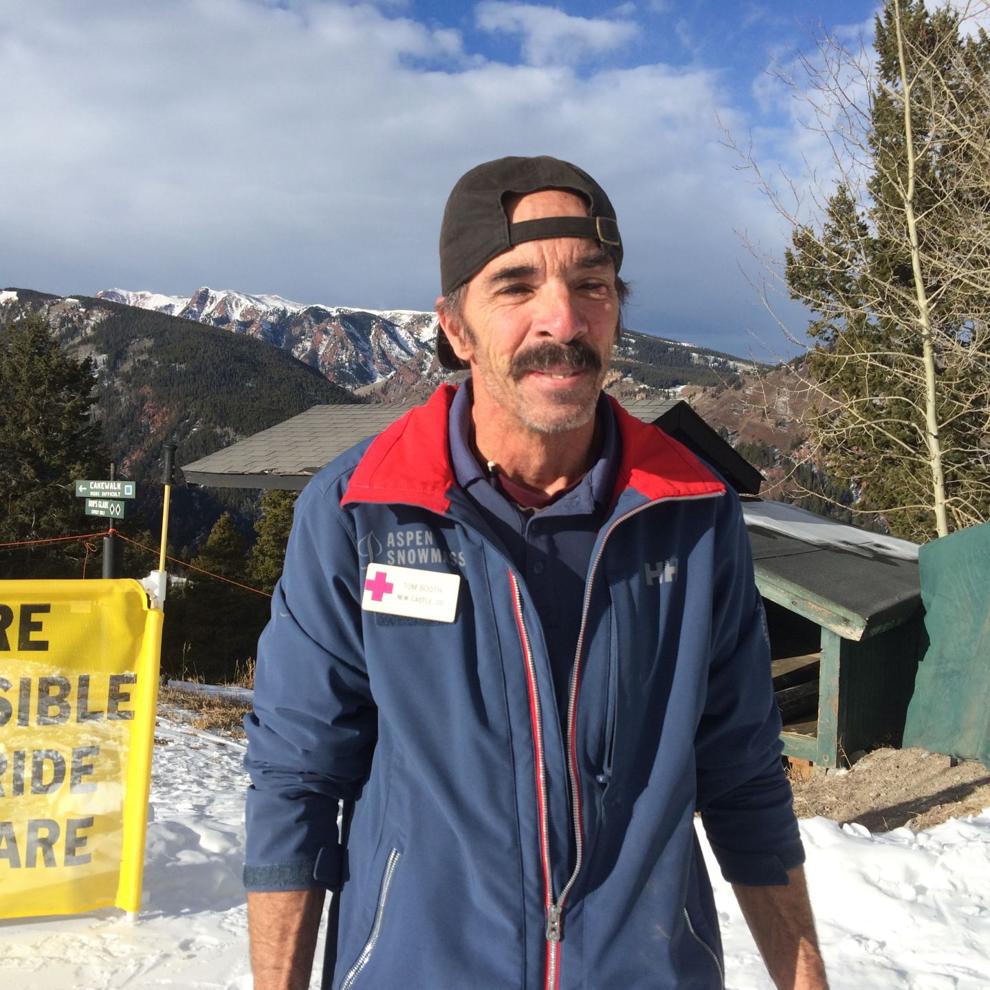 Placement of the lift line was especially delicate because just a few yards to either side can usually be seen wind-slabs or bare spots of ground. Hartman's knowledge of the terrain was critical in the line planning.
Once the snow melted and the ptarmigan finished their mating season – a pre-construction requirement – work on the ground began around July 1.
Vehicular disturbance during a six-week construction window was kept at a minimum, as workers walked up and down the approximately 750-vertical foot rise on a daily basis. After dirt was dug out of the six-foot-wide holes for the tower footings, "Instead of spreading it over the tundra, a lot of the dirt was hauled with buckets on people's backs," Gerdin said. The towers and concrete were later flown in by helicopter.
The Cirque was load tested in December of that year and it opened in February 1998. The Rocky Mountain High trail at its summit was dedicated in concert with the lift opening, which was seen as fitting because the late John Denver was not only known for his environmentalism but considered Snowmass his favorite place to ski. 
Despite an aspiration to become a ski industry model, the Cirque lift project did not receive environmental awards for its accomplishment as it unfolded in an era when just knowing you did the right thing was enough, Gerdin suggested.
Aspen Highlands lift museum 
Back when Aspen Highlands was independently owned, it operated up to a dozen different lifts at one time, a mix of double chairs and surface lifts that offered myriad ways to access the terrain. The resort that was founded by Whip Jones in 1958 opened with two chairlifts, a rope tow and a T-Bar but more uphill capacity was added throughout the years.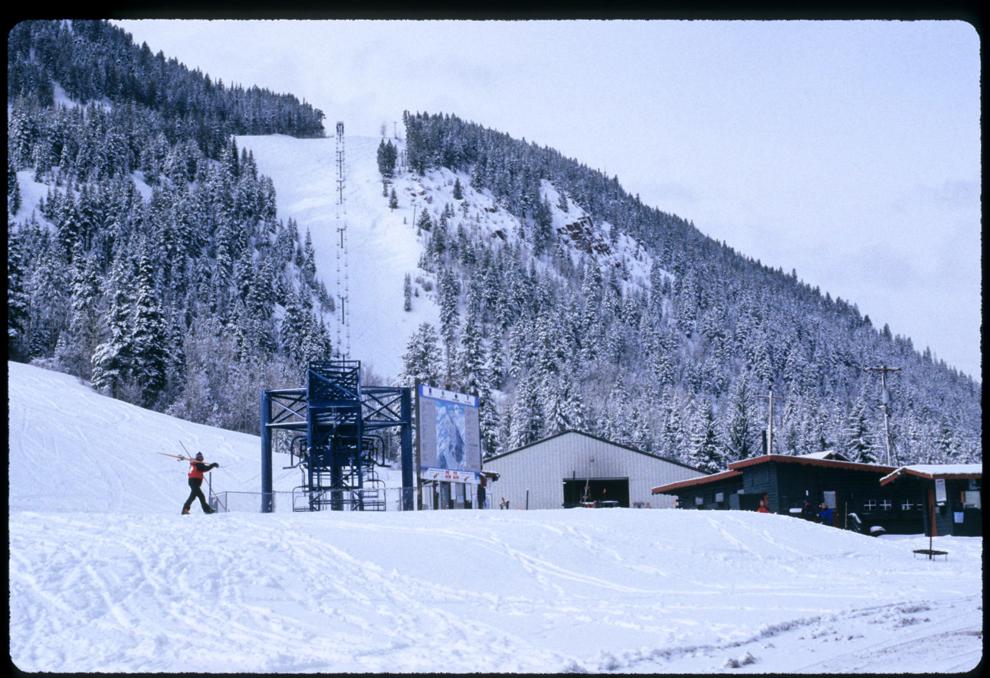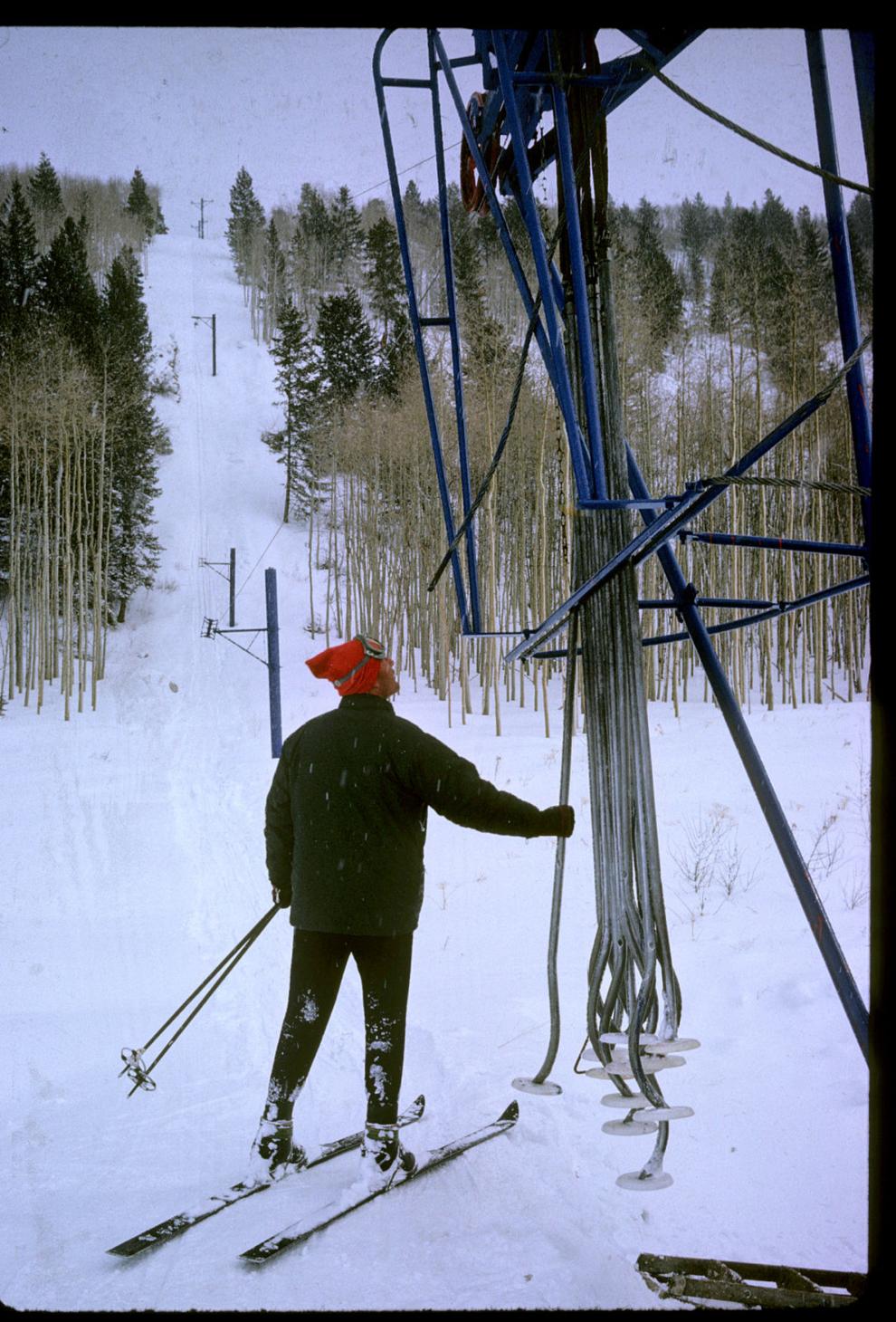 After the Crown family acquired SkiCo and bought Highlands in 1993 and 1994, the new owners set about the modernize the lift system that many locals derided as "third world."
Soon to be gone were Exhibition I and II chairlifts, Smuggler, Thunderbowl, Nugget and Loge chairs, and the Grand Prix and Golden Horn pomas. Their replacements offered a more streamlined access up the mountain that reduced ride time to about 22-25 minutes, half of the potentially cold and painful 45 minutes to an hour of the old days.
But with no lift redundancy and on the rare occasion that the Exhibition quad breaks down, extreme measures (such as pulling people up via a snowmobile) must be undertaken. 
"It's much quicker and much easier now," affirmed Kevin Hagerty, the mountain manager who has worked at Highlands in some capacity since 1989. The way the lifts are configured along the ski area's spine are so efficient that "you could run with just the two lifts if you had to."
Hagerty was part of the team "that took all those old chairs out and put all those new chairs in. It was pretty neat to see the evolution," he said.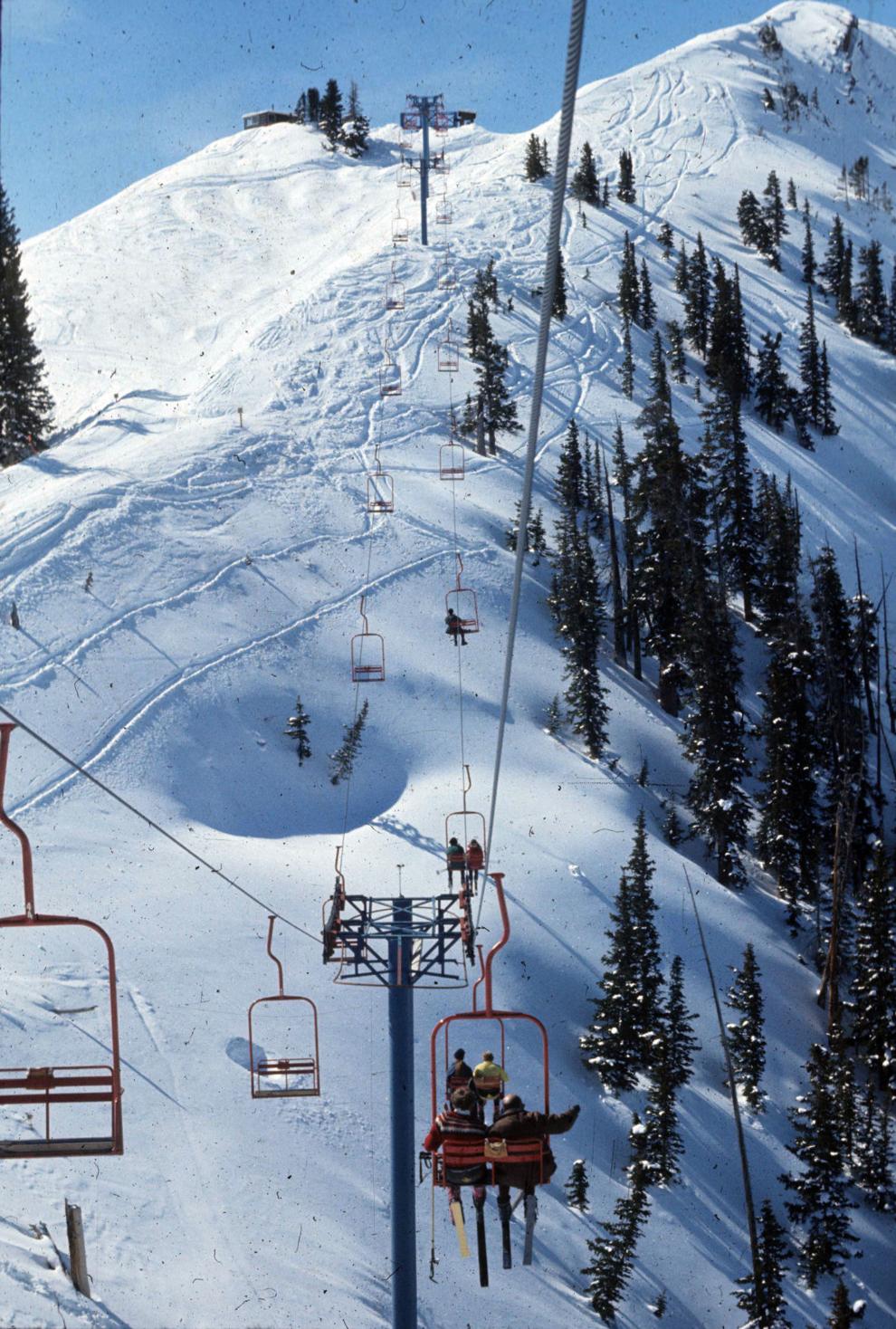 One of his jobs was to remove the old lift infrastructure using methods that included dynamite. That was employed in the destruction of Exhibition 1's concrete upper terminal.
Hagerty oversaw the addition of the new Exhibition and Loge lifts in 1994, Thunderbowl in 1998, Cloud 9 in 1999 and Deep Temerity in 2005. The Five Trees lift that takes off from behind Aspen Valley Ski and Snowboard Club at the high school is individually owned but maintained by SkiCo.
Lift tower removal presented challenges unto their own. Hagerty described the process as, "You'd cut them like you'd cut down a tree."
Especially thrilling was the physical removal of the iconic five towers that supported the old Loge lift. After making deep incisions into the towers, and pulling them with a winch, "They all came down like a big fan," he said. The act was also rather poignant, given the sentiment many had for the original Loge.
Removing the old Exhibition 1 double-chair also presented unique issues, as the lift towers weren't bolted in but kept in place with tar around the base, Hagerty said. For that job he regularly carried a torch in his backpack.
The mountain manager has become something of a historian on the subject of Highlands lifts given his personal experiences and also through a cache of photos uncovered from a renovation of the Merry-Go-Round restaurant. A photo of a platter lift that ran aside Upper Stein that most area employees and present-day ski bums did not otherwise recall, stands out.
While alternately beloved — for their speed up a trail — and despised for the oil they would sometimes leave on ski jackets, suits and pants, the old platter lifts were indelibly linked to Highlands' past. 
Their connection spans to its future as well; an application to construct a new poma lift up Golden Horn (in a similar alignment to the one removed during the 1990s),  is currently under review by the U.S. Forest Service.
Madeleine Osberger, madski@aspendailynews.com, is a contributing editor. Follow Madeleine on twitter @Madski99.