For several years, Andrew Bielecki was one of Colorado's go-to guys when it came to staging fun but competitive race events.
From mountain biking, snowshoeing and uphill competitions to various types of running races, he had the contacts and the know-how necessary to pull off a successful event. It was hard work, but also a labor of love for Bielecki, given that he was an athlete himself.
He took over the Mother of All Ascensions uphill race in 1993, one year after the event was founded. The annual event at Snowmass Ski Area is always held in conjunction with the Mardi Gras celebration.
Bielecki said the founders, Jeff Tippett, Joel Gorton and Patrick Long, had been to some of his events and were looking for someone experienced enough to run theirs.
"They asked if I could take it over because they realized the amount of work it took to put it on," he said. "I said, 'sure.' I was living in Aspen at the time."
Things went well enough for more than a decade as the event flourished under Bielecki's direction. Then, in 2005, tragedy stuck when he was deported back to his native Canada, the consequences of staying in the U.S. after his visa had expired.
With the help of others, he was still able to manage the Aspen race from his home in Victoria, British Columbia. But it was sometimes a struggle, and he faced an even greater personal crisis when his girlfriend Deirdre died of cancer in 2012.
Soon Bielecki wanted to quit the race altogether and withdraw from most other activities. Somehow, he said, he was able to push through the pain and stay the course.
This week, he's back in the Roaring Fork Valley and working full throttle to make this year's Mother of All Ascensions a success. The 27-year-old event starts at 7 a.m. Tuesday at the bottom of Fanny Hill, with race day registration for latecomers kicking off around 5:45 a.m.
Part of the proceeds for the event will go to the Aspen Hope Center, which assists people experiencing despair in their lives. It's a nonprofit to which Bielecki can relate.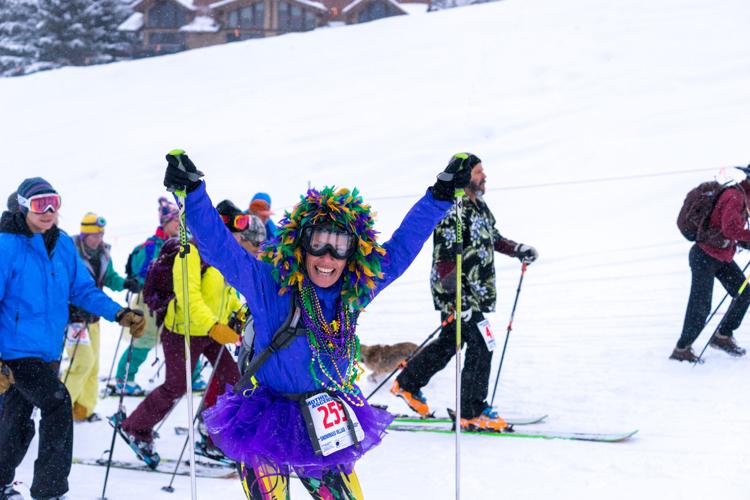 "The deportation rocked my world," he said. "For 10 years, I couldn't come back to the United States. Then my girlfriend died. The event almost went away.
"But working on the race ended up being therapeutic," Bielecki continued. "It's good to be back home. This community has always been super generous to me, and I want to give back to it."
The Mother of All Ascensions is a fun competition, with many entrants dressing up in costume in the spirit of Mardi Gras. From Fanny Hill, the race is about two miles long, with 2,073 feet of elevation gain. The route runs through the ski trails Green Cabin and Coffee Pot and finishes at Gwyn's High Alpine Restaurant, where a post-race party, raffle and awards ceremony is held starting at 9 a.m.
Those who are still interested in registering may visit snowfusion.com for more information. The entry fee is $30. A last-minute live registration event also will take place today from 4 p.m. to 7 p.m. at the Snowmass Base Village Conference Center. Entrants will be able to pick up their goodie bags, which carry a $30 value, and bib numbers at the center.
Bielecki said that the inordinate amount of prizes tends to keep participants coming back year after year.
"Everybody raves about them," he said.
In fact, more than $15,000 worth of prizes will be awarded this year to age-category winners of the race and those sporting the best Mardi Gras costumes. At the restaurant, a raffle will be conducted for race participants. Each race registration includes a free raffle ticket to win prizes.
Retailers from across North America, including winter-gear and clothing companies, shower the event with a lot of high-quality items, Bielecki said.
Typically, between 150 and 200 individuals participate in the event, he said.
Bielecki added that he's "indebted" to the Aspen-area community and all the individuals and businesses that have helped him to keep the event alive. He also believes he's getting help from above.
"I feel like Deirdre is up there watching me, helping me along," he said.
On race day, the registration fee climbs to $40. For more information, call (250) 266-0022.