A storm that unleashed its power over the Lake Christine burn area beginning late Sunday afternoon triggered multiple debris flows and water on Frying Pan Road that temporarily trapped 20 different vehicles, but resulted in no known injuries, according to Scott Thompson, chief of Roaring Fork Fire Rescue. 
Thompson was among the members of a large response team who Sunday night were breathing a sigh of relief that damage incurred during the storm and its aftermath amounted to less than originally feared. A Pitkin Alert evacuation notice went out at 5:31 p.m. aimed at those who lived in the area of Pinon Road and Cedar Drive imploring them to "please take all necessary precautions,"which included seeking higher ground. "Do not enter flowing water or debris," was among the initial warnings.
Frying Pan Road was closed intermittently Sunday from Riverside Drive to about 2 1/2 miles up the road, according to deputy chief Cleve Williams. The intersection of Cedar Drive and Two Rivers Road was reopened by 10 p.m. on Sunday.
Williams, who is in the process of rebuilding his home, which was lost in the July 2018 Lake Christine Fire, said Sunday night that at one time there were "seven different road blocks from the debris."
Chief Thompson said an emergency response plan was triggered because of predictions from the National Weather Service. About 50 responders from Pitkin and Eagle counties, Snowmass Village and Aspen turned out to assist at the scene. 
"We used everybody from Pitkin County and back," Thompson said.
According to the National Weather Service in Grand Junction, an inch of rain fell over the first hour, beginning at 5 p.m. There were reports of heavy rain after the first 30 minutes and flooding started on the south end of the Lake Christine burn scar. By 8:30 p.m. the rain had subsided and, according to Chief Thompson, was expected to let up before midnight.
Tracy Trulove, who was representing the Pitkin County Incident Management Team, said teams were in the field doing evaluations on Sunday evening. "Public works has been mobilizing for clean up," she said.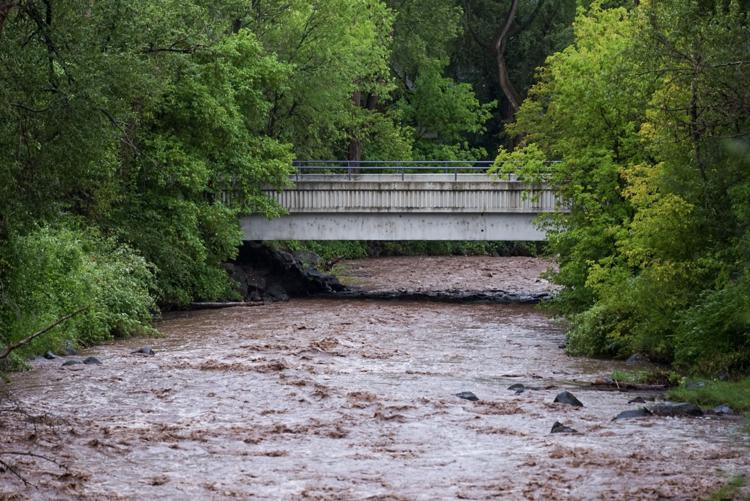 "There are no reports of utility problems, no injuries and no lost property other than mud around the house," Trulove added.
An evacuation center is set up at Eagle County building in Crown Mountain Park and was expected to start receiving people from the affected Basalt neighborhoods, according to Trulove.
Basalt Chamber of Commerce Director Kris Mattera was helping disseminate information to the public, including uploading alerts and photos from neighbors. "I'm passing along the information as it becomes available," Mattera said, noting that the Basalt Community Page was serving as an important source of information now, just as it was during the 2018 Lake Christine Fire.
Chapman Croskell contributed to this reporting.