Martha Stewart began her session a couple minutes late but explained to the crowd that it's because it's hard to go to the bathroom while wearing a jumpsuit. Am I just now realizing that's a funny prison reference? But she also was wearing a beige jumpsuit, platform heels and a beige necklace that looked like a snake wrapped many times around her neck.
She continued to be frank and hilarious with the crowd while demonstrating a ready-for-the-grill clambake, a biscuit-based summer desert and putting together three unique cocktails, in under an hour.
Stewart has been coming to Aspen to ski and attend Aspen Institute events, but never before has been a part of the Food & Wine Classic. She joked, after serval on-stage mishaps and branding faux paus (bad time to mix up Cuisinart and KitchenAid) that she hopes they will decide to bring her back in the future.
Live lobsters were boiled on stage for the clambake. She assured the audience that they had no central nervous system, and after peeking in to check on their status she said, "they are perfectly happy now that they are dead." She also recommended throwing a shot of vodka into the mix if you are boiling the crustaceans at home because, "if you were going to be boiled alive you would want a drink also."
Speaking of drinks, Stewart defended the Aperol Spritz, encouraging people not to default to "cheapy" prosecco. If drinking a chilled drink, such as a sangria, she suggested using one large ice cube instead of many small ones which melt faster in your beverage. How to make a large ice cube? She recommended the Martha Stewart Ice Ball Maker, available in stores.  
She also gave the crowd the inside scoop as to why she was such a cocktail expert.
"I make all the drinks in my house, having no husband you have to do it all yourself," she explained. "Poor me."
— Alycin Bektesh
Three whites, three reds, $25,000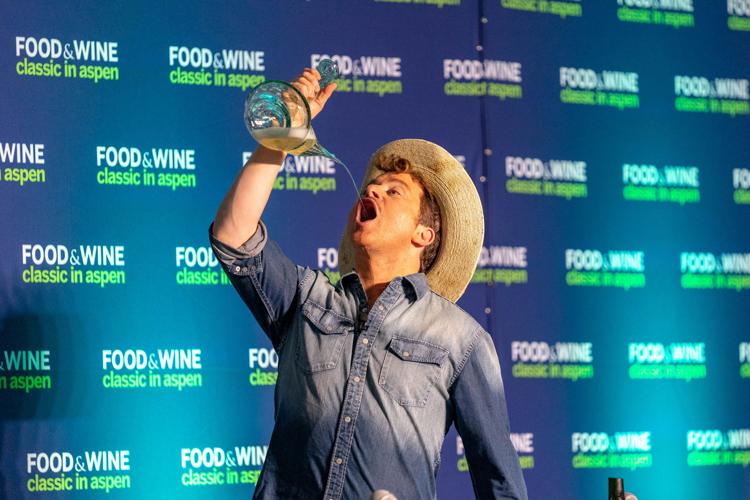 Everyone told me that Mark Oldman's "Wines for ___illionaires" was the best session to attend over Food & Wine weekend.
So, here I was at 10 a.m. sitting at this year's Wine for Quadrillionaires, chatting up my neighbor with six glasses of vino sitting in front of me. I had no idea what to expect, but since $12 rieslings are a special occasion for me, this already seemed pretty fancy.
Out walks Oldman, wearing an airline pilot's uniform. He tells us that this year's theme will be based around the supersonic Concorde airplane and the wines that were served or would have been served on the now-retired plane. He tells us that we'll be drinking $25,000 worth of wine this session and starts to walk us through our three whites and three reds.
I understand the hype now. Oldman is as entertaining as he is knowledgeable, and he brings the audience into the discussion and we taste the wines, which range from $200 a bottle to $900 a bottle. He also brings a member of the audience on stage and teaches him how to saber a bottle of sparkling wine, which gets the whole crowd cheering.
The most exciting part of the session was when he unveiled a massive bottle of cabernet, large enough to fill 36 standard bottles of wine. He explains that last year they had a bottle that had 24 bottles in it and this year he wanted to go "bigger and more expensive." He pulls out a porró and invites audience members to pour the cab directly into their mouth. I had a flashback to college house parties as people began shouting "chug, chug, chug" while this was happening.
Overall, I'm glad I went to Oldman's session. Not for the expensive wine — although it was nice — but because the man knows how to entertain a crowd. I'm not sure where he's going to go from "quadrillionaires" but I guess we'll just have to wait and see.
— Chapman Croskell
No quinine but still a good time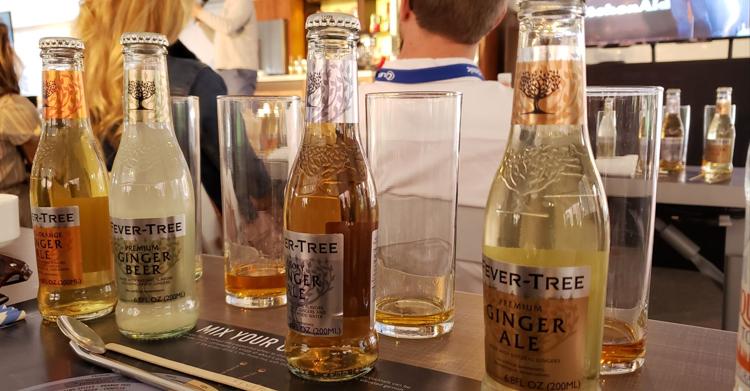 My second session of the day was a lot more niche and close to my heart.
I've long said that I won't advocate for a brand that I don't support 100 percent, and Fever Tree is a brand that I'm happy to tell everyone to try. I've been a fan of their tonic water since I discovered it at a gin bar in Germany
Unfortunately, this session was focused on their ginger offerings, but I was still excited. Charles Gibb, the North American CEO for Fever Tree, introduced the session and told a little bit of the history of the company. The name Fever Tree comes from the African local name for the Cinchona tree, which is the source of the quinine that makes up tonic. He then handed off to Jessica Collins, who walked us through the four mixers we were working with.
They had both the ginger beer and the ginger ale ⁠— the difference being that ginger beer is brewed ⁠— as well as two new offerings: an orange ginger ale and a smoked ginger ale. Collins told us about the three types of ginger that are used in their mixers and then we used them to create four different simple cocktails. They ranged from light and refreshing to more liquor-forward, but none disappointed.
The session may not have been the biggest and most exciting of the weekend, but it sure was nice to sit back and try a few mixed drinks, and it was fun to put the focus on the mixers instead of the liquor for once.
— Chapman Croskell