Weezer's fiery set at Jazz Aspen Snowmass Friday night, simply put, took me back to a simpler time.
Nostalgia is a weird, powerful sensation, and Weezer's 75-minute compilation of songs and covers Friday night delivered all the feels.
I won't share exactly how old I was at the band's peak, for fear of ageism, but let's go with middle school-ish. I'll also offer that, as the unofficial theme song to Mary Kate and Ashley Olsen's 2001 direct-to-video film, "Holiday in the Sun," Weezer's "Island in the Sun" immediately conjured scenes of America's favorite preteen twins gallivanting around the Bahamas. (Anyone else, or is that just me?) And just for the sake of clarity, the song in the movie was a cover by a band called "Empty Trash."
Speaking of covers, Weezer killed it on the cover front last night, from crowd-pleasing interpretations of Toto's "Africa" to the Turtles' "Happy Together." They also gave the people, and their fans, what they wanted, playing from their more popular hits like, "Say It Ain't So," "Beverly Hills," and "Pork and Beans." A cover of TLC's "No Scrubs" was also an unexpected, albeit pleasant, surprise.
Their 1994 single, "Buddy Holly," opened, and, interestingly enough, also closed their set. The encore version, however, was performed a cappella.
I personally was there for the guitar riffs, and Weezer did not disappoint. Having never seen the band live, I was also delightfully impressed by the passion exuded on stage.
"I've never been so attracted to a group of last picks in gym class," noted one friend, who will remain anonymous.
And, as someone who appreciates a solid pair of funky printed pants, singer and guitarist Rivers Cuomo's plaid choice did not go unnoticed.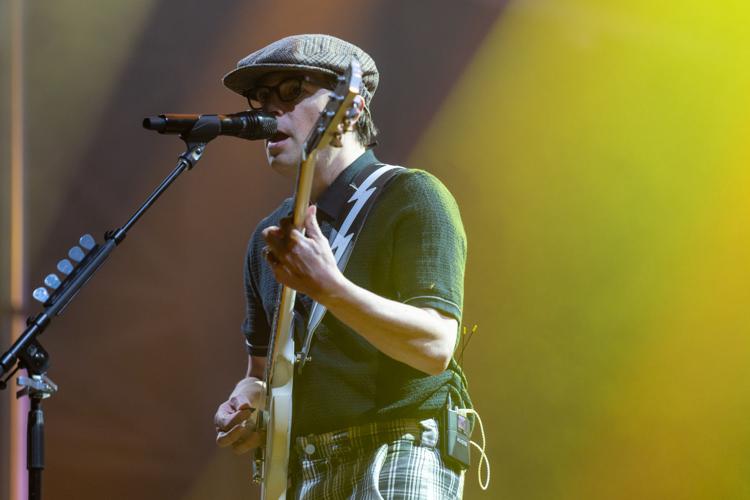 One of the best parts about Jazz Aspen Snowmass is that there isn't a bad spot to view the action. We bobbed around the venue and jammed to Weezer in the back, front, general admission and VIP sections, each time enjoying a different vantage point.
Weezer didn't miss a beat. Myself, on the other hand …
 — Erica Robbie
Day and night, finding your spot in the crowds
Jazz Aspen Snowmass on its kickoff night was packed. And yet, the crowd seemed to self-categorize into silos with shared goals. The pit was high energy, full of dedicated diehards ready to get the best views and selfies. A little farther back were the real concert type As: the pros who show up early with blankets and folding chairs to stake their claim of grass for the evening.
Main takeaways from Friday night: Portugal. The Man put on a great performance — I just wish I could have been a fly on the wall during whatever production meeting yielded the babydoll-themed projections. I only had one nightmare later that night. But totally worth it. And to the dad wearing the old-school ­Weezer shirt and ­fisherman's hat Friday: Your unfettered joy was a highlight of my night — just behind hearing Weezer cover TLC's "No Scrubs" in an encore. Talk about things I didn't know my 90s-nostalgic heart needed, but absolutely did.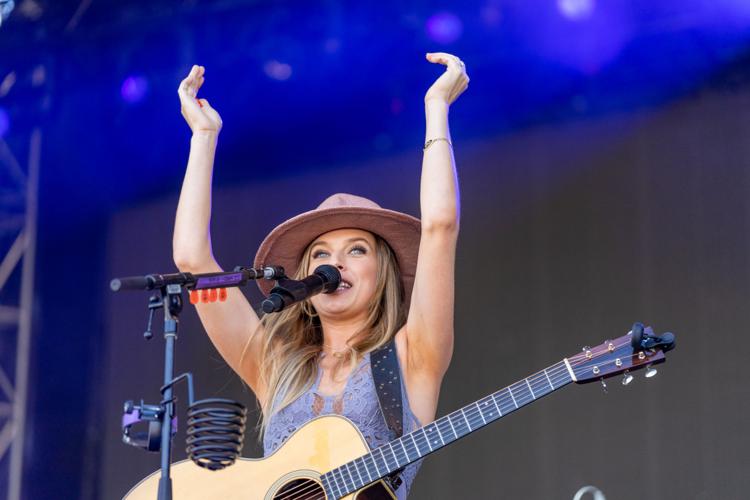 Saturday afternoon, everything seems shorter. Lines? What lines? Since the show was already sold-out, everyone arrived prepared with tickets in hand/on cellphone and the back up that existed Friday night for tickets and will call was instead a walkup Saturday. Similarly, food vendors and beverage pourers were downright chatty, since there wasn't anyone really waiting behind me. More time to post up with my type As on our blanket and be thankful I ­remembered sunscreen.
Speaking of attire, there were noticeably more cowboy hats in the crowd — probably because the second act was Luke Combs, an artist who has topped the Billboard country albums chart. The age range found in Saturday afternoon's audience was smaller than that of Friday night and decidedly older. And as I'm writing this, Combs just started a rendition of "Desperado." Everyone around me, from their respective blankets, joined in with what might as well be one voice. The JAS magic continues.
— Megan Tackett