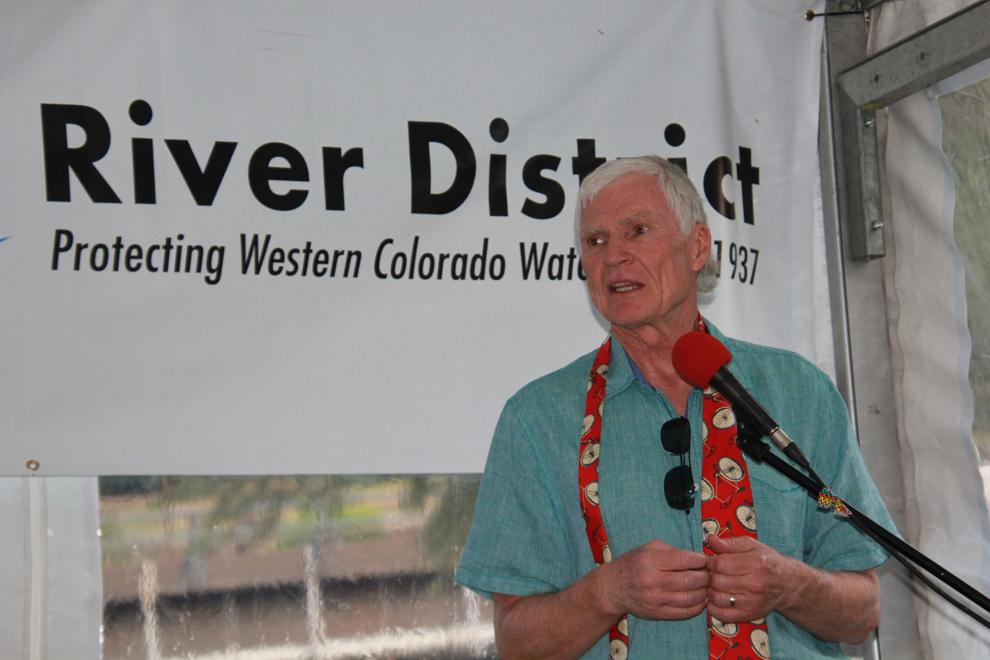 Water officials from across the state gathered Wednesday evening in Glenwood Springs to fete Eric Kuhn upon his retirement as general manager of the Colorado River Water Conservation District.
Trained as an electrical engineer, Kuhn was pursuing a career in nuclear power plants when he happened to notice a job advertisement in the Wall Street Journal for a position in Glenwood Springs. That was in 1981. Obviously, he got the job, moving from energy to water, from California to Colorado.
It was sharp pivot in Kuhn's life. And Colorado since 1981 has also pivoted hard in very fundamental ways in its conversations about water.
Tom Alvey, who grows fruit and operates a packing shed in Hotchkiss, credited Kuhn with providing transparency and "getting the facts right" during his time as general manager of the Colorado River Water Conservation District, beginning in 1996.
Bill Trampe, who owns a ranch that sprawls between Crested Butte and Gunnison, lauded Kuhn for having "the foresight to see where we were headed and what we needed to do to be effective in protecting water for the Western Slope."
Peter Fleming, the river district's general counsel, testified to Kuhn's "highly intellectual approach to negotiations." As arguments and counterarguments were waged at one session, said Fleming, he observed Kuhn scribbling into a notepad. Peering over his boss's shoulder, he said, he saw numbers. What did they represent? "He was calculating complex integers," Fleming discovered. In that scribbling could be seen a larger lesson.
"He wasn't disinterested in what was going on," said Fleming. "He just knew that the timing wasn't right for him to offer what would inevitably be a good solution."
Denver Water's Jim Lochhead was also at the gathering in Glenwood, just a few blocks from where he had for many years staffed the "Aspen office" of one of the state's leading law firms. Lochhead drew attention to Kuhn's influence beyond Colorado's traditional Eastern Slope versus Western Slope schisms to the broader seven-state Colorado River Basin. There, Kuhn's voice about preparing for a warming climate has become influential. 
"He is collaborative. He is innovative. He thinks about different solutions. He listens. He tries to find the common ground," said Lochhead, now chief executive of Denver Water, an agency that provides water to 25 percent of all Colorado residents.
Nobody, however, spoke directly to the giant pivots in water politics, policies and problems in the 37 years since Kuhn arrived in Colorado.
One of the largest pivots had already begun in 1981. The federal government had spent most of the 20th century building the giant dams, canals and other hydraulic infrastructure in the West. In Colorado, the greatest ambition was evident in the gigantic transfer of water from the Colorado River headwaters near Grand Lake to the benefit of farmers in northeastern Colorado. It's called the Colorado-Big Thompson Project.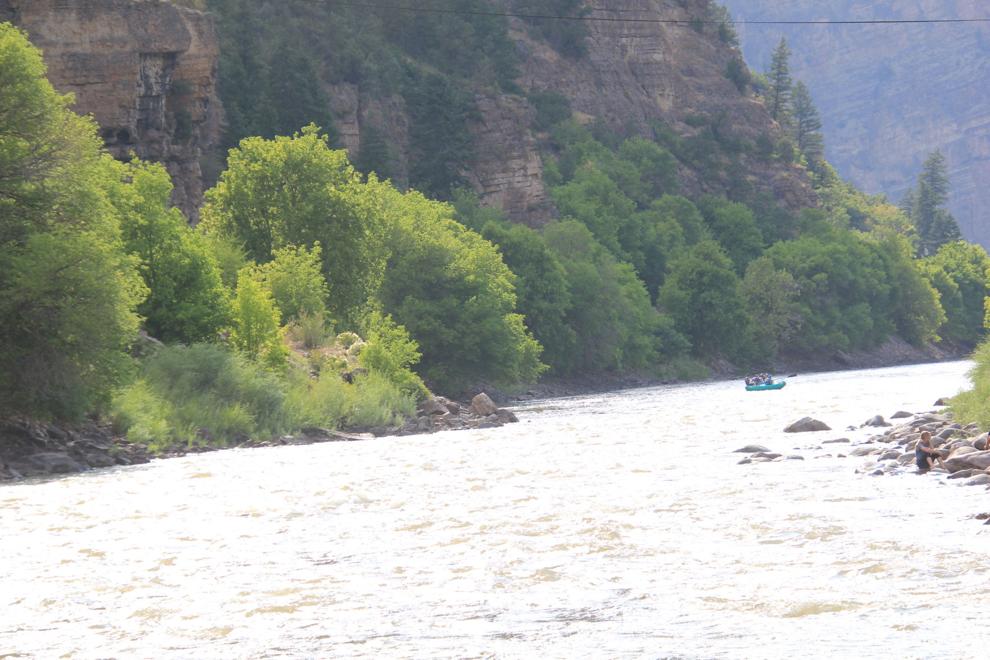 The transfer — some would call it a heist — was opposed on the Western Slope, of course. One result of the compromise was a 1937 state law that created the river district and charged it with "conservation, use and development of water in the Colorado River and its principal tributaries in Colorado." It covers 15 counties, including Pitkin, Garfield and Eagle. Southwestern Colorado has a similar district.
Another outcome was federal construction of Green Mountain Reservoir, on the Blue River north of Silverthorne. The dam had immediate benefits to the Western Slope, helping regulate flows to the benefit of farmers around Grand Junction. Much later, the regulated flows were crucial to providing water for endangered fish species in the Colorado River.
A later enterprise, the Fryingpan-Arkansas Project, hewed to the same template: It diverts water from the Roaring Fork drainage to farmers in southeast Colorado. For this, the Western Slope got Ruedi Reservoir. It was completed 50 years ago.
More projects were proposed, but in 1977 President Jimmy Carter announced they wouldn't get funded. Westerners bristled and ridiculed Carter as a peanut-farmer in rain-drenched Georgia who didn't understand the West. Ronald Reagan, arriving at the White House in 1981, was heralded as a Westerner who would right things. He only went half-way: Locals would have to come up with half the money for their dams and diversions. For most projects, it wasn't nearly enough. 
Kuhn noted that during his time, two of the five projects on Carter's hit list in Colorado were eventually built, if not to the sizes originally envisioned. One of them, Ridgway Reservoir (originally called Dallas Divide), provides hydroelectricity that is part of Aspen Electric's 100 percent renewable portfolio. 
Altogether, however, the river district during Kuhn's time had a hand in building five smaller-size reservoirs. Wolford Mountain Reservoir near Kremmling, by far the largest, is two-thirds the size of Ruedi. It was built in co-operation with Denver Water.
The River District under Kuhn also worked with Denver Water on other projects. But when Kuhn started work in Glenwood Springs, the relations were rocky. Denver wanted to build a giant dam in the foothills southwest of the city. Two-thirds of the water behind the Two Forks Dam was to have come from the Western Slope, primarily Summit County. Water was to go to Denver's fast-growing suburbs. 
Kuhn had been assigned to represent the river district on a task force appointed by then-Gov. Dick Lamm, to help sort through the controversy. The Western Slope task force aligned with the environmental community and together they conceded need for a small Two Forks as well as expanded diversions from Winter Park area for an enlarged Gross Reservoir west of Boulder. In exchange, the task force said, Denver needed to commit to greater water conservation. Denver Water's leaders, confident of their rightness to the point of cockiness, refused.
The drama was cut short in 1991 when the administration of President George H.W. Bush vetoed the project, which was to be on federal land, based on environmental impacts.
Kuhn points out that the levels of conservation the Western Slope and environmentalists asked of Denver were much less than what has actually occurred. Denver Water now uses the same water for roughly double the number of people it did in 1990. The default expectation of ever-more water supplies has been shattered.
"You have this decoupling of municipal growth and water use, and we really didn't see that coming in the early 1980s," Kuhn said in an interview last week. 
Neither did Aspen, for that matter. Both Denver and Aspen have been part of a national trend of declining per-capita use of water that may be far from over. It's a simple matter of economics. Wringing the sponge of water conservation is cheaper. More expensive is buying water from farms on the Great Plains, but it's still cheaper than developing new supplies.
Still being debated is how much water Colorado has to develop out of its entitlement, under compacts governing the Colorado River. As with Two Forks, a notion that the solution to water shortages is to build more dams and divert more still lingers. It assumes water remains available. A state report issued several years ago concluded that Colorado had as much as 1.5 million acre-feet of water in the Colorado River to develop.
Kuhn scoffed at that estimate. He said then that no more than 150,000 acre-feet remained — and, quite possibly, not even that. Even allocations for existing water uses are questionable because of the dangling uncertainty of the warming climate.
In retirement, Kuhn may be working on the most important project of his career. Working with John Fleck of New Mexico, he's writing a book about the Colorado River in a time of global warming.
After rummaging around climate change science beginning in about 2000, Kuhn became increasingly vocal through published papers and other work about the need to recognize the profound implications of a warming climate on water supplies in the Colorado River and the demands.
"I was just reading some of the work that was coming out in the early 2000s, and it's largely proven to be generally correct," he said last week. "I am surprised how quickly it has come on, because there is so much noise in the system," he added, referring to the inherent variability of weather, both temperature and precipitation. "Even from one year to the next there can be a lot of noise."
What this means exactly for Colorado is still hard to say. There's still too much uncertainty about impacts to justify significant infrastructure investments at this time, according to even Denver Water. Kuhn agrees. 
"It will take a long time to see how that pattern (of change) sets up," he said.
Climate modeling suggests — but with low confidence — less snow and precipitation for southern Colorado and more for northern Colorado. The Elk Range can be seen as a divide between that wetter and drier future.
"If I were in the southwest, in Durango, I would be a heck of a lot more concerned than if I were in Steamboat Springs, based on what we know now—but it's still a guess," he said.
For the broader Colorado River Basin, though, Kuhn expects less water in the Colorado River as it flows into the Grand Canyon past Lees Ferry. That, he thinks, should have profound implications for how the seven states of the Colorado River Basin – plus Mexico—move forward. 
 And that is the big idea for the book now being written. In it, he and Fleck point to a report issued before the Colorado River Compact was formally adopted by Congress in 1928. The framers of the compact had assumed 16.4 million acre-feet average flows in allocating the waters among the seven basin states — with more yet due Mexico. In fact, flows during 20th century proved to be somewhat less, about 15 million acre-feet. The report provided accurate evidence of lesser flows beginning in 1875 and, more circumstantially, to 1850. 
In other words, it was wishful thinking to assume so much water — and based on what is known about global warming, it's fair to assume even less water in the 21st century. Through the first 14 years of the century, according to the research of Brad Udall and Jonathan Overpeck, flows have declined 19 percent. 
"It's a story about ignoring inconvenient science," Kuhn said of the book. "If you had accepted the science, it would have made the political job [of apportioning the waters] much more difficult."
It's a story from a century ago, he said — but one fully relevant going forward.
Allen Best produces Mountain Town News. See: http://mountaintownnews.com