For the most part, even during the longest meetings of Pitkin County commissioners, no one falls asleep. Aloysius Kury, however, unabashedly snoozes away. 
He's the son of commissioner Kelly McNicholas Kury, and throughout his three-month life he has napped through discussions of a countywide tobacco tax, updates of the Aspen Mountain master plan and matters relating to affordable housing. 
"Most of the time during the meetings I'll nurse him and he'll fall asleep and I'll just hold him and he stays that way until he needs to nurse again," said McNicholas Kury, on a recent afternoon in her office on the top floor of the new county administrative building. Aloysius is uncharacteristically squirmy, communicating the need for some sort of burp. 
"He grunts and squawks," she said.
The two have a pretty good routine. He nurses every two to three hours throughout the night, but both are able to quickly fall back asleep between sessions. Her husband Scott gets two-and-a-half-year-old Bridget's lunch together in the morning before she goes to day care. Bridget came to a few planning and zoning meetings when she was her little brother's age, but she was a much different baby.
"I couldn't have done this with my first child," McNicholas Kury said. 
She wasn't expecting to be back in the commissioners' meeting room so quickly. The county offers six weeks of maternity leave through its disability policy, which includes a partial income replacement.
"But because I've felt good, and he's been easy, it's been easy for me to say 'Well, why not?' It's better to stay on top of things and engage, then to play catch up, or miss out on things that I think are important to engage on."
She spoke with her colleagues on the board to make sure breastfeeding during meetings wouldn't make them uncomfortable — and to make sure Aloysius isn't a distraction.
"Everyone has been super supportive," McNicholas Kury said.
For mothers who want to spend more than six weeks with their newborns before returning to work, they are protected by the federal Family Medical Leave Act. The act covers medical situations experienced by employees or their families, and guarantees they cannot lose their job due to time off of up to 12 weeks. 
But that time off is unpaid. 
McNicholas Kury, who before being elected as a county commissioner last fall served as Pitkin County's elections manager, was able to save up and take this option for Bridget. But she acknowledges that for parents who can't, six weeks is a very quick turnaround for a new mother to rejoin the workforce.
"The expectation that I was going to feel physically well and be physically present to work a 40-hour job was unrealistic," she said.
The timing of Aloysius' birth has worked out well. One of McNicholas Kury's roles as a commissioner is to be a liaison to the state legislature, which is not in session over the summer. When it reconvenes in January, McNicholas Kury will have her eye on the continuation of a paternity leave proposal that she was involved in last year. 
If passed, the FAMLI medical leave insurance program would allow employees to set aside a percentage of their paychecks, and require some employers of a certain size to provide a match. The funds could be used if the employee needed to take time off work for a medical issue, or to care for someone with a medical issue.
Governments would be exempt from the measure, so Pitkin County would not have to offer the savings account or the match. Other private sector employees have protested the measure, which led to the bill being shot down and sent to a committee for research of alternatives.
"There was a lot of employer resistance for another benefit," McNicholas Kury said.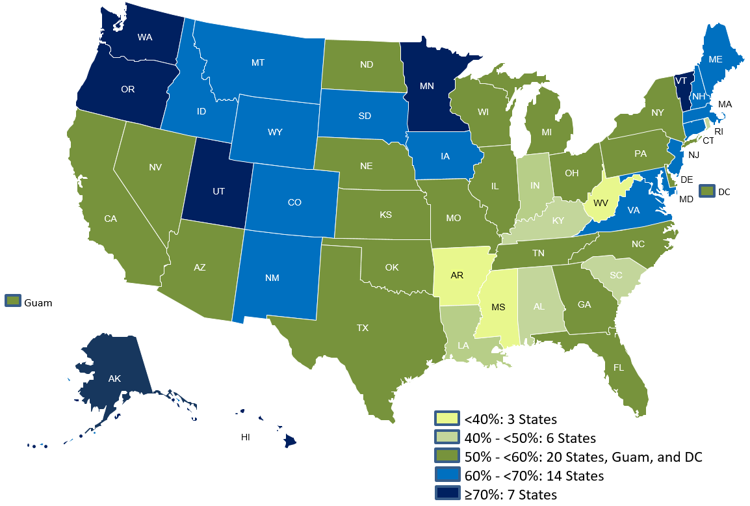 Much like the rhetoric around raises to the minimum wage, employers said the bill would actually hurt the workforce, because they would need to cut hours, or switch their staff from salary to contract workers in order to get out of the requirement. 
Even with extended parental leave, mothers are still breastfeeding by the time they return to work. The Centers for Disease Control recommends that infants breastfeed exclusively for their first six months.
To that end, a designated comfort room was included in the design of the county's new administration building, which was completed last year. It has a window, a small couch and a sign that lets others know when it's in use. The comfort room also gives new mothers a place to breast pump while they are away from their nursing babies. 
While the room was not built exclusively for this reason, County Manager Jon Peacock said there is a bit of a baby boom right now.
"It couldn't have been better timing to have this kind of space," Peacock said. "It's occupied frequently."
2010's Affordable Care Act requires companies of 50 or more employees to create a lactation room. The act gives a basic outline of what that room should provide.
"A place, other than a bathroom, that is shielded from view and free from intrusion from coworkers and the public, which may be used by an employee to express milk," it reads. 
Peacock and Rich Englehart, deputy county manager, said they didn't even look into the minimum federal requirements, because it was always a given that a comfort room would be a part of the new facility. 
"It's important, we understand the challenges that working moms have," Englehart said.
"We actually did not dig deep into the requirement because we just thought it was the right thing to do," Peacock said. "When the architects brought it up we were like, 'Yes, this makes a lot of sense, let's find a good comfortable space.'"
City of Aspen, SkiCo policies
The construction of another civic building is underway down the block. The city of Aspen received an advisory vote from the public last fall, choosing Galena Plaza as the site for its new, three-story office building. 
The programming of the building is still being discussed, but Rob Schober, a project manager in the city's capital asset department, said one of the rooms will be available for nursing mothers. He said the city's police station, which also was completed last year, has a lactation room on the top floor.
"The 'mothers room' is designed with an 'occupied' indicating door lock, electrical outlets for plugging in a breast pump, pleasant lighting and ventilation, a comfortable chair and side table, and a surface for a breast pump and supplies. We intend to incorporate a similar setup into the new office campus," Schober said.
The city also uses the FMLA to cover new parents' absence from work. Additionally, the city offers paid time off for full-time employees who meet work history requirements. The days accrue, and are banked for any type of use, not just medical emergencies.
 "PTO combines sick and vacation leave into one flexible program," said Alissa Farrell, human resources director for the city of Aspen.
Up until a couple of years ago, the Aspen Skiing Co., the valley's largest employer, also relied on the Family Medical Leave Act for its maternity policy. The act allows employees the right to return to their jobs, but doesn't guarantee pay while they are out.
Jim Laing, chief human resources officer for SkiCo, said company officials found that to be inconsistent with the workplace environment they were trying to create. He said his office works to look at the full career of their employees, from entry level to retirement.
"It's very deliberate and we look at the whole professional and personal lifecycle," he said.
Just allowing the time off didn't seem consistent with their company values of supporting people in different stages of life.
"We decided that it was the right thing to do to also pay people to take time off for the birth or adoption of a child," Laing said. 
That paid leave is available to both mothers and fathers.
"That was a huge part of our conversation as we were deciding to move ahead. Everyone is in this together and mom and dad should be in this together," Laing said. "Dads have loved it."
It's a sign of changing times, as corporate policies and public facilities have begun to acknowledge fathers in the role of child care. 
Back in the new county administration building, there are diaper-changing stations not just in the women's bathroom, but also in the men's room. McNicholas Kury didn't even know that until her husband Scott mentioned how grateful he was to find one in a time of need. 
With her baby asleep on her chest, she continues to work with a staff committee that hopes to bring a local paid leave proposal to commissioners during budget talks this fall. The group is comparing county policies to other regional workplaces and calculating ways to create a fund for employees who elect to set aside money for emergency time off.
It's been a generation since a county political official gave birth while in office. McNicholas Kury said she knows that every woman's birth experience is different, but hopes that the reception she has had at work shows others that there are myriad options for working parents.
"I hope that the experience I've had, with the great support that I've heard from people, sort of lends someone to decide it might be right for them too," she said. "They shouldn't just assume that they don't want babies at the meeting, because I haven't felt that."
And she hopes forthcoming policies can help replicate the freedom she has enjoyed as she feels out working life with Aloysius.
"I am aware of that real benefit of flexibility that I have," she said. "The biggest thing that moms and families need is just the ability to control time."