When the U.S. House of Representatives convenes in January 2023, eight of its members will be there on behalf of Colorado — one more than the state currently has.
Kerry Donovan, who currently represents Pitkin, Eagle and five other counties in the Colorado Senate, as well as other Democrats like Glenwood Springs attorney Colin Wilhelm, hope to be among the eight. They have announced their candidacies for the 3rd Congressional District seat, which is currently held by Republican Lauren Boebert of Rifle.
The 3rd District spans most of the Western Slope and has not been held by a Democrat in more than a decade. The election will be held in November 2022, and the Democratic candidate will face off against a Republican — Boebert, if she prevails in her party's primary — in an increasingly Republican congressional district.
"Lauren Boebert's unpopular beliefs in conspiracy theories, mounting ethics scandals, and refusal to work for the people of the 3rd Congressional District make her uniquely vulnerable in the next election," said Eli Rosen, a spokesperson for the Donovan campaign, in an email Friday. "While our team continues to analyze next steps, Kerry's focus remains on giving the people of Western and Southern Colorado an honest, hard-working voice in Washington."
Boebert, who owns Shooters Grill in Rifle, upset five-term incumbent Scott Tipton in last year's Republican Party primary and went onto defeat former Democratic State Rep. Diane Mitsch Bush of Steamboat Springs in the general election. Boebert won districtwide by roughly 26,000 votes.
On Friday, the Colorado Independent Redistricting Commission submitted its final map outlining the state's eight congressional districts to the Colorado Supreme Court for final review.
The court will issue its opinion on the map no later than Nov. 1 — roughly one year away from the 2022 mid-term elections.
"Beating and removing the dangerous Lauren Boebert from Congress is still the No. 1 priority no matter who is left standing on June 29," Wilhelm said, referencing the date of the Democratic primary for CD3. "This is the better map in my mind ... and this map kept the state at that competitive level, I think, that really represents the purple of the state."
In 2018 and 2020, Wilhelm ran to represent House District 57 in the Colorado General Assembly but lost in each race to a Republican.
Colorado's massive 3rd Congressional District encompasses 29 counties, from La Plata County along the state's southern border with New Mexico to Moffat County near Wyoming. Sixteen counties in CD3 favored Boebert in 2020 with the remaining 13 going for Mitsch Bush.
Should the Colorado Supreme Court approve the commission's congressional redistricting map, Routt County, which favored Democrats nearly two-to-one in the 2020 election, will no longer be in CD3. Home to Steamboat Springs, Routt County will instead join Colorado's 2nd Congressional District, which is currently represented by Democratic Congressman Joe Neguse.
Jackson County, where Boebert received nearly 80% of the vote, will also move into Neguse's district. However, the historically Republican Jackson County only accounted for roughly 852 votes in the 2020 election, whereas the highly Democratic Routt County tallied more than 16,000 ballots. Lake County, which also heavily favored Democratic candidates Joe Biden (president), John Hickenlooper (U.S. Senate) and Mitsch Bush in 2020, also would depart CD3 under the submitted plan.
A spokesperson for Boebert did not return a request for comment.
Although a few counties to the north, like Routt and Jackson, would depart CD3 in the plan, most of Boebert's district remained as it was when she won it in 2020.
Previously belonging to the state's 4th Congressional District, Las Animas and Otero counties in southeastern Colorado would move into CD3. Both counties heavily favored former President Donald Trump in 2020.
With the 3rd Congressional District appearing more Republican than it did when Boebert was elected, some candidates may rethink whether they should run. The redistricting process also has drawn some candidates out of the districts they intended to represent. In Colorado, a congressperson does not have to live within the district they represent. Instead, in order to run for one of the state's eight U.S. House seats, they must be at least 25 years old, a U.S. citizen and live in Colorado.
After months of public input, and weeks of finalizing boundaries, the redistricting commission agreed on the final map in an 11-1 vote.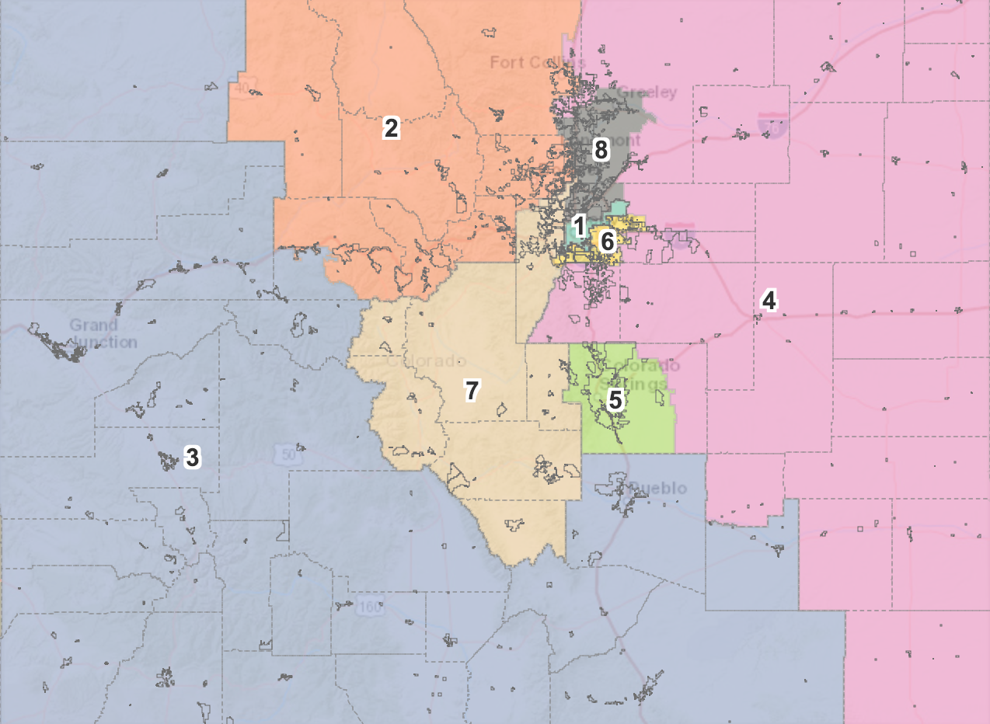 Hundreds of people applied to be on the independent commission and the process included "random" eliminations in order to ensure fairness. However, as the applicant pool was narrowed down, retired appellate court judges determined the final makeup of the commission that drew the congressional district boundaries. The commission consisted of four Democrats, four Republicans and four unaffiliated voters.
Rural counties want rural voices
Simon Tafoya, a Democrat based out of Denver, was the only member of the redistricting commission to vote against the final plan for the congressional districts.
"The people who criticize other maps for including metro areas with rural areas … this map essentially does that," Tafoya said. "This, I think, went too far."
Tafoya took issue with cities like Broomfield, with a population of more than 60,000, being lumped into the same congressional district as Custer County, which has a population of less than 5,000 people.
"In my mind, it's a little bit disingenuous for folks who, in the same breath, said they didn't want very urbanized areas with rural areas," Tafoya said. "This map very much does that."
Jason Kelly, a Republican from Alamosa who also served on the congressional redistricting commission, disagreed.
Kelly, who was one of the 11 commissioners who supported the final map, agreed with Tafoya that some of the state's congressional districts were drawn too big. However, Kelly believed those larger-than-desired districts were unavoidable given that most of the state's 64 counties are predominantly rural.
Kelly thought the commission did a good job of not splitting up areas like the Roaring Fork Valley into more than one congressional district.
"One of the guidelines we adopted was to keep the Roaring Fork Valley whole. One of the [initial] maps, it kind of split off at El Jebel and Basalt, and they wanted to make sure we included all of that," Kelly said. "We heard a lot from the community about how the Roaring Fork Valley is really a community of interest and how much they rely on each other."
Prior to 2018, the Colorado legislature divided the state's various congressional districts up. However, three years ago, the state's voters overwhelmingly supported Amendment Y, which transferred that power from the legislature to an independent commission.
Kelly was particularly proud of the work the congressional redistricting commission completed and applauded the sheer volume of feedback it received from the public.
"The Constitution required that we hold at least 21 hearings. I think we held 40," Kelly said. "I really feel like the commission listened to [rural] voices just as much as they listened to anybody else and they really took into consideration the rural nature of the Western Slope and the eastern plains and southern Colorado as well."
Each of the state's eight districts must have an equal population, preserve communities of interest — like counties, cities or towns — and "be as compact as is reasonably possible," according to the criteria commissioners followed.
The congressional lines also must "maximize the number of politically competitive districts."
Currently, Colorado has seven congressional districts. The eighth, pending court approval, will include portions of Weld County and other areas along the I-25 corridor north of Denver.
In years past, Republicans have dominated the state's 4th Congressional District, currently represented by Congressman Ken Buck, who soundly defeated Democratic challenger Ike McCorkle by more than 110,000 votes in 2020.
However, Congressional districts along the Front Range have historically favored Democrats, including Congresswoman Diana DeGette who has held her District 1 seat, representing Denver, since 1997.
In an interview Friday, Garfield County Commissioner John Martin said he was glad the ­Western Slope and the eastern plains' Congressional districts largely remained intact. The Republican commissioner, now serving his seventh term, did not want Garfield County in the same congressional district as Boulder, as a previous redistricting plan had proposed.
"There is such a difference in opinions, philosophies and lifestyles," Martin said between rural and urban areas. "I think that it's better to be represented by someone with the rural experience more than the urban experience."