Shlomo's will soon serve its last bowls of matzo ball soup and pop its final bottles of champagne to celebrate a nearly three-year run at the base of Aspen Mountain.
After about three months of negotiating his lease, Shlomo Ben-Hamoo said Wednesday, "We couldn't come to an agreement with the owner [of the building] about the conditions."
Shlomo, a longtime Aspen fixture and restaurateur, shied away from getting into specifics and said simply that he is not renewing his lease with the building owner, Ashkenazy Aspen Realty, which is part of a much larger New York-based real estate investment firm.
As a final hurrah, Shlomo's will throw a big closing bash on Aug. 18, its last day of business.
"We had so much fun this [past] winter," said Max Ben-Hamoo, Shlomo's son who works as the restaurant's general manager. "It was almost too much fun."
Max joined Shlomo's last fall, turning the restaurant into a true family business while also bringing a younger, rowdier vibe to the slopeside locale.
"This place is magical, and the fact that we don't have a really great après ski scene was, last year, motivation to try and build that," Max said at the restaurant just before the Wednesday lunch hour rush. "We had a lot of great people on board that got behind that mission, and we built it. We had people dancing and finishing skiing, staying in their boots and cutting loose, and really [embracing] that essence and heart of skiing that our parents used to talk about."
A look around Shlomo's bright, airy space — where old family photos, framed newspaper articles and ski memorabilia adorn the walls — reveals a similar sense of nostalgia. In the back of the 4,335-square-foot restaurant, an original sign from the first "Shlomo's Deli" is sandwiched between more photos and memories.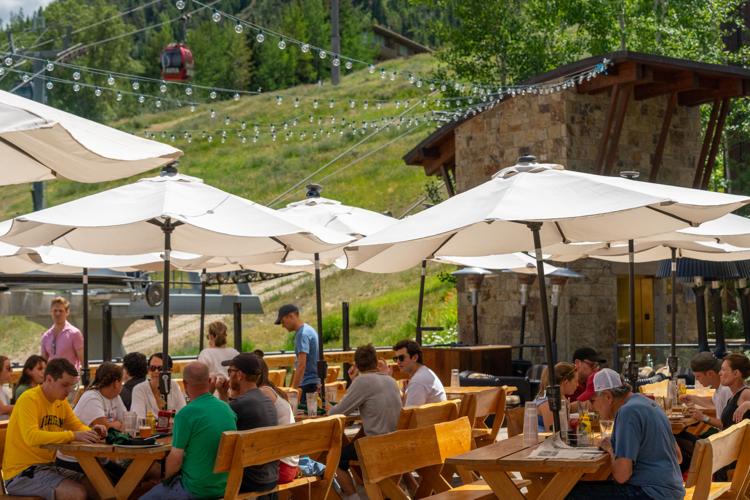 Shlomo opened his first restaurant of the same name just across the gondola plaza, where Ajax Tavern is now located, on Thanksgiving Day 30 years ago. The current restaurant also opened on Thanksgiving in 2016.
Max is hopeful that the second generation of Shlomo's will not be the end of their legacy. The 32-year-old Aspen native is already eyeing other spaces in town.
"I'm looking to keep the party going," Max said. "I want to keep the main mission that we had here, [which] was to provide something special for Aspen that really captures the heart and soul of what this place used to be, what it can be and what it should be."
He continued: "I'm still very much on that mission, and I want more fun and young and adventurous people to come here and look at [Aspen] like, 'This is a magical town' — because it is."
Whether the next venture will cater again to après-ski crowds will depend on the location, Max said. After all, in terms of après real estate, Shlomo's roughly 3,000-square-foot, south-facing patio is in a league of its own.
Still, the space itself has seen a revolving door of tenants in recent years. After the upscale, New York Italian restaurant, Il Mulino, closed in 2013, Zeno Aspen enjoyed a brief stint at the site, until Nello — also a posh Italian concept from New York — came and went in a span of only six months.
For Shlomo's part — aside from allowing Aspen locals and visitors to realize their bar-top dancing needs — the restaurant also filled a niche in town as a locally owned and operated, affordable, family establishment with a dedicated kid's menu (and crayons), as Max pointed out.
He encouraged all to attend next week's closing celebration and channel that signature Shlomo's spirit that is equal parts familial and raucous. Themed après-ski, of course, the party will feature $1 beers, "super discounted drinks" and live music all afternoon. The exact time will be announced at a later date.
"It's our chance to just say thank you, thank you, thank you, to everybody," Shlomo said. "We had a wonderful run."