The U.S. will host its first World Cup cross-country race on home snow in almost 20 years, when the International Ski Federation (FIS) circuit stops in Minneapolis next March. 
But the sprint race on St. Patrick's Day that will run through the city's Theodore Wirth Park isn't the only reason Aspen native Simi Hamilton is returning, for his 10th season, to FIS competition. 
During a recent brief visit home, Hamilton, 32 and a three-time Olympian, shared why he's not in any hurry to hang up his competitive skinny skis. 
"In 2018-19, I felt like I had quite a few races that were really good but not great," Hamilton said. Noteworthy was a fourth place at a World Cup event in Cogne, Italy, on the eve of the 2019 World Championships in Seefeld, Austria. "That's one of the biggest reasons I decided I wanted to keep racing this season," he said. 
According to Matt Whitcomb, World Cup coach for the U.S. Cross Country Ski Team, Hamilton enters this year as motivated as he has ever seen.
"It's hard to leave something when one is at the top of his game," Whitcomb said by email. "His motivation is a stronger force than we've seen at any point in his career, and motivation trumps everything."
Whitcomb said another key motivating factor for Hamilton: "His fiancé, Sophie Caldwell, has ranked third and fourth in the world in sprinting for the last two seasons, and together they make hotel life for four-and-a-half months sustainable. They are a team."
Unlike alpine skiing, which has separate tours, the U.S. men and women racing cross-country events travel and are coached as a team and ski similar events. Same-day race start times are sometimes separated by as little as one hour, Whitcomb pointed out.
Hamilton and Caldwell will be married Oct. 5 at her home in Peru, Vt., located about 20 minutes north of Stratton, where both train. The skiers are both sprinters and last season Caldwell, 29, had three World Cup second-place finishes, including one in February in Lahti, Finland. She's been a national team member for eight years.
Hamilton won a World Cup stage race in 2013 in Lenzerheide, Switzerland and has been on the podium three times since then, two of which were at Toblach, Italy.
Whitcomb said they will be the only married couple on the U.S. team but "there have been a few married couples on the World Cup."
While Hamilton said that he gets nervous before a race, "I'm not nervous for my wedding at all. I've gotten to know Sophie so well over the six years. She's not only my best friend but my life partner."
Hamilton said his best man at the wedding is "best friend Linden Mallory."
Fast genes
During Hamilton's brief stop in Aspen — squeezed in between a friend's wedding in Mount Hood and his own bachelor party that Mallory organized in Jackson, Wyo.,  — he roller skied to the Bells, did a three-hour run and worked out in the gym.
Hamilton said that having trained full time for the last 10 years, "I'm starting to feel the effects of training 800 to 900 hours a year." That will help as he begins a transition to longer distance events like the 15K, though "skate sprinting will always be my bread and butter." This season he has a new sponsor, Salomon, for skis and boots.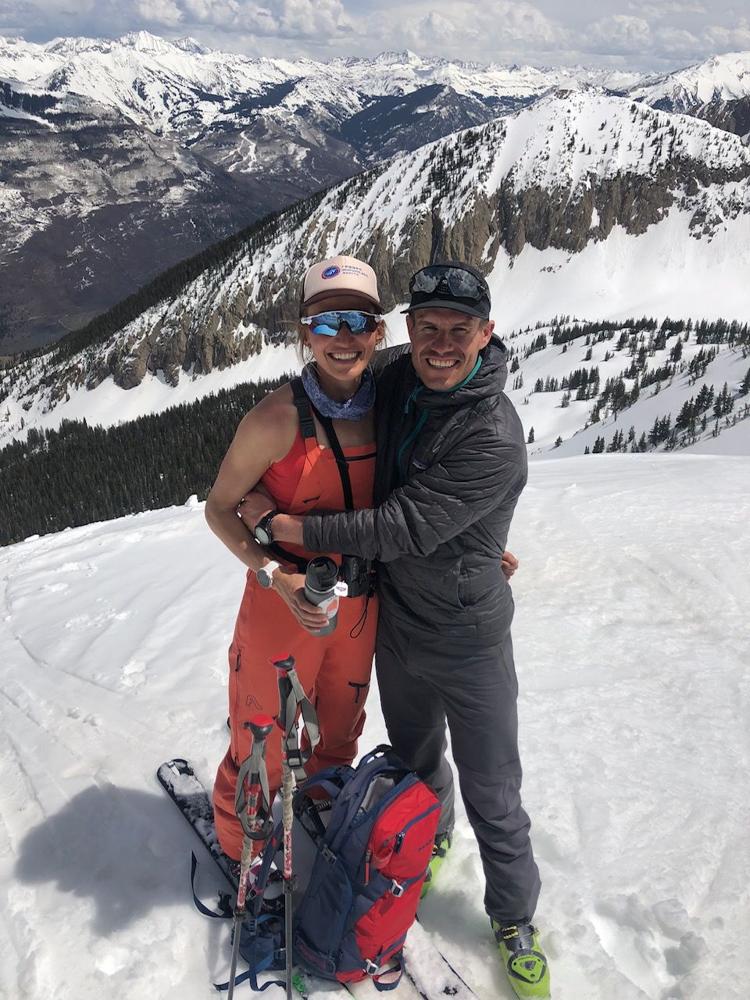 Coach Whitcomb reminded that the athlete's father, Skip Hamilton, "won the first Leadville 100 in 1983." According toultrarunning.com, Skip Hamilton also won the Leadville 100 in 1984 (when he put down his personal best time of 18:43.50), 1986 and 1987. He now lives in Fruita.
It could be said that Hamilton's solid athletic stock hearkens back to his grandfather, D.R.C. Brown, the longtime Aspen Skiing Corp. president and general manager.
Caldwell, a two-time Olympian and five-time All-American from Dartmouth College, as well hails from a family of skiing royalty.
According to information fromteamusa.org, Caldwell's grandfather "John Caldwell competed in Nordic combined and cross-country skiing at the 1952 Games."
Minnesota race is new
Whitcomb noted that while "Simi is better known for his sprinting abilities … it has been his distance skiing that has improved the most over the last two seasons."
He added, "Thirty-two is considered older for sprinters, but is a normal age for distance skiers to be reaching their peak career performances. There is no age-bound rule: If one is fast, one can win.
"Every individual responds differently to aging, and Simi has managed to stay relatively injury-free, and has continued to improve," Whitcomb said.
The March race in Minneapolis will be the first time any of the American athletes have raced a World Cup on home snow, according to Whitcomb. "And we're looking forward to future schedules that continue to bring the World Cup out of Europe," he said.
"We look forward to bringing this race home, so thousands of American kids can watch athletes like Simi race within feet of their noses. And I know Simi wants to and can win this race in Minneapolis," he said.
The World Cup season finale, March 20-22, follows in Canmore, Alberta.
Hamilton said it can be a long slog to remain in Europe all winter where most teams have a chance to go home occasionally to regroup.
"Generally, all of our races are in Scandinavia and Central Europe, though in the past few years we've had quite a few in Russia and before the (2018) Olympics in Korea."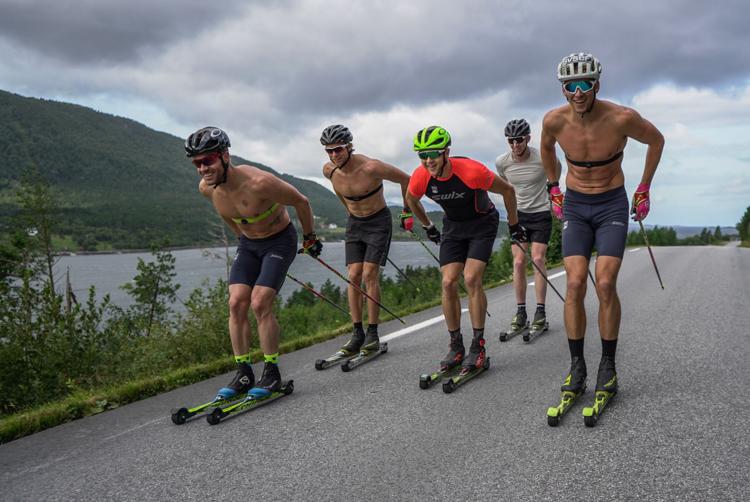 "For most of (the European athletes), the longest time away from home is three weeks," he said.
According to Tom Kelly, former communications director and vice president for U.S. Skiing who is a valuable sport historian, the last FIS Cross Country World Cup held in the U.S. was January 2001 in Soldier Hollow, Utah. 
Before that, in December 1989, Mountain Dell, Utah hosted a World Cup event. Two Midwestern venues, Giants Ridge, Minn. in December 1985 and Telemark, Wis. in December 1978, rounded out the list of other "recent" American stops for FIS cross-country racing.
Olympic champion Jessie Diggins, an Afton, Minn. native and winner of the 2018 PyeongChang women's team sprint gold with Kikkan Randall, is credited with having secured the 2020 race for her home state.
Leaving a positive legacy
While his sights are not fixated on the cross-country skiing finish line, Hamilton and Caldwell have discussed what life post-racing can look like.
"We'll be able to jump in the next adventure with both feet," Hamilton said. "It could be going back to school or finding jobs in this valley. Coaching is another possibility."
In the meantime, there are teammates to race against and mentor.
"One big reason I think I'm still skiing, I feel on the men's side we have this amazing group of juniors coming up," including a four-pack who brought home a gold medal last season from the World Juniors, Hamilton said.
"It's awesome to help bring in this next generation, of everyone, but especially the guys. It's something I never felt like I had," he said. 
Whitcomb said that's part of a team veteran's job.
"It's an elite athlete's responsibility to leave a positive legacy, and a powerful way to do this is to inspire the youth," the coach said. "We have an exciting group of rising teens in America and Simi and his older teammates have made it their mission to inspire."
Said Hamilton, "I'm excited to explore a different lifestyle soon. And write a new chapter. Just not quite yet."