Cassidy Jarrell of Aspen is part of an international team of freeskiers and aspiring Olympians who could benefit from a fundraiser on Wednesday at the Wheeler Opera House, where the films "Romance" and "Back to Life, the Torin Yater-Wallace story" will be featured.
A fundraiser for the P.R.O. Team Foundation members, who are coached by Peter Ryan Olenick of Glenwood Springs, begins at 6:30 p.m. Wednesday. Tickets are $15, with a pre-film party at the Aspen Public House offering free beer starting at 5:30 p.m.
Carbondale's Torin Yater-Wallace and Crested Butte's Aaron Blunck, Olympians and X Games veterans, will sign posters before the films. Cassidy Jarrell, 20, a member of the U.S. Freeskiing rookie team, said he also will attend the event and join the signing party.
"Cass is a great example of someone who needs support" to train and compete at this elite level, Olenick said last week. 
Jarrell said Sunday that his annual expenses could total between $30,000 and $40,000, though his coach said they may run even higher. Olenick created the P.R.O. Team Foundation, a 501(c)3 organization, as a vehicle or "stepping stone" for people like Jarrell.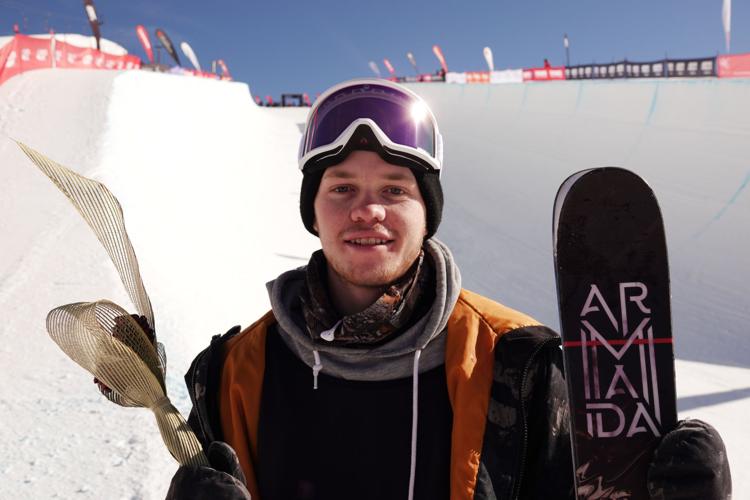 "Our main goal is to help athletes, not just in the U.S. but globally, who are elite but haven't made it to the national teams," Olenick said. "If you don't have a well-off family, it's very difficult to get the training you need."
Being named as rookie halfpipe team member in April by U.S. Freeskiing was a goal Jarrell has worked toward for years. Coached by Olenick since 2014, Jarrell said the formation of the P.R.O. Team last season helped him up his personal game because of the competition it provided. P.R.O. Team is unique in that it has no home pipe and trains at different venues across the world.
"I think people that are on the team right now create a great environment," Jarrell said. "Having Peter as our role model is unbelievable."
Other P.R.O. Team members include Aspen native Tristan "Taz" Feinberg, 16, a student at the Winter Sports School in Park City, Utah (which allows him to take the winter season off to compete).
Feinberg's highlights last season included winning gold under the lights of the 18th annual KickAspen Big Air Invitational on March 22, a Rev Tour podium at Seven Springs, Pennsylvania, and fifth at a stop in Mammoth Mountain in California.
Two athletes from South Korea, Kangbok Lee and Yu-jin Jang (P.R.O. Team's only woman), and Aaron Durlester from Mammoth Mountain round out the P.R.O. Team. Jang had a breakout season in 2019 though Lee was injured last year. Durlester is new to P.R.O. and will provide some pace for Jarrell.
A little halfpipe history
Olenick is part of a freeski generation that set the tracks for athletes who continue to progress the sport. Olenick made his indelible mark in X Games history in 2010, just as Yater-Wallace and fellow Aspenite Alex Ferreira were impressionable teens working on their own skill sets and foundations.
Olenick is the reigning champion in the High Air competition — an event held only once in X Games history and one where he soared to 24 feet, 11 inches above the Buttermilk halfpipe.
He recognizes the advancements that have unfurled over the past nine years.
"My wisdom from 10-15 years ago isn't the same wisdom Torin can give them," Olenick said.
Olenick said he loves that some of the team athletes grew up together and that their roots hearken back to Aspen Valley Ski and Snowboard Club programs, if not before.
"It's amazing having the older athletes impart their wisdom on the younger kids," he said. He went on to note that "basically they all grew up here and they're all friends."
Jarrell laughs when he remembers that Yater-Wallace used to babysit for him back when he was in kindergarten and elementary school.
The age gap between Jarrell and Feinberg, who is almost four years his junior, has seemed narrow due to their shared interest in the halfpipe.
"Taz is one of my best friends," Jarrell said. "It feels like he's the same age as me."
Jarrell did his part to give back to the next generation of freeskiers last summer when AVSC held its camps on the Buttermilk Glacier, noting it was fun to help out with some of the "little kids."
Senior at 23
National team member Aaron Blunck, 23, is the oldest skier coached by Olenick. The reigning world champion in halfpipe, Blunck's win at the 2019 FIS Snowboard, Freestyle and Freeski World Championships in Park City last February came during what Olenick considers the most heavily contested pipe competition in history.
Yater-Wallace, who is taking the competition season off as he comes back to snow from a devastating crash one year ago, is not a P.R.O. Team member. But he and Olenick share a professional association through sponsor Red Bull. Yater-Wallace also is game to help fellow athletes who can use a financial boost, because the sport and community stepped up during times of his life when he needed a helping hand, he said during an interview during September.
As fall transitions into winter, the P.R.O. Team heads to Austria for two-and-a-half weeks of private pipe training camp beginning Nov. 16. From there it's back to Copper Mountain for a World Cup event in early December and then straight to the 2022 Olympic venue of Secret Garden, China.
Jarrell took sixth place in China during a December 2018 Olympic venue test event and likes what he sees.
"The pipe is really steep and very well made. A steep halfpipe allows you to go bigger. Mammoth and Secret are my favorites," Jarrell said.
Before they hit the road again, Coach Olenick said he feels confident that the community will step up at this fundraiser, just like locals rallied around him and his brother Michael back when they needed funding for camps and to take their sport to the next level.
For more information, go to proteamfoundation.org. For ticket information, check out aspenshowtix.org.