Aspen Skiing Co. announced Friday that there will be no further lift-served skiing on Aspen Mountain or Snowmass ski areas in the '19 - '20 ski season, after deciding earlier this week that operations at Buttermilk were done for the year. 
A statement on the SkiCo website reads "with the extension of statewide closures, we are officially closing Aspen Mountain and Snowmass for the season. We will continue to consult with state and local officials for the possibility to re-open Aspen Highlands in late April if it is deemed safe and appropriate to do so at that time."
The original scheduled closing date for both Aspen and Snowmass was April 19.
SkiCo Vice President of Communications Jeff Hanle told the Aspen Daily News that, even should the all-clear occur, Highlands would not be operating at full capacity. 
"If we are given advice that we can reopen sometime late in April by state and local health agencies, we would evaluate conditions for a limited opening. This would likely be a bare-bones, limited services opening. We will take our lead on this if it is advisable from the medical professionals," said Hanle.
SkiCo has yet to come to a decision regarding any form of refund for season pass holders.
On March 18, Gov. Jared Polis extended a March 14 mandate that Colorado ski areas cease operations amid growing community spread of COVID19 in the state. The closure order, which was initially to run through Sunday, is now in effect through April 6.
"Summit, Eagle, Pitkin, and Gunnison counties, where many of Colorado's premier ski areas are located, have been particularly hard-hit by the emerging COVID-19 outbreak in the State," Polis wrote in the executive order. 
The order noted that the communities around the ski areas do not have the health care infrastructure to handle a critical mass of COVID-19 cases. He has encouraged residents and visitors of the resort communities to refrain from travel, and discouraged further travel to those counties. As a disincentive to visitors, he lengthened the ski area closure time period. 
"Due to the continued spread of the virus in our mountain communities and the need to conserve health care resources as much as possible, I am amending (the) Executive Order … and directing downhill ski operators to suspend operations of ski areas for two additional weeks to slow the spread of COVID-19," the order says.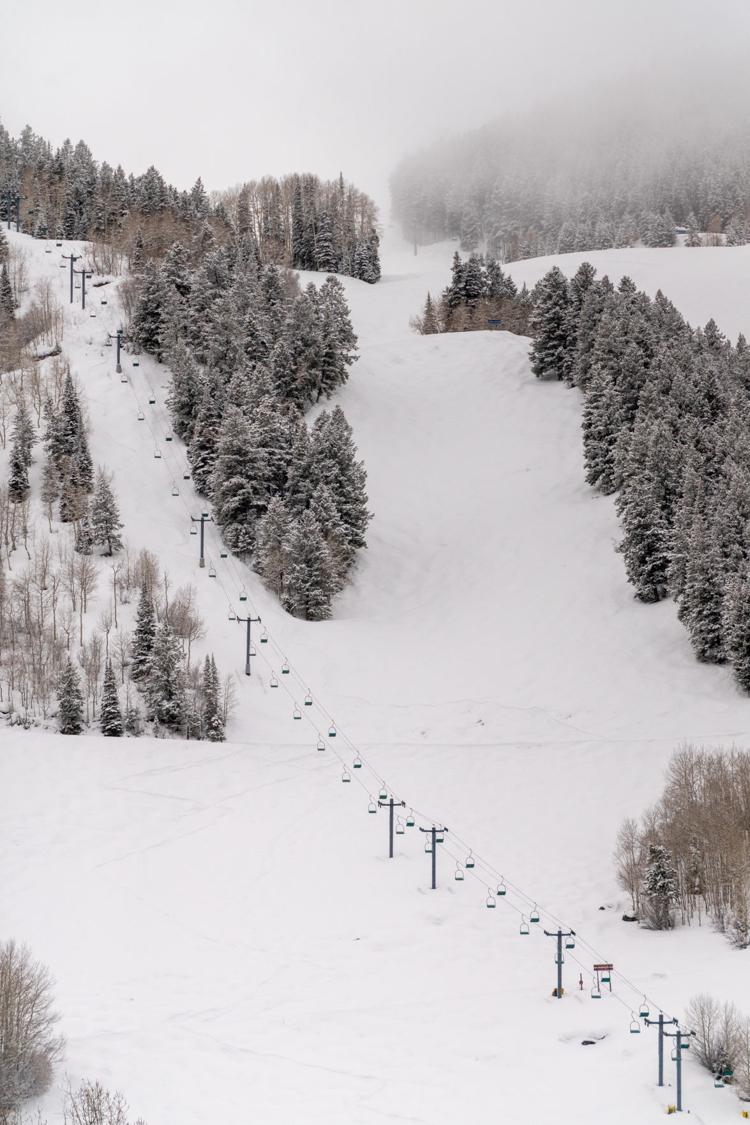 Friday's statement from SkiCo reaffirmed its commitment to pay seasonal employees through March 28. On Friday, SkiCo gave out free food from all mountain restaurants to anyone who needed it.
Following the weekend's announcement of ski area closures, Polis also signed an executive order banning dine-in services at all restaurants. Locally many restaurants rely on winter's recreational visitors to keep their doors open, and had announced early closures anyway.    
Pitkin County and the Aspen Community Foundation have taken the lead to quickly establish assistance for locals who rely on the late-season spring break crown to bring in a significant amount of their seasonal earnings. 
"We understand this impacts a huge number of people; our employees, guests, and the community as a whole. We are working closely with local authorities and non-profits to address these issues," according to a statement released by SkiCo on Friday.
Along with resort operations, other SkiCo owned businesses such as The Little Nell hotel have closed their doors for the time being. SkiCo is keeping the Limelight Aspen, which it markets as the community's living room, open as of Friday evening.
"Additionally, the majority of our hotels and ancillary businesses are now closed with the exception of Limelight Aspen. We are in constant contact with Pitkin County officials and believe that having this hotel up and running is helpful to the community, since there may be a need for lodging and/or food service as the epidemic evolves," reads the announcement on the SkiCo website.
Hanle told the media Friday that SkiCo will begin planned development projects on Aspen and Snowmass immediately. The Sundeck Restaurant atop Ajax is due for a new roof, and the Big Burn chairlift on Snowmass has been approved for replacementthis summer.  
"Crews are completing breakdown work now and will start to prep the mountains for summer construction projects next week," Hanle said. 
The mountains are still open to uphill traffic. But, as storms are predicted to roll in over the weekend, SkiCo put out a warning on their social media channels Friday reminding the public that there are no ski patrol on duty in case of an accident, and on-resort terrain should be treated with the same precautions as backcountry travel at this time.