Snowmass Village Mayor Markey Butler said Monday she will schedule a public discussion and draft a resolution rebuking the decision by Aspen Skiing Co. to bring Gwyn's High Alpine Restaurant under the company's operations umbrella.
The mayor intends to place a discussion item on the Nov. 5 town council agenda in support of maintaining the Snowmass Ski Area restaurant, which has been individually operated for 39 years, as an independent business. 
SkiCo operates 11 of the 13 restaurants on the four area mountains it uses.
"I believe our council needs to take a stand," Butler said, stressing the importance of Gwyn's as a "community gathering place on the mountain." Butler said she nearly called an emergency meeting after reading about the decision late last week in a newspaper article.
At the very least, the mayor said she'd like answers from SkiCo about the timing of the decision to bring Gwyn's into the company fold.
"I wonder what's their objective and why they did it now," she said.
Aspen Skiing Co. vice president of communications Jeff Hanle said the move should not be a surprise, as operating all of the restaurants on the four mountains has been its long-term plan.
"We understand that many people have a deep connection to Gwyn's and her family and staff and all they have brought to the Snowmass experience over the years," Hanle said by email. "We will continue to work collaboratively with them as we move toward the transition two-plus years from now."
'Customer service in my blood'
Gwyn Knowlton founded the restaurant in 1979 with her then-husband George Gordon after running similar operations at Aspen Highlands.
"We were in shock when they said they were changing their minds," Knowlton said. "We have two years remaining on our existing lease, and we were hoping for a renewal at that point, with Whitney [their daughter] at the helm."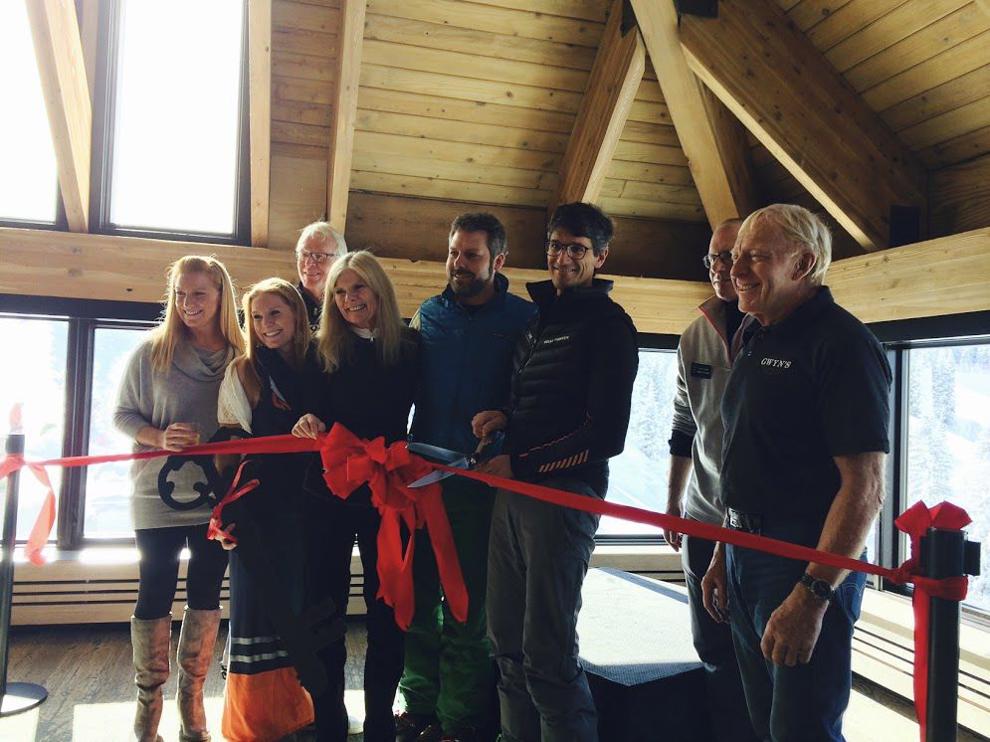 Whitney Gordon, who has been groomed to take over the restaurant from her parents, was ferried up the ski area via snowmobile as an infant, a tradition she hoped to carry on with her two boys, James, 6, and 5-month-old Liam.
"I always thought it was crazy that my parents loaded us on snowmobiles at 6:30 in the morning to go up before school, and now I did it to my kids," she said Monday. "It is the most unique way to grow up, and it will be sad not to have them as part of it."
While Gordon studied marketing and advertising in college, "I would say customer service is in my blood. We grew up in that restaurant asking people how they were enjoying their lunches before we even started elementary school. It never occurred to us that most kids weren't raised that way."
Knowlton said after a meeting with SkiCo executives Rich Burkley and Steve Sewell in February about the restaurant's future, they planned a subsequent meeting in July, which was rescheduled to September. Initial talks had centered on Gwyn and George consulting, while Whitney would continue as the hands-on manager and trusted face of the restaurant.
The September meeting is where the news was delivered.
"At that point they let us know they would love to have Whitney continue [managing Gwyn's] but that they were not going to renew the lease," Knowlton said. "We expected to walk into negotiations and maybe get a five-year lease with a five-year option."
Instead, their current lease continues through just the next two seasons.
The impression Knowlton said she gleaned two years ago following the much-heralded renovation and reopening of the now 20,000-square-foot Gwyn's was far different than what was shared during the September meeting.
"At the opening ceremony, Mike Kaplan passed us the key to the building," she said, in suggesting more permanence was then offered.
Butler also recalled that around the time of the Gwyn's reopening and ribbon cutting, the Snowmass Village Town Council attempted to get something in writing from SkiCo supporting Whitney as the restaurant's heir apparent. They were told no.
"In the back of my mind I was aware that there was a possibility that the ski company might take over at the end of the lease," Gordon said Monday. "But I think we had all heard many times that we would be able to run it into the future if that was what we wanted to do.
"It is definitely a fork in the road for me, but we have put so much into it for such a long time that it is hard to imagine moving on. I want to be able to carry on the Gwen's legacy if I am able to do it in such a way that maintains the integrity of what Gwyn's has been," Gordon said.
"That would also involve some of our long-term employees who have been with us for over 30 years and are a big part of what made Gwyn's so special," she added.
Butler said she recognizes the town doesn't have a lot of recourse, as the restaurant arrangement is between SkiCo and its lease holder. But she sees this as an issue where council should speak out.
"It really doesn't feel like SkiCo is acting as a community partner," Butler said. "It just feels wrong."
"What the community can do is write letters and let their voices be heard."
SkiCo, as Hanle said, has never tried to hide its long-term intention to operate all of its on-mountain restaurants. Yet each time it happens, whether at Cafe Suzanne, the Merry-Go-Round or the Sundeck, there's typically a community outcry, including now, which seems especially loud and attributable to the restaurant's 39 years of family operation.
Bonnie's on Aspen Mountain, which has been operated by Brigitte Birrfelder since 1998, is the only other independently run restaurant on Aspen, Snowmass, Highlands and Buttermilk, Hanle confirmed. 
The Bonnie's lease has another two years remaining with a three-year renewal option, he said. The iconic and cozy eatery was first built in 1966 by Sepp and Gretl Uhl.
No longer a handshake business
The days of a handshake agreement on a lease, like the one the Gordons had on High Alpine with then-ASC President D.R.C. Brown, seem long ago. Knowlton said the couple bought the business from Chuck Tower in 1979, and paid for one-half of the original building expansion the following summer, when it grew from a modest 120 seats to over 500.
The building's location on public lands complicated the ownership.
"SkiCo had to buy it back from us in exchange for a long-term lease. It was convoluted, but it worked," Knowlton said.
Gordon said she hopes a cooperative agreement can be struck, as this has become her life's work.
"I love the intensity of a busy day up there, running around and making sure that everything appears to be smooth sailing no matter how chaotic it is," she said. "We love each and every customer checking in on how our family is and telling us that Gwyn's is the highlight of their ski vacation in Snowmass. Every day is different and brings both challenges and rewards, and I love doing it." 
"My hope is that SkiCo will allow us to carry that on under their umbrella so that Gwyn's still has the same feel."