The yellowish peeling paint of 404 Park Ave. glowed in a rare hour of sunlight between storms Tuesday afternoon. Across the corner lot's expansive lawn, hotdogs and burgers were on three grills, clothes and skis were set out yard-sale style, and the building's tenants and friends gathered to say goodbye. Today is the eviction deadline before the beloved building is torn down.
"It's the homiest dump you've ever been to," said Alexa Falcone, who lived in the structure known to locals as Park and Park (it's on the corner of Park Avenue and Park Circle) for the past two years. "It's falling over, but there is so much love and memories here that there is nothing you can say about it other than it's just amazing."
Four years ago the building was sold to local affordable housing developer Peter Fornell, who plans to build 28 units.
"I feel bad for all those kids moving out of there, but I think they know the deal," Fornell said. "We are losing a place for 20 people but gaining a place for 70 people."
Tenants were told at the time of the sale, and then frequently afterward, that the building was to be demolished.
"I feel like every year was a bonus, so when the time finally came to move out I think we were all just happy that we had as much time as we had," said Colter Hinchliffe, a professional freeskier who lived at Park and Park for seven years.
Many apartment doors were open Tuesday as tenants worked to remove the last of their belongings. Each apartment is its own unique piecemeal of add-on rooms, with a mix of rugs and laminate flooring, and sloped, wood-paneled roofs and walls.
"I'd much rather live in a place that looks like this than a brand-new house," said Juano Rubio, surveying his empty bedroom. Bare hangers were all that was left in the closet as a few posters still hung on the walls.
Rubio moved in six years ago when friends needed to replace a roommate who was moving out. At the time he was paying $600 a month for rent.
"At first we were all young kids, all ski bums, and all we wanted to do was ski and snowboard," Rubio said. And many a ski bum before them passed through the apartments.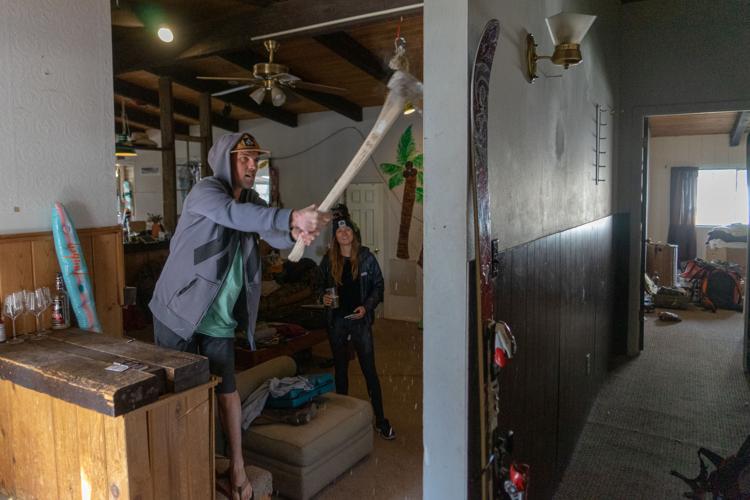 "People would walk by and see us playing Frisbee in the yard and say, 'Dude, I was there 10 years ago or 15 years ago or 20 years ago,' and it just kind of made them happy that we were still here throwing down [and] being locals," Rubio said.
He said the building was initially a lodge, built some time in the 1940s or '50s. The small rooms that make up the main building were for guests, and what now is a larger apartment was the kitchen and gathering space. He said at one point, about a decade ago, it was known as "Little Australia" due to all the Aussies it housed.
"Some of the best times of my life have been waking up here to the sounds of bombs on Ajax Mountain, and hopping on the bus and going to the gondola, all of those times just gel into a really happy time for me in my life," Hinchliffe said.
Hinchliffe and Falcone don't know where they will move to next. For now it's a bit of crashing on friends' couches and taking advantage of off-season to do some camping and traveling. They are considering moving away from Aspen, somewhere downvalley. Rubio has found a place in town with the same roommates he's lived with for the past six years.
Fornell said demolition on 404 Park will start within the month, and the new 28-unit affordable housing complex could be completed in 16 to 18 months.
"If I was tearing that down for a duplex or four townhouses, I'd see people having a little question mark in their head, but I feel like the right thing is going back there," he said.
Area businesses have already claimed all of the reservations to purchase the units, though Fornell said those are non-binding.
Fornell is a pioneer of Aspen's housing certificate program. It allows a developer who voluntarily creates affordable housing to then sell those credits to other developers who need to mitigate for housing. Developers are required to account for how many full-time equivalent positions will be needed in new developments, and account for housing a percentage of those employees. Or, in situations where developers tear down existing affordable housing units, like in the Mark Hunt-owned old Aspen Daily News building across from City Hall, developers can buy the certificates to counter the lost housing.
Fornell now lives in free-market housing in Aspen, but says he owes a lot to the subsidised housing program, and feels it is right to give back.
"It was the receiving of an affordable housing unit with my kids 25 years ago that kept me in this town," Fornell said. "I just feel like it's the reason that we have such a conscious percentage of the community here, and I think that's something that all of us in the town should be proud of."
It's a sentiment shared by the residents who gathered for a last Park and Park barbecue Tuesday afternoon.
"I'm so sad that we have to leave, and so thankful that we got to spend as many years as we did here," Hinchliffe said.
"We were so sad we never wanted to get out of bed because we knew it was the last time," Falcone said. "It's the end of an era."