The annual Golden Leaf Half Marathon took to the trails between Snowmass Village and Aspen for the 41st time on Saturday morning, and the results were an interesting mix between the familiar and the new, in a few senses of each word.
On the familiar side, the route, much of it smooth single track along the Government Trail, stayed roughly the same as it has for the last 43 years (two races, including 2016's, had to be canceled due to snow). Applications for the race sold out, as they have for the last few years, in a matter of hours. The winner of the women's division, Crested Butte's Stevie Kremer, was no surprise either, as she won for the seventh time since 2009.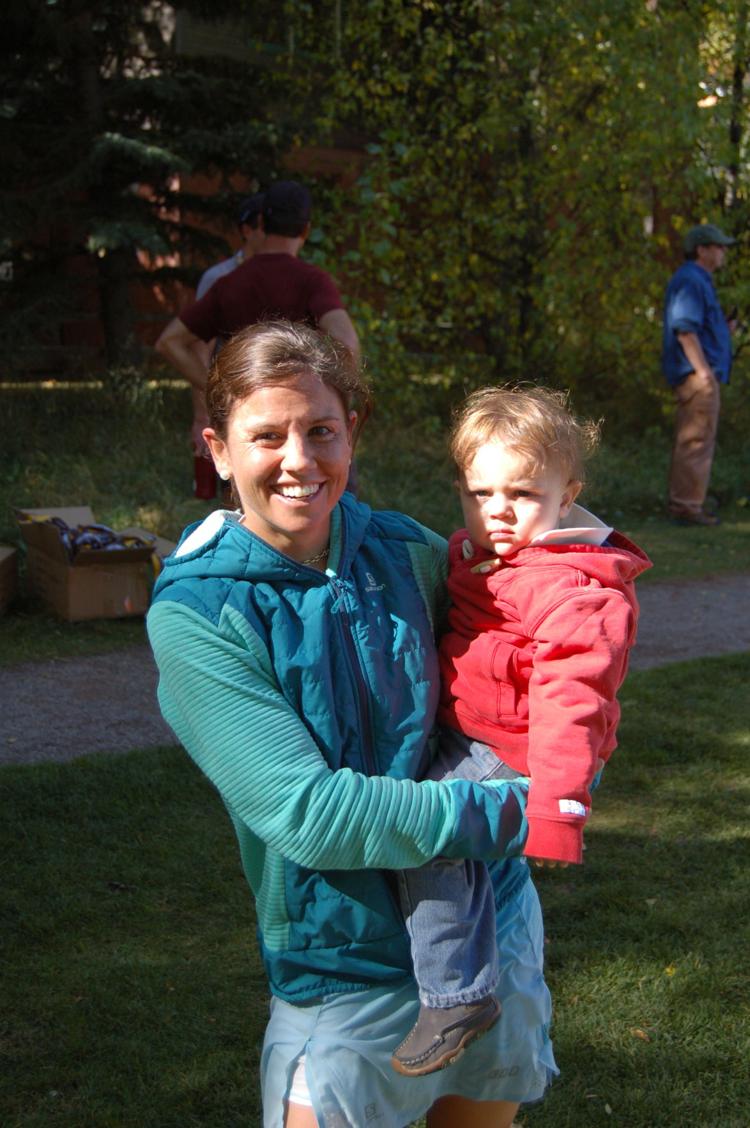 What was new was overall winner John O'Neill of Vail, who finished in 1:26:35 in his first-ever Golden Leaf to best the runner-up and 2017 champion, Ryan Phebus of Carbondale (1:27:58), by nearly a minute and a half. Boulder grad student Bridger Tomlin took third in 1:29:19, also in his first Golden Leaf.
In the grander sense of "new," however, there also was the unmistakable presence of new families at the finish-line picnic in Koch Park, where the volleyball courts became impromptu sandboxes and babies practically outnumbered the 750 racers. In fact, seemingly dozens of the top finishers ended up with infants or toddlers in their arms as soon as they were finished racing.
Fittingly, Kremer carried her own 18-month-old son, Hans, across the finish line as she posted a time of 1:40:26, which was slow by her standards but good enough to comfortably top Aspenites Jessie Young (1:49:38) and Julia Rowland (1:50:09), who finished second and third. 
For Kremer, who was far from the only parent to carry a child across the line, the victory continued a string of dominance that has seen her win every Golden Leaf she's entered since finishing second in her first attempt, in 2008. She missed the 2017 race while pregnant with Hans, was teaching in Italy in 2012 and couldn't remember why she didn't compete in 2011.
"I tell everyone the Golden Leaf is my favorite event, no question," said Kremer, who has competed in races all over the world as part of Salomon's national team. "Not only is the course itself absolutely stunning — everything about the race is amazing — but I feel like it's such a family, fun, day-long event. There's such a welcoming, friendly vibe. It really is fun for the whole family."
That sort of spirit could account for all the racers with families wanting to run the Golden Leaf, but to what should one attribute the fact that so many elite runners seem to have young children?
"That is what I'm seeing with that age group: very active people doing their kid thing," said Bob Wade, owner of the Ute Mountaineer and organizer of the race. "It is interesting, and it seems almost epidemic. But I think it's cool because they're bringing kids into that culture."
Perhaps it's just nature taking its course when young, fit, attractive people get together, but whatever the reason, the baby boom makes for an all-ages party at the finish line that is nearly as big a draw as the race itself.
Well, almost. For trail runners, it's hard to top 13.1 miles, most of it downhill after a two-mile climb, on single track through Aspen's fall splendor. There's a reason it sells out so quickly, and it's certainly not because of all the babies.
"It's always been a bucket-list race," said O'Neill, a manager with Expedia Group when he's not running. "Unfortunately, with how popular it is, you really have to be on the ball when registration opens. You can't be at home and realize you have an open weekend in a month and you're going to drop into the Golden Leaf."
This time around, O'Neill and some athletes he coaches in Vail and Mexico City were at their computers, prepared to sign up for the race "the minute it opened." They all managed to register successfully, and the rest, for O'Neill, is part of the Golden Leaf's rich history.
As for Kremer's historical run as champion, though she's won the last two races after giving birth to Hans in 2018, her times have been well off her all-time best of 1:37:09, set in 2013. For a professional runner (whose other job is full-time counselor at Crested Butte Community School), such post-baby slippage might be a cause for concern, but Kremer doesn't seem to mind. She knows where her priorities lie.
"The Golden Leaf is my favorite, and it makes me want to go back to racing (professionally)," said Kremer, "but my family was there with me, and that was so nice, and I can't always do that. So I think finding the balance between family and racing is my biggest challenge because I want, like, 12 more kids."
She was joking, presumably. Although, if all the kids at the finish line were any indication, maybe she wasn't, and evidently she's not the only runner who feels that way.