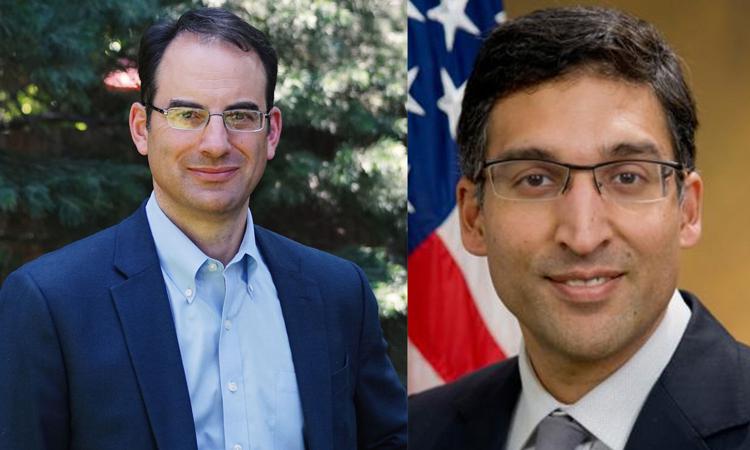 With investigations continuing to swirl around the Trump administration and assessments of Robert Mueller's report on Russian interference in last year's election ongoing, a former U.S. solicitor general is scheduled to sit down with Colorado's attorney general in Aspen later this month for a wide-ranging discussion on national and state legal issues.
Neal Katyal, who as solicitor general drafted special counsel regulations that have been the blueprint for the recent Mueller investigation, will speak with Colorado Attorney General Phil Weiser on May 31 at Paepcke Auditorium.
A fundraiser for the nonprofit Alpine Legal Services, the topics are to include the implications of the Mueller report and issues affecting local justice, such as the legalization of marijuana, according to a press release.
"Katyal and Weiser will discuss the possibility of impeachment and to what extent obstruction continues to be a problem with the Trump administration," the release says.
In an interview on Friday, Weiser spoke about topics sure to come up later this month at the forum.
"You have to feel a little heavy-hearted about the state of our republic," he said.
The recent statement by Trump's attorney, Rudy Giuliani, that there is "nothing wrong with taking information from Russians" about political opponents is "incredibly disconcerting," Weiser said. "The concept of us deciding our own elections is pretty important."
Foreign interference opens the door to candidates having quid pro quo agreements with other nations, and is "a wake-up call about what we need to be working on," he said.
Weiser also addressed the behavior of U.S. Attorney General William Barr since the Mueller report was released, saying that how Barr has handled himself "has been, to state it mildly, out of the ordinary.
"The idea that Mueller had to actually follow up and say, 'You are misconstruing the report,' is unusual and, again, disconcerting," he said.
Barr's refusal to testify before the House Judiciary Committee, part of a co-equal branch of the government, is undermining how the nation is supposed to function, Weiser said.
"The moment we're in is a moment in which our institutions are being tested," he said. "I believe we can defend our institutions."
Sunlight is shining
Weiser and Katyal have been friends for some time, and the latter is better able to discuss those issues, Weiser said, adding that Katyal, who has appeared before the U.S. Supreme Court multiple times, "has had a hand in a lot of interesting cases."
On Wednesday, The New York Times published a column by Katyal titled "Why Barr can't whitewash the Mueller report" that, as of Friday evening, had drawn nearly 800 comments.
Katyal wrote that the "underappreciated story right now is that we've not only learned that it was Mr. Barr — and pointedly not Mr. Mueller — who decided to clear President Trump of the obstruction charges, but also discovered the reasoning behind Mr. Barr's decision. The American public and Congress now have the facts and evidence before them. The sunlight the [special counsel] regulations sought is shining."
He also wrote that Barr tried to spin such facts and hid Mueller's complaints, "which were delivered to him in writing more than a month ago, even when Congress asked in a previous hearing about complaints by members of the special counsel's team."
Speaker of the House Nancy Pelosi said this week that Barr's denial, in a congressional hearing, that he knew Mueller had complained in a letter to Barr about the attorney general's characterization of Mueller's report was a lie and constitutes a crime.
In light of the political upheaval, there will be no shortage of topics for Katyal and Weiser to take on in Aspen.
The event has been nearly a year in the making, said Helen Obermeyer, an Alpine Legal Services board member and its director of development.
Having lunch with Katyal last summer, she told him about the nonprofit's "absolutely shoestring budget" and asked if he would consider a speaking engagement to aid the organization, which provides free legal aid for children and other vulnerable residents, including adults who cannot afford an attorney.
Katyal, who has spoken regularly and passionately about the critical importance of access to legal assistance for all, didn't hesitate, Obermeyer said.
"Alpine Legal Services has tended to be a very under-the-radar organization," she said. "People don't understand quite what we do, or why they should support a 'law firm' — we're not a law firm. We work collaboratively with Response [which aids survivors of sexual assault and domestic violence] and the police" to help people involved in judicial proceedings.
Obermeyer, meanwhile, also assisted in the campaign of Weiser, who was elected Colorado attorney general in 2018. When she learned the two were longtime friends and amenable to a dual speaking venue, the next, elongated step was wrangling schedules.
One of the final aspects, decided early on, was that the title of the talk would wait until the date was closer. This was partly "because things were evolving so quickly" in Washington, Obermeyer said, noting that when she had secured both for the appearance, Mueller hadn't even released his report yet.
"It will certainly be topical," she said. "Both guys are wonderful speakers and have great stories to tell."
Jennifer Wherry, Alpine Legal Services executive director, said the event is intended to be bipartisan and factual, and that Katyal and Weiser will address questions from people of all political stripes.
"We very much are wanting to facilitate a civil discussion about something that the community definitely has strong opinions about," she said.
Tickets are $30 for the event, which is set for 5 to 7 p.m., and $60 for the discussion and a reception afterward. For more information, go to https://www.eventbrite.com/e/mueller-report-and-impeachment-perspectives-hear-it-from-the-insiders-tickets-61196641803.