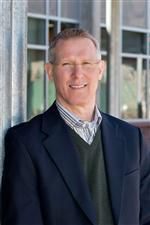 The Aspen School District has met twice in executive session over the past two weeks to discuss Superintendent John Maloy's performance and contract, but still isn't done with the review, according to Sheila Wills, board of education president.
The board met for about two hours on Oct. 1 and again on Oct. 9 for approximately one-and-a-half hours, Wills confirmed this week. First hired in 2010, Maloy has a "rolling contract" with the district that continues through June 30, 2020.
"We meet each year, usually several times, to discuss and draft the superintendent's evaluation," Wills said, adding that she didn't believe this year's allotted time was protracted.
"No, I believe we are spending about the same amount of time on this review as normal," she said.
The review's completion date is still unknown, in part because the school board members will be involved in staff training for the remainder of this week.
"We have not completed the review, and we as a board are spending Thursday through Saturday in board training sessions," suggesting completion in time for the Oct. 15 board of education meeting is unlikely. Wills said, "I do not anticipate any public announcements at this time."
The school board will need to schedule another work session for this purpose but they must do that during the Oct. 15 meeting, according to Angele Rittenhouse, administrative assistant for the district. She also said the board would first present the evaluation to Maloy in executive session, but most likely not at this meeting.
Monday's BOE meeting agenda is already lengthy, although the meeting packet isn't expected to be posted until Friday.
After the introduction of the district's four foreign exchange students, there will be an hour of public comment at the meeting's start, which is 8 a.m. Also slated for discussion is how the sales tax portion dedicated to education will be disbursed, a discussion of OE 10, the financial administration policy, and a master facility plan proposal. Another section of the meeting will be dedicated to monitoring literacy, according to RIttenhouse.
It was unclear whether the discussion about a third-party study of culture and climate within the district, a directive that came following more than two-and-a-half hours of public input during the Oct. 1 board meeting, would be part of Monday's agenda.
During the past two BOE meetings, a group of parents who have aligned under an action committee and would like to see a change in district leadership, have spoken out during the public comments section. Maloy also has vocal supporters in the district who contend that some of the attacks are personal and not related to performance.
The entire school board, including Susan Zimet, Susan Marolt, Dwayne Romero and Sandra Peirce supported Wills' call for "an expert who understands culture" to administer the third-party survey.