When Roger Wilson describes his new restaurant concept for Aspen, there's a single word he tends to repeat: "theatrics."
Wilson, a former actor, musician and screenwriter — perhaps best known for his role as "Mickey" in the 1981 teen sex comedy, "Porky's" — is planning to open a supper club on the Hyman Avenue mall. Called 7908, a nod to Aspen's elevation, it will open "sometime in July," he said, in the former space that housed Finbarr's Irish Pub and Kitchen.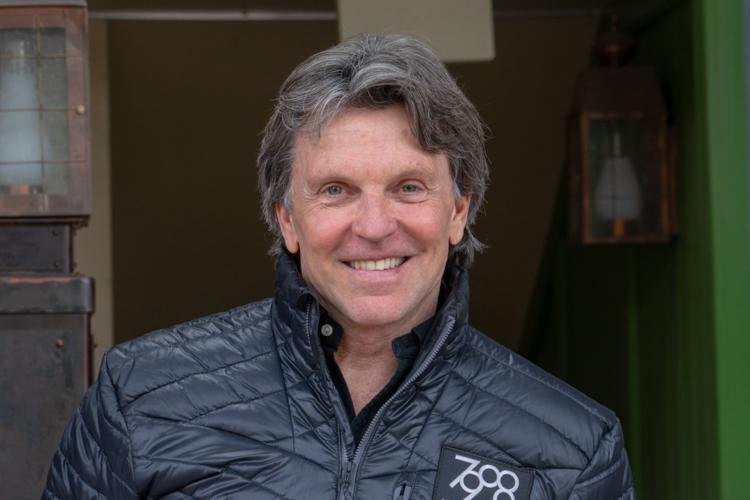 7908 also will utilize the adjacent unit that was home to the former Speakeasy nightclub. In all, the supper club will make use of nearly 6,000 square feet of space for its dining and lounge areas, horseshoe bar (in the same spot as Finbarr's horseshoe bar), kitchen and restrooms.
Wilson, who also starred in the early 1980s TV musical series "Seven Brides for Seven Brothers," said he started visiting Aspen in the mid-1970s and has been staying in town regularly ever since. He also had a role in the cult film "Aspen Extreme."
"When I made 'Porky's,' 20th Century Fox owned property here. They flew me out here because I was in their big hit movie of the year. I was one of the leads, the blonde-haired kid who keeps getting beat up all the time and my friends avenge me at the end. It's like being in 'Animal House,' it has its own distinction."
For 7908, Wilson envisions a fun-filled supper club not unlike Rick's Cafe Americain, the fictional center of the action in the classic 1942 film "Casablanca." Wilson's role will be like that of the Humphrey Bogart character, Rick Blaine, greeting guests and ensuring smooth service and solid entertainment. 
The difference: There will be no political interference, no "letters of transit" to be concerned about. But like Rick, Wilson said he will be a "responsible" businessman. 
"I'll be there most every night," he said. "There's an old Japanese saying, 'The best fertilizer a farmer has is his own shadow on the soil.' So I better have my shadow on the dining room table and the lounge if I want this place to be successful. As the owner, you need to be there." He pointed to the dedication of Jodi Larner, owner of the popular Aspen restaurant Cache Cache, as an example.
It should come as no surprise that the 61-year-old entrepreneur has eloquent expectations for the business, given his background in Hollywood, New York City and New Orleans, where was born. On Tuesday, as construction activity was humming, he glided about the space with descriptions of locals enjoying late-night food offerings and speciality cocktails around the bar, visitors dancing in the lounge area while sipping champagne, DJs spinning tunes from a nearby stage.
"This kind of openness is very rare for a place in Aspen," he said while pointing out how roomy the space seems now that the wall between the two separate units has been eliminated. "I think it lends itself to a wonderful kind of activity, with locals, tourists, everybody interacting."
Wilson is not rushing for the remodel project to be completed in time for Food & Wine Classic in Aspen, set for mid-June. "We might be available to do some private events, but as far as public dining, it won't be ready," he said. Nor is 7908 looking to open its doors for the busy Fourth of July week. 
"We're not going to open just for the sake of opening," he said.
He said his transition into the restaurant business was natural: During his acting and screenwriting career, he dined at some of the finest and most-well-known places around the world. 
"I was in New York when Odeon opened and Indochine opened, when no one ever went downtown. I saw them when they were setting trends that no one had thought of. Then I got to eat at Le Cirque's and Lutece's, the four-star restaurants. And then [the great restaurants] in Paris. I grew up in New Orleans, home of Brennan's and Commander's Palace. It's in my blood. I've been looking at fine food since the day I was born."
But Wilson is quick to note that he hasn't always been a celebrity diner. While in his late 40s and facing hard times, he worked his way up through restaurants in New York, first polishing silver, then managing and bartending. "I learned the business from the bottom," he said.
And the main thing Wilson learned in those days, he said, was that "in a restaurant, if the employees aren't exuding a sense of joy, and an enchantment about their job, it will never become an enchanting place to visit.
"A runner, clearing a plate off a table, may seem not as important as the maitre'd, or the owner. If that person isn't motivated and doing his job correctly, that dish lingers on the table. That dish with hot food in the kitchen, meant to replace the appetizer dish, lingers in the kitchen. That infuriates the chef, which backs up all the other tickets, and you have mayhem. So that runner is as important as anything," he said.
The people working in a restaurant, who bring it to life, are more important than location, wine selection, any dish that's on the menu, "because they are the spirit," Wilson said. 
He said he is partnering with the local Souki family on the project. The Soukis own the two building spaces. Wilson said he will be the sole owner of the restaurant. He's hired Craig Walker, of Lafayette, La., to serve as executive chef.
According to the city of Aspen's building department, the valuation of the interior remodel, a necessary disclosure for a building permit to be issued, was $750,000. 
With regard to choosing a name for the supper club, Wilson said he believes that naming a place with a word "that says who you are, where you are, what kind of service you're providing or what kind of crowd is there" is fine for some. 
"But if you can do it with a number, I believe it's 'platinum.' All you had to do 10 years ago is ask someone where they were having lunch or dinner, and if they said 'The 21 Club' in New York, you knew exactly what kind of experience they had. Or, where did they go out last night? If they said 'Studio 54,' you knew exactly what kind of experience they had." 
Wilson said he believes the number 7908 is synonymous with how special Aspen is. "I've always been surprised it's never been used," he said. "To me, that number is indicative of who we are and where we are."