The operators of the Silver Circle Ice Rink have found a way to keep the popular attraction running through the winter. The Grand Hyatt Aspen is tasked with maintaining the ice rink, due to development agreements when the hotel was built in the early 1990s. There have been hotels on the site even longer than that, including the beloved Continental Inn that predated the Hyatt.
Due to deteriorating infrastructure and mandates from the environmental protection agency that kick in in 2020, the operators have been seeking alternatives to real ice on the rink.
Last year, they were granted approval to use synthetic ice, but the outcry from the public claiming unsatisfactory and unsafe experiences caused the rink to be shut down by the city. 
In August, the applicants again requested from council the ability to use synthetic ice, or, alternatively, to be allowed to create a playground for the winter season in lieu of a skating rink. 
Council did not approve the request and encouraged the hotel to continue to seek solutions that would allow for the rink to be operational with real ice throughout the winter. On Monday night, the city council will review a proposal for an 7.5-foot wide, electric-powered external cooling unit to be placed on the site.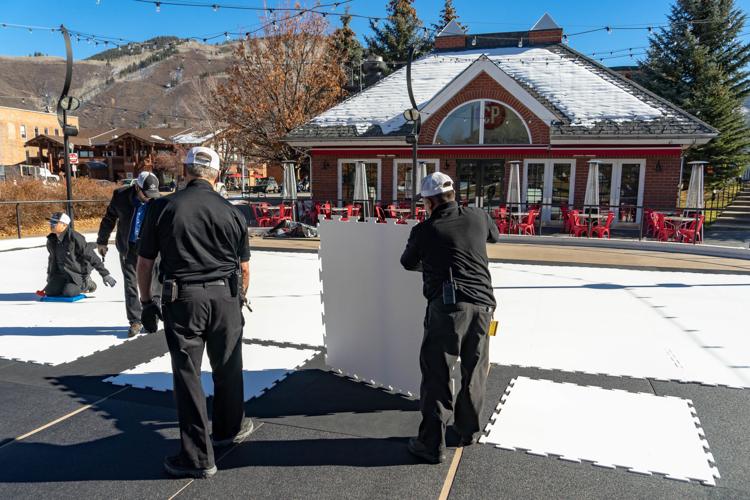 In a memo to staff, long range planner Phillip Supino suggests that screens be used to block the unsightly refrigeration unit, and explains that the noise generated varies depending on one's distance from it.
"Standing next to the unit, one would hear approximately 90 decibels, which is equivalent to a gas lawn mower. Standing 30 feet away (roughly at the midpoint of the rink on its western edge) one would hear approximately 65 decibels, equivalent to a residential air conditioner," the memo states.
If council gives the green light tonight, the temporary use of the external refrigeration unit would only be applicable for one year. If the Hyatt wanted to use the same method again next season it would require another visit to city council. 
In the meantime, the Hyatt is working with design firm Bendon Adams on a permanent proposal for the site, that could include a commercial building with a rooftop ice rink.