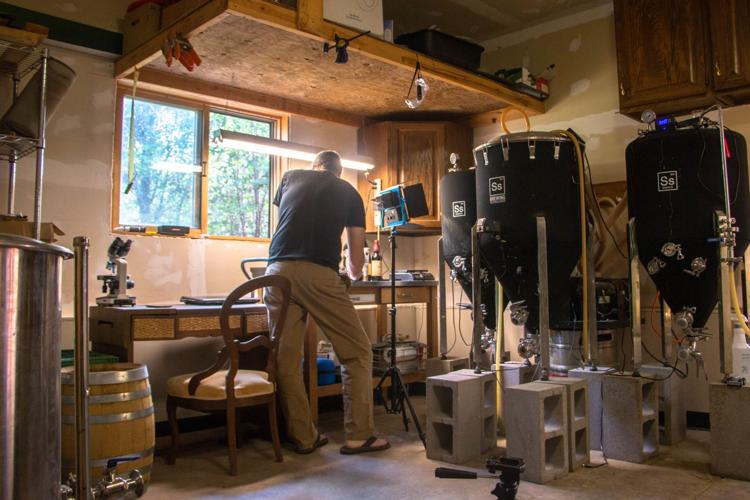 For most, a garage isn't the first thing that comes to mind when thinking of a brewery tour.
For Brennan Buckley of Idylwilde Brewing, that's exactly the case. Buckley, a resident of the valley since 2002, runs the brewery out of his home in Missouri Heights.
"I've been homebrewing for a long time, doing it on my own, enjoying it," Buckley said. "And I decided to take a leap. Everyone else is doing it, why not me?"
He began brewing his own beer in 2015 and officially started Idylwilde around two and a half years ago. The brewery currently produces mainly India pale ale style beers, which are known for a distinctive flavor from the hops that are used in the brewing. He said that he is completely self-taught, citing a lot of reading, question asking and scouring the internet as the source of his knowledge in the world of brewing. However, his experience with fermentation goes well beyond beer.
Humble beginnings
Buckley worked for Avalanche Cheese in Basalt, initially as a cheese maker in 2010. He went on to help the owner, Wendy Mitchell, open a meat processing plant and develop bread recipes for the Meat and Cheese restaurant in Aspen. He was working as the director of operations for the Avalanche Group before he left in 2014 and began focusing on beer.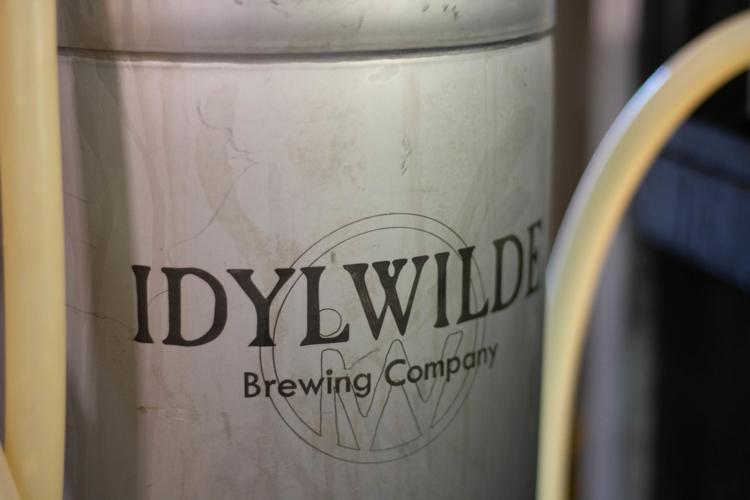 "He always talked about a brewery," Mitchell said. "For a while, we had a tradition of drinking beers while we shaped bread."
Mitchell explained that Buckley and another cheesemaker would bring in specialty beers from around the world that they would get in trade from other "beer nerds." Mitchell said that they would chat about what they liked and didn't like about the beers. Buckley talks fondly about his time with Avalanche Cheese, saying that making cheese and bread helped fuel his interest in creating beer.
"I guess I have fermentation running through my veins," Buckley joked about his experience.
Creating Idylwilde
Buckley said that the name was the first thing about Idylwilde to come to him. The brewery shares a name with a variety of places, music and even a steamboat, although Buckley's spelling is unique to the brewery.
"Idle and wild, there's a sort of movement to it," Buckley said. "A sort of juxtaposed kind of thing"
Although he said that he appreciates being able to brew out of his house, it's also a mixed blessing. He takes care of his two children, 5 and nearly 3, when they're not at preschool and he said that the balance is a challenge. He explained that brewing beer as a hobby after work was almost easier than it is now that it is his focus.
Buckley said that although his kids are too young to learn about exactly what all the barrels in the garage are for, his wife Elissa is extremely supportive of his venture into brewing.
"She was definitely trepidatious, but she supports it," Buckley said. "When it was time to leave my job and my paycheck to brew beer she was all about it. She knows the love is there."
Lake Christine Fire
Being based in Missouri Heights, the Buckleys were part of the evacuation of the Lake Christine Fire. The fire was started the night of July 3 by tracer rounds being fired at the Basalt gun range and it quickly grew, forcing evacuations of areas around Basalt and El Jebel.
"Oh yeah, we were freaking out," Buckley said. "We set up a baby camera in the kitchen to see what was going on."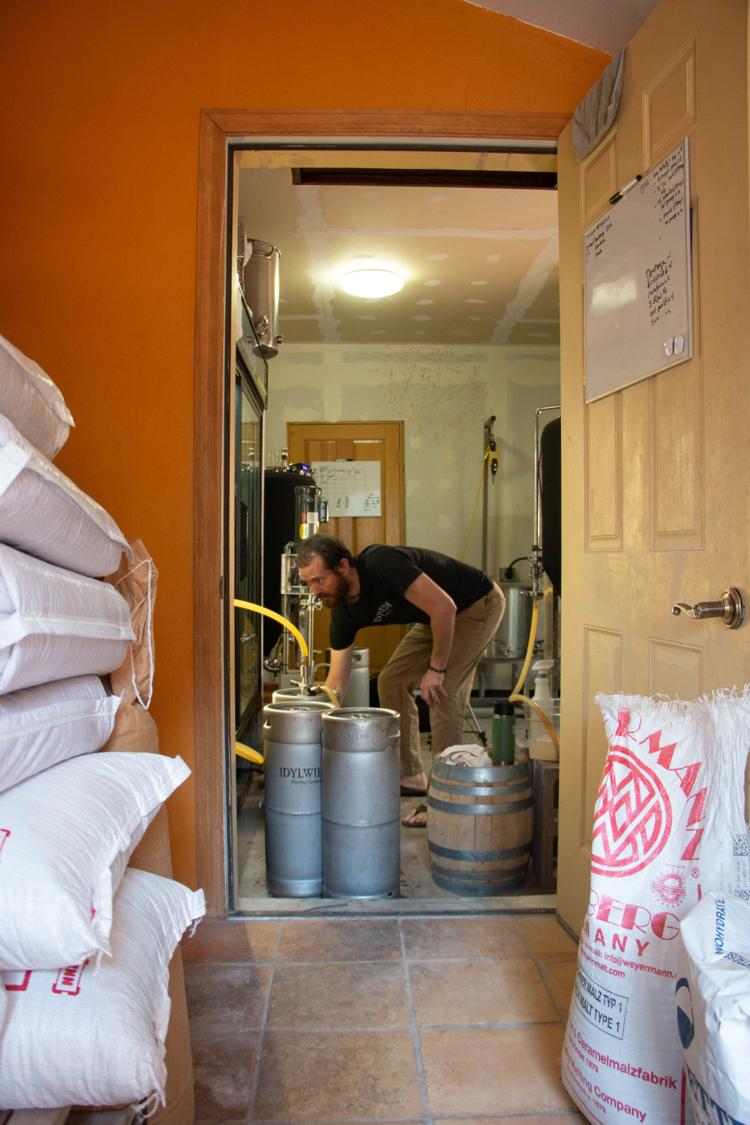 Buckley said that they were evacuated late at night on July 4 and that he thought about trying to get to the house and transfer some of the beer, but he was unable to. Ultimately, the family had to sit for over two days knowing that they could lose everything, including Idylwilde, if the fire reached their neighborhood. Buckley said that he "knew the firefighters were doing a good job" and they returned to their home once the fire had been contained. Now that the fire is almost fully contained after burning almost 12,900 acres, and all pre-evacuation orders have been lifted, Buckley is back to brewing Idylwilde beer.
Getting in the valley
"He didn't have to ask us, we were begging him for beer," Mitchell said, when asked about how Idylwilde beer made its way into restaurants around the valley. "It's really special stuff."
Buckley said that he had some connections in the valley, but ultimately got his beer on tap by going around and knocking on doors. He currently has beer at Meat and Cheese, Hooch, Hops Culture and Home Team BBQ, among others. Some of the ideas for places came from his investors and others he had heard about from locals and regulars of the restaurants.
"He came in and thought it was a great fit for his product," said Brad Mosier, general manager of Home Team BBQ. "We 100 percent agreed with him and immediately started carrying his different IPAs"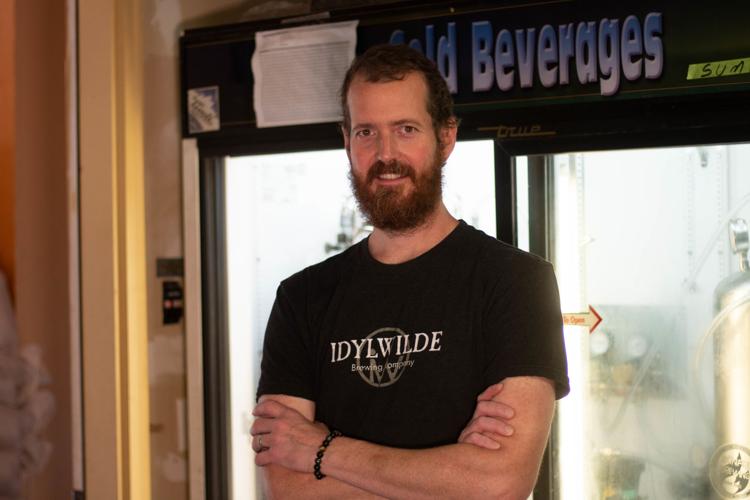 Mosier went on to say that it was a "no brainer" tapping Buckley's beer after hearing about the garage-based brewery. He said that whatever Buckley was making would be a great fit with the restaurant.
Because he's brewed 104 batches of Idylwilde's different IPAs, Buckley said that he doesn't have a favorite. Mitchell said that her favorite would probably be What Would Jesus Brew, although she said that all of the beers have been good.
"Anyone who likes an IPA loves it," Mitchell said. "We try to make a connection with our guests and especially if we know they are beer connoisseurs and from out of state we tell them the story, so they know how special it is, and hard to find."
Mosier said that Buckley and Idylwilde have a following in the valley, and that people come into the restaurant to try the latest batch. He added that like the folks at Home Team BBQ miss no opportunity to tell people the story behind the beer.
Moving forward
For Buckley, brewing out of his home just isn't cutting it. He explains that homebrewing for distribution is "the same amount of work for much less yield." So, he's currently looking at moving into a larger midvalley space where he can move away from brewing solely IPAs and the occasional foray into Hazy IPAs.
"There's no browns, no kettle sours, no this, no that," Buckley said. "When I move into a larger space that will change drastically."
Buckley said that he will be brewing from a bigger, but not too big, space within five years if it all comes together. His biggest supporters can't wait.
"I can't wait to say I knew him when," said Mitchell, when asked if she was excited to see him move forward. "Maybe he'll fly me somewhere on his private jet."