The first time around, Carbondale entrepreneurs Toby Britt and Lucy Perutz admit, they attempted to run a restaurant out of a shoebox.
Borrowing a corner room of a century-old building in downtown Carbondale where Britt's mom, Cathy, had run a gift shop for a decade, they launched a tiny lunch spot called The Beat in 2015. There, they specialized in inventive and wholesome vegetarian fare.
The Beat quickly became popular. A little too popular.
"We were busy, and there was nowhere to grow," Britt said. "We couldn't add to the menu, and we were out of space."
Following an exhaustive two-year remodel, Britt and Perutz have reopened The Beat. This time, there's a full commercial kitchen, a sleek new bar, an expanded menu and plenty of room for crowds.
With an open dining room that highlights the building's history and a menu that represents the verve of vegetarian cuisine, The Beat strikes a balance between hipster food ideals, a boho sensibility and the well-worn feel of a British pub.
The menu embodies a foodie's love of exploration with an emphasis on wellness. Salads are composed of local greens and topped with ingredients like tofu fried in avocado oil, pickled fennel and seaweed gomasio. Shakes marry flavors like matcha and mint. The vegan savory tarts manage to strike a custardy note, the Beat Box offers a $10 rotating vegan lunch option and dishes like the TLT (tomato, lettuce and tempeh) and Beat Bim Bop reimagine classics through a meatless lens.
The couple knows that opening the only vegetarian place in town is a risk. But they hope to win even the doubters over.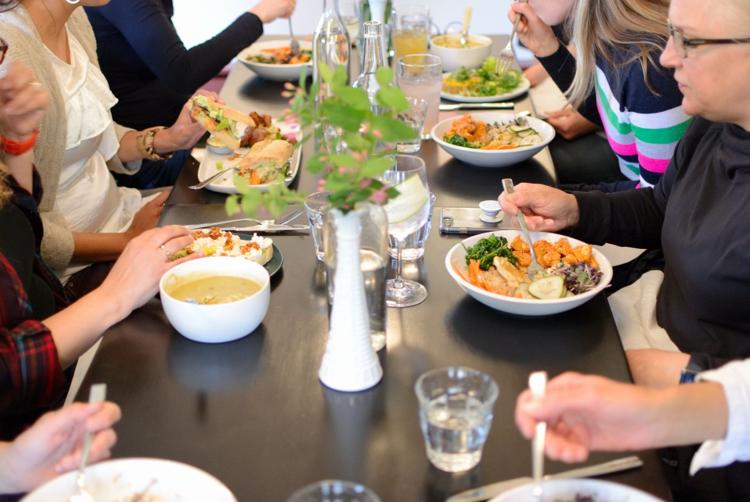 "I want it to be fun. I want people to associate this place with good service, good food and reliably good ingredients," Perutz said. "They know they can come in and get something healthy and delicious."
The Beat's new-school vegetarian fare is exemplary of the hip creativity and lavish vision that have replaced the crunchy dogma and sprout-dominated austerity of vegetarianism's earlier iterations. We're talking lacto-fermentation. Local microgreens. Oatmilk lattes, tofu spiced with Gochujang sauce, tomato confit, vegan aoli. Herbs play a prominent role, and the bar stocks Lillet and Pernod. Turmeric is used liberally. And vegetables are worshipped — evidenced by the wallpaper and framed art, which are shrines of produce iconography.
Perutz and Britt aren't catering only to hard-core veg-heads or trying to be pedantic about meatless eating. They want to cook for everyone — from beef-loving ranchers to those who just like to feel good after a meal. This is the best way they know how to do that.
"I think the biggest reason that we cook the food that we do is that it's what we really like to eat," Britt said. "If we were at home, this is the kind of food we'd be making."
Britt first opened The Beat as a juice bar in 2014 after working every job imaginable in the restaurant biz. (The name was a nod to the musician's love of drumming.)
He and Perutz met while volunteering at 5Point Film Festival in 2015. They bonded over shared passions of food and music, and married after a whirlwind 12-day romance. When Perutz moved to Carbondale from Telluride, where she had been slinging salads in her own food venture, they pooled their energies and expanded the business's menu. She was 24; he was 30.
They soon learned a couple of lessons. First, their food struck a nerve. And second, with the popularity they were enjoying, their 400-square-foot space, with 12 seats inside and 12 out, wasn't going to cut it.
They closed in September of 2017 to reassess, and approached their landlord (Britt's mother) with a proposal to remodel. Ultimately, Cathy Britt decided she was ready to retire after running Dancing Colours gift shop for 13 years, and she ceded them the space.
With a 100-plus-year-old building in the heart of Carbondale and a stream of ideas, they dove in, spending their days swinging hammers, sanding and refinishing floors and learning about lighting. It was a family affair — Britt's father, Jeff Britt, a construction manager, spent his weekends chipping in. Cathy cut and installed every inch of the gleaming white tile that lines the walls. Britt's sister Camy helped out however she could. And friends like Miles Phillips made their signs and bar racks.
Perutz said the process allowed them to assess why they love what they do and think carefully about how to make the space reflect their love for the industry. It was also a ton of work.
"But it's beautiful," she said. "And it just feels like ours, you know?"
The Beat is open Tuesday through Saturday from 11 a.m.-4 p.m. It will open for weekend dinners in mid-summer.
Katie Klingsporn is a freelance journalist and former editor of the Telluride Daily Planet.