Visitors to Snowmass Village's Cathy Robinson Park may have noticed something different this summer as the Snowmass Community Garden reopened in its new location adjacent to the park's playground on June 7.
Those who were really paying attention also may have noticed that the garden comes with a lengthy set of rules for the public that seems more strict than necessary.
Among the more curious of the garden's rules is this one: "Gardeners may not engage in sexual relations in the Garden."
It's the sort of rule that makes one wonder what might have happened in the garden in the past that would make people think such a rule was necessary. Did someone get caught in the act of getting down and dirty in a flower bed? Well, not as far as anybody knows. 
"I have no idea," said Starr Jamison, parks and trails manager for the town of Snowmass Village, when asked about where the no-sex rule came from. 
Jamison brought the list of rules with her from the Mountain Roots Project, a community gardening effort in Gunnison, a location she thought might have played into the rule's origins.  
"I think it's because it was a college town, maybe," she said. "You never know. I don't really want to get that complaint."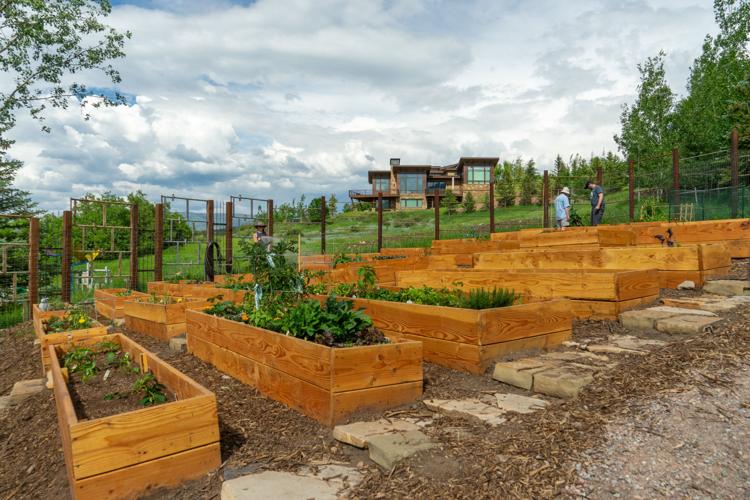 The list also includes bans on alcohol, firearms, drugs, smoking, chewing tobacco, campfires, loud music, illegal plants, anything that isn't organic and pets, "including for burial." Jamison acknowledged that some of the rules seemed excessive, but given the garden's location, she figured there was no sense in getting rid of them.
"They had the no marijuana, no sex, no alcohol and whatever, and people have just been laughing about that," Jamison said. "But I just left it all in there because I was like, 'Well, it is [located near] a preschool.'"
After finding themselves and the old community garden displaced two years ago by the expansion of the Snowmass-Wildcat Fire Protection District headquarters on Owl Creek Road, the gardeners went to the town looking for help in finding another spot. 
Last summer, there was no garden as the current one was winding through the approval process. This summer, the garden opened again in an interesting location, tucked into the back portion of the park, just steps away from private homes, a playground and the Little Red Schoolhouse.
Given those factors and concerns from nearby homeowners, it was agreed that every attempt to be as courteous and inconspicuous as possible should be made.
"I'll admit the rules are fairly robust," said Travis Elliott, assistant to the Snowmass town manager. "But we wanted to be sensitive to the fact that we have a lot of neighbors. We want to be good neighbors to them and keep this community asset for a long, long time."
To go even further with the concept of being a good neighbor, the garden's fence was built mainly from metal recycled from old bleachers at the Snowmass Rodeo and the scrap pile at the Pitkin County landfill. It's all part of an effort to be an eco-friendly, neighborly, community gathering point, a place where those interested in sustainable farming and even those who aren't realize they can get together.
It's similar to the ideas that drove Sunday's Summer Planting Party at the Farm Collaborative's farm park at Cozy Point Ranch. The event centered on getting the park's orchard mulched and some seedlings planted, and it included a free farm-grown lunch for the two dozen or so volunteers on hand.
"We love spreading the word about the park and teaching people about sustainable gardening practices," said Britta Gustafson, the Farm Collaborative's communications director. "It's a good opportunity for people to get together and for us to let people know about our public access and availability. But we also really needed help getting the orchard mulched."
It's a sign of how things have expanded in recent years at the farm park that the regular staff finds itself in need of extra hands.
"We've got a lot of momentum going into this summer," Gustafson said. "The farm park is going great and our farmers' market has quadrupled in size, so people are definitely aware of this place."
The farm park is open to the public from 10 a.m. to 4 p.m., seven days a week, and the Farm Collaborative encourages people to drop by and check things out for themselves. 
When visitors see where food comes from and understand the benefits of sustainable, local farming, who knows? They may just decide to go back to their town and get a plot in their own community garden.
That would be great, as long as they keep one thing in mind: Focus on the community and being a good neighbor — and make sure there's no hanky-panky.