The road to Base Village has been neither smooth nor a straight shot for its developers and the Snowmass community, so Saturday's party to celebrate the core's completion also serves to mark time.
It's been almost 20 years since Aspen Skiing Co. purchased land for the future base area and embarked upon developing an ambitious 1.1- million-square-foot base area project that it would sell in 2007 to a Related Cos. subsidiary for $169 million, then reacquire nine years later for $56.5 million with partners intent on seeing the project to its conclusion.
The 99-room Limelight, the three-unit Lumin luxury condominiums and the town-owned Collective building for community uses will officially debut with a ribbon cutting beginning at 5 p.m. Saturday, followed by an ice skating show, a climbing wall demonstration and fireworks.
"This is going to be a massive celebration, a community celebration," said Lindsay Cagley, general manager of the Limelight Snowmass on Thursday, as she was charging through her extensive to-do list.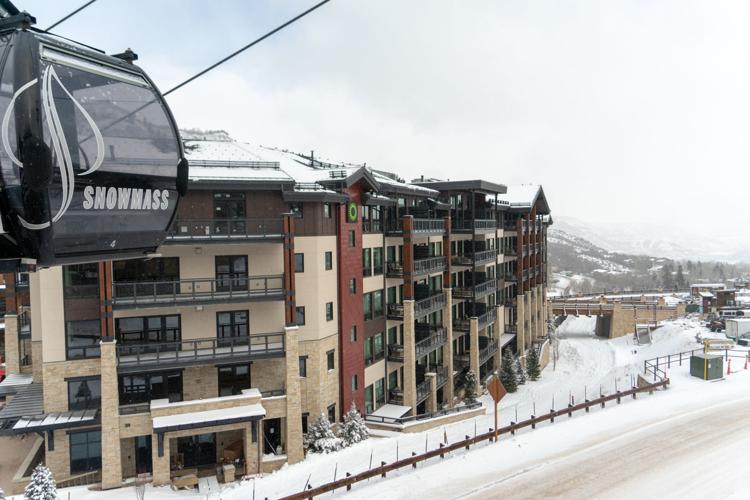 The last major ribbon cutting and reason to celebrate Base Village was when the $17 million Treehouse Kids' Adventure Center debuted in November 2007, just before the Great Recession gave then owner Related cold feet, leading to a one-third completed project sitting fallow for the better part of a decade.
Mike Kaplan, Aspen Skiing Co.'s president and CEO, said Thursday the project's stop and start schedule has resulted in a better designed, more modern Base Village.
"The good news is it gave us more time to plan," Kaplan said. "Nobody envisioned it taking this long. But this extended timeline has allowed it to evolve" in its uses.
It's only been two years since the partnership of SkiCo, East West Partners and KSL Capital, doing business as Snowmass Ventures LLC, closed in December 2016 on Related's Base Village assets.  Within four months East West was already taking shovel to dirt.
"It's a lot to get done in 18 months. It's been fast and furious," Andy Gunion, who is directing the project for East West, said Thursday during a Base Village site tour.
Gunion added that Related completed the important work on getting the entitlements settled before East West took over with the development.
"SkiCo has also been a great partner and we've done a number of these villages before, so we come in here with that experience. We were also able to put together a hell of a team," Gunion said about Base Village's newly rapid rise.
While developed jointly by Snowmass Ventures LLC, the Limelight Snowmass is now owned solely by SkiCo. The sale was completed last week.
The hotel alone closed for $50.5 million on Dec. 4., according to Tucker Vest Burton, SkiCo's public relations manager. But all told, when considering the Four Mountain Sports space in the Lumin and the private Snowmass Mountain Club, the "total spend was $75 million," according to Jeff Hanle, vice president communications for Aspen Skiing Co.
Like everything with this project, there's some history there.
According to Kaplan, the "Limelight is a story of evolution unto itself," and includes the Paas family's redevelopment in 2007 of the original downtown Aspen ski lodge for which Snowmass and Ketchum, Idaho, would use as inspiration.
SkiCo acquired the Aspen Limelight in 2010 after the Paas family couldn't make the finances work, according to Kaplan.
"The original vision as we took it over was to take the best parts of an old ski lodge experience and combine it with a modern, lifestyle hotel," he said.
"When East West finally stepped in and said 'hey we can take over Related's position,' we said yes. We thought it would give us the potential to unlock Base Village," Kaplan added.
Ready to launch
This week, in every corner of the new base area, final preparations and tweaks were being made for Saturday's official launch.
Crepes were sizzling on Mawa McQueen's grill on the ice rink side of the Lumin building Thursday afternoon. A steady stream of customers lined up for a half-price crepe during The Crepe Shack's soft launch.
Asked if she's prepared for the season's onslaught, McQueen laughed heartily and replied, "I was born ready." She barely missed a beat in between cooking, showing the ropes to her Snowmass staff and chatting up most everyone who dusted into the creperie's soft opening.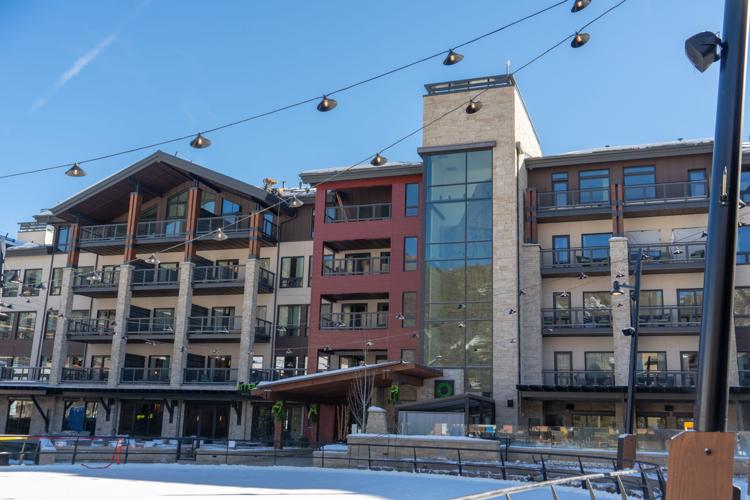 Mountain materials combined with modern forms is a shared element between the luxury Lumin condominiums – which in addition to The Crepe Shack has a large Four Mountain Sports rental fleet on its ground floor – Building 6, now called The Collective and which is owned by the town of Snowmass Village and the 99-room Limelight hotel, which has 11 for-sale condominiums.
The triumvirate of buildings is tied together by an ice skating rink that's served by a circa-1959 Airstream that rents skates (which are free all season, as is the skating) and is operated by Snowmass Mountain Lodging.
"It is great to see the overall project move along. Each piece that is completed helps the community to reach the vitality goals we have for our guests and the sustainability goals for the existing and additional retail, restaurant and recreational amenities," said T. Michael Manchester, who was mayor of Snowmass Village during the Base Village approval and early years of its development.
Hotel evolved over time
A desire to instill an individual look to this phase of Base Village has been part of East West's philosophy and one they've had a chance learn from after developing resort villages in Beaver Creek and Northstar in Lake Tahoe.
Harry Teague Architects designed Building 6 and Oz Architects was behind the Lumin and Limelight, though Oz employed two different design teams, Gunion insisted. He said the building's designs also suggest elements found at the Viceroy, which was included in the partnership's 2016 acquisition from Related.
A pop-up holiday market featuring a variety of retailers will play out on the main level of Building 6, which has been rebranded as The Collective.
"There's something for everyone here," said Sara Halferty, who is called The Collective's "curator." Halferty spoke of the multiple uses, including film, yoga and kids camp, that will play out in the space this season. Construction continues on the building's lower level.
A permanent restaurant operator is expected to be named soon, according to Gunion, though the entity won't operate this winter. In the meantime, COdough will provide bar and food service in an outdoor space under heat lamps and in view of the ice rink and ski area.
The delay in Base Village's completion has allowed the development to evolve from Baby Boomers' needs, which were foremost back at the turn of the century, and hone in now on what Kaplan referred to as a "millennial mindset."
"This generation, they want to live like a local and have a sense of place. That mindset is very much driving what Base Village has evolved into," Kaplan said. He noted that in some ways and regardless of age, "we are all millennials" owing to most people's allegiance to their cell phones.
When first proposed back in the early aughts, the developers were dead set against Base Village having a freestanding hotel, reasoning that it could not be self supporting.
"We didn't have a true hotel in the original entitlement," Kaplan allowed.
The opening of the Limelight is another of the project's concepts that morphed over time. It changed for a number of reasons, including SkiCo's success with the Limelight Hotel in Aspen as well as the one it built on its own in Idaho. The ability to defray some of the costs by selling condominiums attached to the hotel has helped the bottom line; the Limelight Snowmass had 11 condos for sale initially though as of Dec. 13 only three are yet unsold.
The Lumin building's centerpiece is its four-bedroom, 3,200-square-foot penthouse, with a $6.3 million price tag, which will be dressed up this weekend for an invitation-only party.
Workers scurried to complete decor in the Lumin penthouse on Thursday, whereas next door at the Limelight the first paying guests are due on Friday, Lindsay Cagley said.
On Wednesday night, a team of SkiCo managers convened in a meeting room at the Limelight that overlooked the outside plaza. They liked what they saw, Kaplan said.
"We've all put a lot of time, energy and blood, sweat and tears into Base Village. It will be transformative," he insisted.
Kaplan spoke of how special it was to see children practicing on the ice rink in advance of Saturday's show, while a light snow fell during the evening. Like others who have been involved with Base Village from the start, he's watched his young children grow into adults while the project was still a work-in-progress.
East West has used a $600 million figure when asked of Base Village's total value. Gunion clarified this week that includes the pair of under-construction One Snowmass buildings along Wood Road (formerly Buildings 7 and 8) as well as two other forthcoming core buildings that were originally eyed for condominiums.
A parcel to develop the Fanny Hill Townhomes uphill of Base Village proper will become part of the joint venture within the next six months, Gunion said, as East West will take the lead on those luxury cabins into the future.