What started as two locals' act of kindness five days ago has since snowballed into a communitywide effort backed by organizations like the Aspen Chamber Resort Association.
When Meridian Jewelers owners Kenny and Robin Smith emailed their client list on Friday sharing the simple, yet impactful, idea — purchase a gift card to your favorite local restaurant and they will match it up to $200 — the duo could not have dreamed of the response that followed.
"The phone has not stopped ringing," Kenny Smith said Wednesday night. One particular call came from an Aspen Chamber executive committing to continue the program beyond the Smiths' capacity.
"As I'm talking to [the Chamber], more and more credit card numbers are hitting the desk; more and more emails are coming in," Kenny said. "People are knocking on the door at Meridian before we're open to come in and talk about it. It's just felt good. The story just keeps getting better and better."
Indeed: The effort has now gone beyond supporting restaurateurs and the employees to actually feeding locals in need. When folks donate to the program but ask for nothing in return, the Smiths will choose the restaurant and surprise a person or family who could use a hot meal and a little love.
"A local, hard-working guy came in and gave us a check and said, 'I don't want the certificates; I just want to be a part of what you're doing,'" Kenny said at a virtual meeting Wednesday. "Use it where you think real people eat; get those certificates to people who really need to eat food."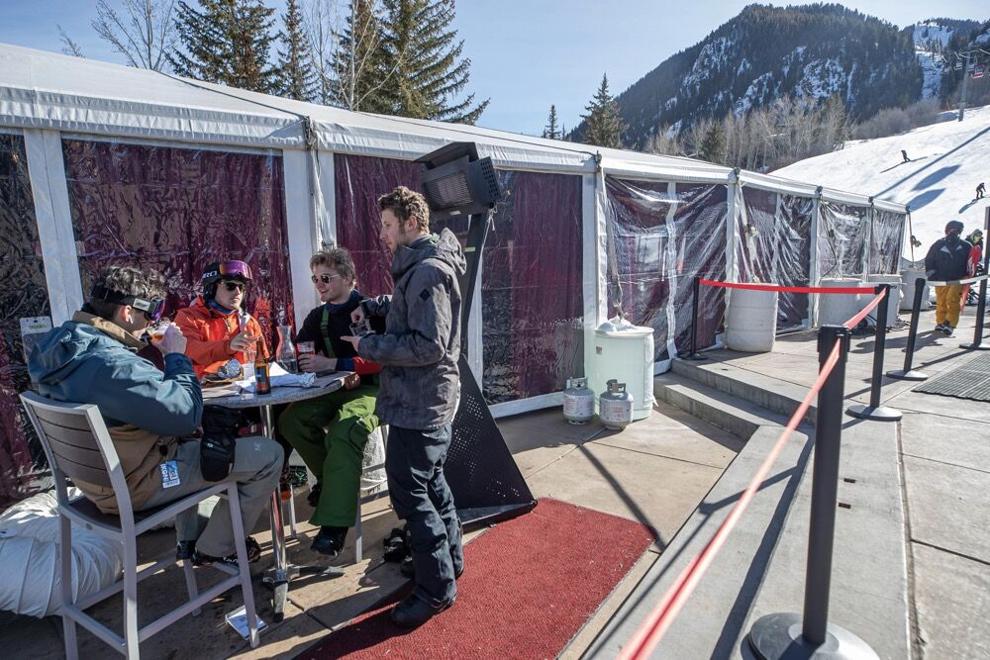 While sharing this sentiment from their store on what's called the "Aspen Mastermind" call Wednesday, a person stopped by Meridian to ­extend the same support, Kenny said.
"The response has been unbelievable. My Venmo has completely blown up," he said. "We're taking these dollars that are coming in, we're turning them into gift certificates with the help of restaurant owners, and we're getting them out."
The emotional response from the restaurant owners — some of whom have cried tears of relief or joy upon receiving checks — has also been overwhelming.
The program not only provides real financial support to restaurants when they need it most, L'Hostaria owner Tiziano Gortan said. It represents the people who love and believe in what they are doing and want to see them succeed, he said. "The mental support is really important — it's not just the financial situation," he said.
"I need to say, I've been really down the last five months. I was questioning my situation here," Gortan said. "But with this kind of support, support from customers, friends, my wife, coworkers, people showing up … I was like, 'Wow, there are people who care about us, and maybe in 24 years, we were able to do something and have an impact on this community. And that is priceless.'"
It's also incredibly motivating, Gortan said. That's also how he described observing a young couple from L.A. — L'Hostaria's lone in-person patrons Tuesday — enjoy a meal and "create memories together" on the patio last night in freezing temperatures.
Without indoor dining, the restaurant is losing money every day, Gortan said. But keeping the lights on keeps spirits high, purposes fulfilled and employees paid.
"Right now, I'm just trying to take care of my staff," Gortan said. He looks forward to the day that he can continue to support the community that's supporting them. L'Hostaria in particular boasts a notable history of philanthropic and community-oriented events, like its annual fall offseason dinner whereby proceeds benefit local nonprofits.
"I like to be on the other side where I do things for other people," Gortan said. "Life goes up and down."
All told, the story serves to remind us of all the good that is in this valley, ACRA President and CEO Debbie Braun said Wednesday.
For this reason, the Chamber will continue the Smiths' efforts and match donations for restaurant gift certificates. The organization is committing $50,000 toward the program, she said.
"It really is showing the power of Aspen," Braun said. "I've seen it time and time again, both in the years that I've been with the Chamber and just as part of the Aspen community."