*Update 12:36 p.m. The Lake Christine Fire grew to about 4,900 acres by Thursday morning, according to officials, who reported that one structure was lost in the Missouri Heights area with two structures destroyed in the El Jebel Mobile Home Park.
Roger Staats with the Northern Rockies Incident Management Team, a type 2 firefighting unit based out of Idaho, Montana and the Dakotas, said an all-hands-on-deck effort Wednesday night and early Thursday morning likely saved hundreds of homes. 
That effort included lighting "backfires" that consume fuels in the path of a larger fire, before the larger fire can get there.
"It could have been significantly worse," he said during a press briefing at Crown Mountain Park. "It just shows the efforts that went on."
Staats' team, which was prepositioned in Loveland, Colo., mobilized and arrived in the valley Wednesday evening.
"Shortly thereafter the wind changed, we got a weather event and the fire became extremely active," he said.
The fire was reported to be roughly 2,700 acres in size before that time, meaning it nearly doubled in size overnight.
No lives have been lost and no injuries have been reported during efforts to battle the blaze that began Tuesday evening. The fire was cause by two individuals firing pyrotechnic tracer rounds at the Basalt shooting range near Lake Christine. Allison Marcus, 22, and Richard Miller, 23, both of El Jebel, have been charged with misdemeanor fourth-degree arson, though more charges could be coming.
Firefighters are also concerned about major power lines in the path of the blaze. Some high-tension lines have been damaged and are not currently in use. A larger metal power line structure is still functioning, but if something happens to that, it will cause a power outage in Aspen, Staats said.
Start said that major resources, including multiple hot shot and hand crew teams, as well as additional aircraft, have been called in to fight the blaze. However, because of multiple wildfires burning around the American West, resources are tight and "we are not sure we will get everything" requested, Staats said.
Currently about 200 firefighters are working the incident and as many as 300 could be active by the end of the day tomorrow.
Though humidity levels are increasing, which should moderate the fire behavior, fuels are so dry that a moisture event will be needed to make progress toward extinguishing the blaze. So far, the fire is still classified as zero percent contained.
*Update 11:32 a.m. The size of the fire has increased to 4,900 acres, said Eagle County staff in an interview. The fire is still zero percent contained. No injuries have been reported.
*Update, 11:04 a.m.: Garfield County has opened the fairgrounds in Rifle as shelter for large animals. The fairgrounds are in need of hay, grass or grass seed mix only, as well as 5-gallon buckets. The Fairgrounds will need to know the owner, contact information, address, type of animal, number and vet along with any known injury, health problems or special needs.
*Update, 10:22 a.m.: Areas of Garfield County in the Missouri Heights area north of Highway 82 and east of County Road 100 to upper Cattle Creek are under Voluntary evacuation orders, with all of Eagle County under mandatory evacuation orders in the Missouri Heights area. People in Garfield County are encouraged to gather their belongings and err on the side of caution by evacuating at this time according to the Garfield County Sheriff's Office. "The nature of the fire is unpredictable and a turn in weather conditions, local ambient conditions or available fuel sources could alter the course of the fire at any time. This happened last evening and the new direction required an immediate change in direction and the re-direction of available resources."
*Update, 9:45 a.m., July 5: Three homes were lost overnight following significant growth of the Lake Christine Fire.
An announcement Thursday morning from the Eagle County Sheriff's Office did not specify the location of the homes. Officials announced evacuation orders for Missouri Heights and areas of El Jebel late Wednesday and early Thursday morning.
"The #LakeChristineFire grew significantly on July 4th, due to erratic outflow winds, extremely dry fuels, and single digit relative humidity," the announcement says. "Local crews worked all night long, performing firing operations and protecting over a hundred homes. Unfortunately, three homes were destroyed during the extreme fire behavior and prolific ember shower."
The fire grew so much that an accurate estimate on size is not yet available, the announcement says.
A spokesperson for firefighting operations said Thursday morning that crews are still assessing the status of the fire and the damage it caused following last's activity.
Mike Almas' Northern Rockies Incident Management Team began managing the fire Thursday morning but will continue working with local cooperating agencies.
"Today's predicted weather includes increased relative humidity, which should help moderate fire behavior," the announcement says. "Crews are continuing to patrol and engage the fire today, as well as assessing the private property and infrastructure values."
*Update, 12:49 a.m., July 5: Missouri Heights is under mandatory evacuation. The shelter has been moved to the Roaring Fork High School. All evacuees may head there. Garfield County has also opened a livestock and large animal shelter at the fairgrounds in Rifle in response to the Lake Christine wildfire. 
The fairgrounds are in need of hay, grass or grass seed mix only; no lawn clippings and no alfalfa. Volunteers are not needed. The fairgrounds are also in need of 5 gallon buckets to provide water to the various stock animals as they arrive and after they are on site.
Current intake has been mostly horses but other animals are expected. Owners must submit information about the animal's health condition and veterinarian at intake. 
Photos: Lake Christine Fire burns above Basalt
As of Thursday morning the fire is up to 2,700 acres.
The 2,700-acre Lake Christine Fire, growing to the largest in the valley since the Storm King tragedy in 1994, threatened 500 homes in the Basalt area and the town's historic Midland Avenue corridor, and was endangering infrastructure that may knock out power from the midvalley to Aspen, authorities said Wednesday.
Residents in upper Pitkin County were advised to prepare to be without power for 72 hours as the fire, burning through stands of pinion and juniper toward power lines, leapt from roughly 80 acres Tuesday evening to over 2,000 in 24 hours. As of last night, no one had been injured nor any structures lost.
Multiple neighborhoods and areas — including everyone living north of Midland Avenue in Basalt — were under mandatory evacuations amid erratic winds fueling the blaze, one that a U.S. Forest Service official said may not be extinguished for weeks. It was uncertain Wednesday when evacuation orders may be lifted. People who are in the mandatory evacuation order area and need access to their homes to obtain medications or other life-safety measures are asked to call authorities at 970-927-4316. An evacuation center was set up at Basalt High School, and a livestock shelter not far from there off Southside Drive.
An updating map of the fire can be viewed here: https://www.google.com/maps/d/u/0/viewer?mid=16Y1l3pT9_y3WInrY8CmYwJTh4MjwVVod&ll=39.381464540531994%2C-107.03648523797608&z=14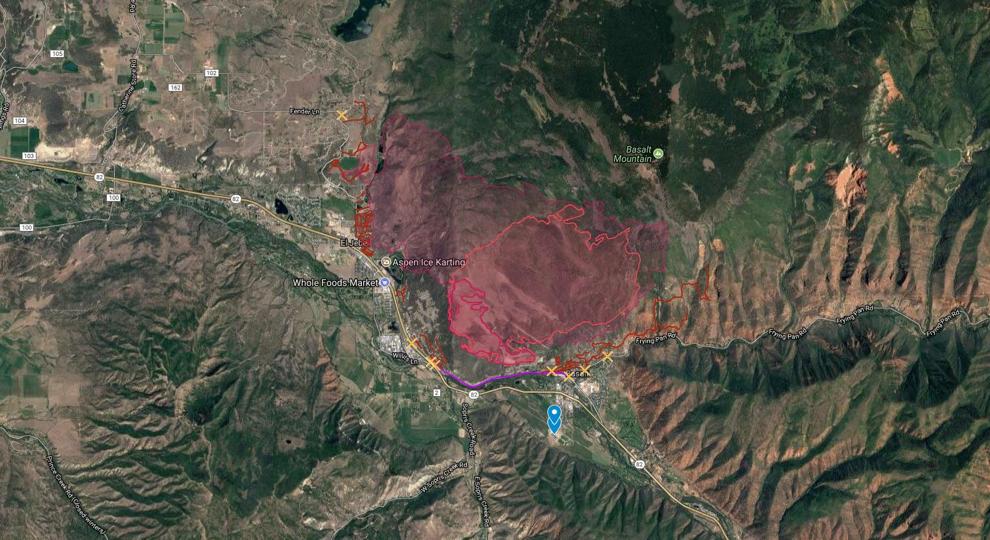 A massive response was underway Wednesday night to what Scott Thompson, fire chief of Roaring Fork Fire Rescue, said was a volatile scene of charred 80-foot-tall power poles, some lying across power lines, and explosions that caused authorities to suspend air support.
"We don't want to lose an airship," he said during a community briefing at Basalt High School, citing dry conditions and winds just strong enough to spread the blaze outside their control.
Authorities were consulting fire models to help predict where the blaze may go. A Type 2 team from Loveland on the Front Range, charged with logistics and financing to fight the fire, is responding and "will build a little city" near Crown Mountain Park, the likes of which the public hasn't seen since 1994, Thompson said.
"We're doing everything we can to acquire more resources," he said.
Additional support is being requested from units that were recently working on the massive 416 Fire outside Durango, as "the Lake Christine Fire is a high-priority fire in the state of Colorado [because of] the values at risk and the power infrastructure located nearby," he said in a press release.
Thompson said crews from local, state and federal agencies tried their best to contain it.
"But we didn't stand a chance," he told those in Basalt. "We're kind of bummed, we feel we kind of failed, but we did our best. Everybody you can imagine has pitched in to to help, and we're very appreciative of that."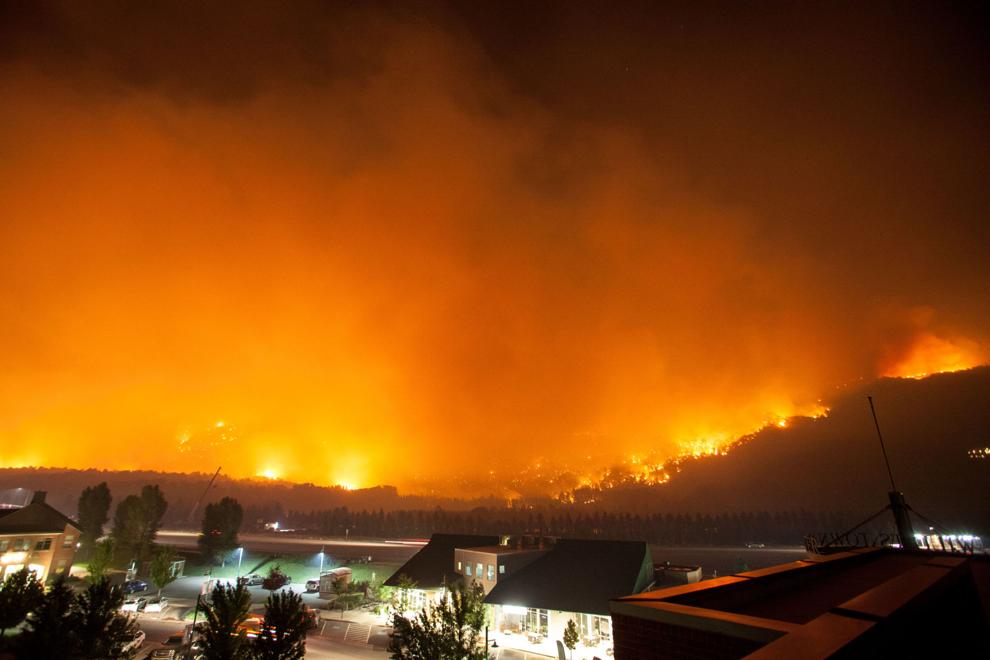 Some 150 firefighters were pulled off the lines Wednesday because of safety and because no property at that point had been threatened, and when air tankers made water and retardant drops, they headed back in to improve the lines, he said.
Two El Jebel residents who allegedly fired off flammable tracer rounds at the Lake Christine gun range face a misdemeanor arson charge, though more criminal counts may be forthcoming, along with possible restitution. (See related story.)
Terrain considered to be fire fuel is at record dry levels amid near-drought conditions. The valley will need monsoon showers before the Lake Christine Fire is extinguished, said Karen Schroyer, White River district ranger with the Forest Service.
"We could be looking at several weeks as we're managing it," she said.