It took barely a minute for seven teams of two to complete a three-legged race in Snowmass Village's Base Village Friday afternoon, but the transformation in the participants was palpable. The event was a break from the more typical programming of the Yoga on the Mountain Festival, now in its third year in the valley.
The race was the brainchild of Bobby L'Heureux, one of the seminar leaders at the festival.
"This idea of a three-legged race to us was like the field days of our childhood, bringing that back," L'Heureux said.
"That childlike inner that lives within us, we are hoping that the three-legged race brings that out, but it's also connecting with a stranger in a way that you have to work together or you are not going to make it," he said.
Connecting with strangers is important to L'Heureux. Along with teaching yoga in the Vail Valley and running Yoga + CO magazine, he is the founder of Big Heart Big Hands, a nonprofit that works on mountain safety and awareness initiatives with a focus on supporting volunteer rescue teams. The nonprofit also seeks to serve friends and family members who have lost loved ones in the backcountry.
"To me, community and connection have to go hand in hand. They foster each other and without one you really couldn't have the other," L'Heureux said.
He said modern society doesn't rely on community as much, but small towns throughout the Rocky Mountains are uniquely suited to coming together.
"As humans, we all started in tribes and that community all supported each other no matter what. Living in a mountain town I feel like we almost have that old-school community where everyone is here for a reason, we have chosen to be here and we need to support each other," he said.
L'Heureux himself lost a friend to a backcountry climbing accident. In 2014, Jarod Wetherell was hiking the Maroon Bells when he got separated from his climbing partner David Richardson, who is now an Aspen local. When the two did not return, Mountain Rescue Aspen was called and carried out a mission to find the missing hikers.
"We were in contact with (MRA) the night of, we were in contact with them for the next 48 hours. We were able to follow on their scanners and just listening to what they were doing and how they were organizing, and then realizing that these people were just volunteers, it was so impactful for me," L'Heureux said.
Richardson survived two nights alone, in snow, above treeline and was found by MRA. Wetherell was found deceased, after sustaining an estimated 3,000-foot fall.
"Yes, my friend didn't come back, but the fact that these individuals were out there trying to save my friend and they retrieved his body, it was just unbelievable to me," he said.
L'Heureux said the more he looks into the volunteer rescue teams in Colorado, the more he gets frustrated with the lack of support from the state.
"What we are trying to expose is that, it's great that we have a $62 billion industry of outdoor recreation, but none of it goes to mountain rescue and safety, none of it," he said.
L'Heureux cited statistics that in Colorado, there are 3,600 search-and-rescue missions a year. He said the next closest state behind Colorado is California, with 2,400 missions a year. The difference is that all of California's top search-and-rescue personnel are paid, not volunteers as they are in Colorado.
He said that as communities become more transient it's becoming harder for search-and-rescue teams to recruit new members. And the lack of support for volunteers once the mission is over has its own deadly consequences.
"There's a ton of mental health problems, so they are losing members every year to PTSD, suicide, drug addiction, all sorts of things," said L'Heureux.
He praised the organization, Colorado Search and Rescue, for all that work that it does, but fears a change is needed, soon.
"Our mountain rescue is unbelievable, it's 76 years in existence and we've done a great job thus far with a volunteer crew, but when does it become sustainable?" L'Heureux asked.
"Yes, our model looks good and it works really well, but I don't think people at the state understand that if we keep operating at this level our mountain rescue will not be sustainable," he added.
Big Heart Big Hands now offers confidential free therapy for people experiencing trauma or grief due to mountain incidents. L'Heureux said he knows there are people who might not feel comfortable being vulnerable and seeking help if they didn't know that assistance would be kept confidential.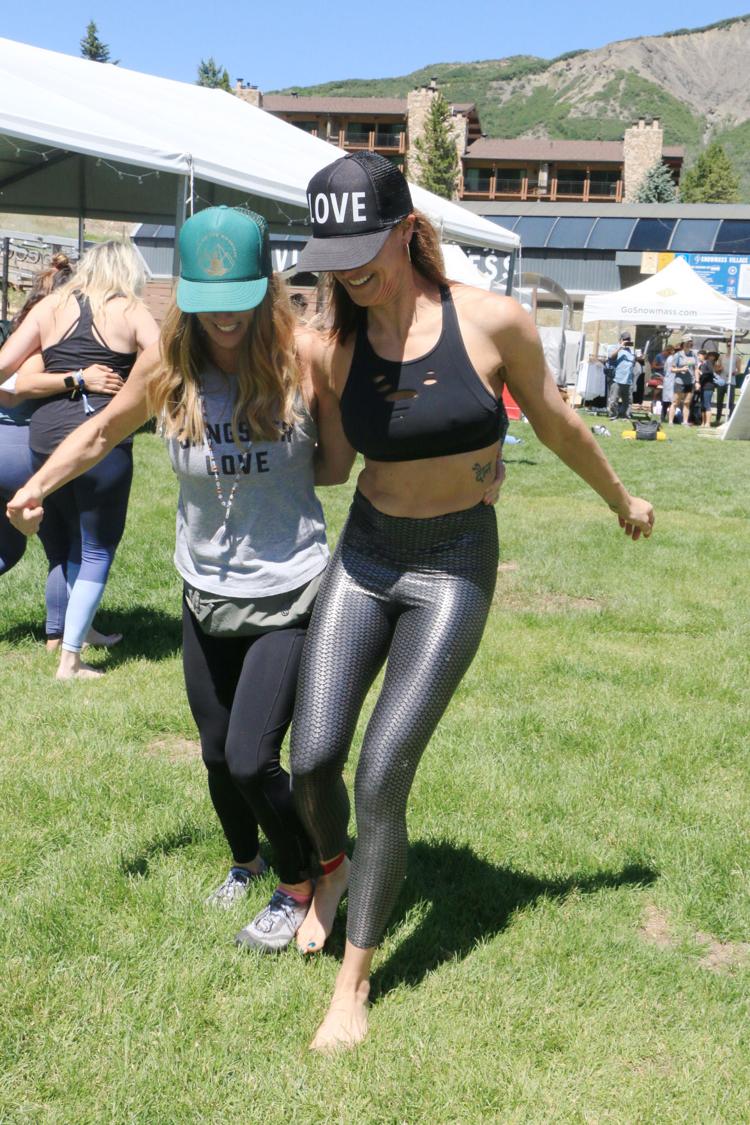 Back on Snowmass Ski Area, Yoga on the Mountain participants prepare to get a little uncomfortable. L'Heureux binds the pairs legs together and points out the course for the three-legged race, an out and back across the grass.
"A three-legged race — you don't really know you are letting down your vulnerability until you kind of sign up for it," he said. "I find that people don't just jump in to vulnerability.
"This is a fun, goofy way to build that connection and to hopefully break down that barrier that vulnerability is not as scary as you think, and vulnerability can be done in so many different ways."
Some of the pairs are strangers who just met at the festival registration tent minutes ago. There's also a brother-sister pair and a father-son pair. L'Heureux counts down the contestants and sends them on their way. There is laughter and screaming and impressively coordinated running. Within a minute the race is over and the participants high-five each other and several say they are happy they went for it.
Diana Vitantonio is a yoga instructor in for the festival from Sacramento, Calif. Vitantonio and her partner finished last.
"That means we are trying stuff outside the box," she said. And the team is still happy they entered the race.
"Laughter and play is the fountain of youth," she said. "It's fun and it's hard. I think there is something really beautiful in a challenge too, because you get to overcome."
The symbolism of being bound to someone else while sprinting for the finish line was not lost on her either.
"We are not here on the earth all by ourselves, so eventually we have to be willing to work together," Vitantonio said.
L'Heureux believes that any small opening into vulnerability can help with connection, strengthening mental health and creating community, be it a smile to the grocery bagger or a 60-second three-legged race.
"No matter who you are, fear is real. If I fear a bug and you fear a lion, in our bodies that fear is the same thing," he said. "So to overcome that at the time is extremely tough, and why it's important is [because] you are never going to create the connection without confronting the vulnerability."