BEAVER CREEK — For Aspen native Johno McBride, the head men's speed coach for the U.S. Ski Team, the second downhill of the Audi FIS Ski World Cup season that was run at Beaver Creek Friday was a success despite the lack of an American on the podium.
The team's "Twin Towers," Bryce Bennett and Steven Nyman, so named because of their height, skied solidly on the shortened Birds of Prey/Golden Eagle course and ended up tied for ninth place, 0.56 seconds off the time of winner Beat Feuz of Switzerland's 1:13.59. Feuz's teammate, Mauro Caviezel, was second, just 0.07 seconds behind, and veteran Aksel Lund Svindal, reigning Olympic champion and winner of the past two Birds of Prey downhill races, took bronze.
Bennett, who stands 6-foot-7, said he thought his run was pretty good and that he is getting closer to the podium.
"I grew up watching these guys on TV, and here I am in the mix with them. It's weird," said Bennett, who, in the season's first downhill last week in Lake Louise, Alberta, finished 12th.
Nyman, who posted his best finish in two years after consecutive knee injuries, is, at 36, a decade older and a smidge shorter than Bennett.
"I think it's awesome we tied. He's my little protege," he joked. In Lake Louise he edged Bennett for 11th in the downhill.
McBride sees more work ahead for some of his back-of-the-pack racers, including Wiley Maple of Aspen, who started with bib 56 and finished 51st overall on Friday.
"I think I just tried to cut the inside of the tracks," Maple said, explaining his line choice on the weather-impacted start, which was about 30 seconds shorter than the full-length course they practiced on. A forecast for new snow beginning late morning prompted organizers to switch to the super-G start, which is about 270 feet lower than the downhill start house.
Maple, who described conditions as "dark and a little bumpy" by the time he began the Birds of Prey course — over an hour after the top men skied their runs — said his strategy was a gamble.
"I cut the distance, but it was dirtier than riding a clean ski," he said.
Other American finishers included: Travis Ganong in 28th, Ryan Cochran-Siegle in 32nd, Thomas Biesemeyer in 42nd and Jared Goldberg, 45th.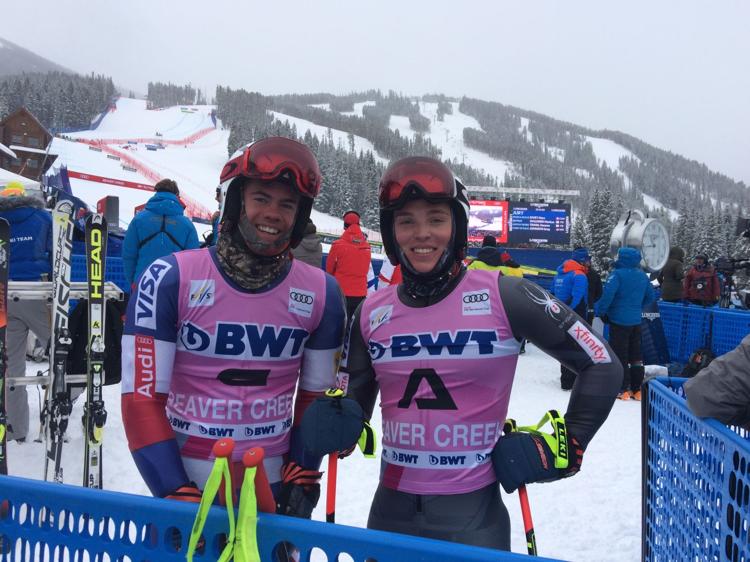 Before he stepped into the start house, McBride shared this bit of wisdom with Maple: "Stay balanced and it will all work out eventually," the racer recalled him saying.
Wiley's dad, Mike, and uncle Sandy Maple both volunteered on the race crew, which all week dealt with removing soft snow from the race surface.
"I think it's cool for them to be out there making the course good," said Wiley Maple, who is not competing in today's super-G. The defending Birds of Prey super-G champion, Vincent Kriechmayr of Austria, who was fifth here Friday, is among the pre-race favorites.
Friday's podium, while comprised of past Birds of Prey winners like Feuz and Svindal, had none of the victors in the season's first downhill last week. The Canadian race was won by Max Franz of Austria, who mustered only a 13th place in Beaver Creek.
Feuz, who spoke through an interpreter, said the lowered start was to his advantage, as it eliminated an area that is not his strong suit.
"My strength is not in the flats. I was very determined to win today," Feuz said.
Bennett described how eliminating the section dubbed "The Flyway" because of the lowered start, and jumping into the steep Brink section, was "like going from zero to 100 real fast."
Snow over the course of the morning contributed to flat-light conditions encountered by some of the later starters.
Three racers did not finish the course, including Germany's Thomas Dressen, who made the first podium of his career here in 2017. Dressen crashed hard and was taken to Vail Valley Medical Center with a possible knee injury.
Young bucks await their turns
Two athletes with Aspen ties were among the race forerunners.
Bridger Gile, 19, who started with the Aspen Valley Ski and Snowboard Club and spent his middle school and high school years with Ski and Snowboard Club Vail, is back living and training in Aspen, he said. Gile is taking a post-graduate year after high school with aspirations of lowering his FIS point profile to perhaps earn a spot on the national team.
Cooper Cornelius of Glenwood Springs, who also skied with both AVSC and SSCV during his youth, was this season named to the national team's C Team squad.
"Unfortunately my points aren't good enough to start the giant slalom this weekend," said Cornelius, who is a multi-event skier. He is scheduled to forerun all the races at Beaver Creek, however.
The giant slalom scheduled Sunday will be the third and final event of the Birds of Prey series and will feature local talent River Radamus, another Vail product.
Both Gile and Cornelius travel to Canada next week to begin a schedule of NorAm and Europa Cup races that they hope will be stepping stones to the big league of the World Cup.
Watching Friday's men's downhill from the Beaver Creek finish arena was Alice McKennis, the local race product who graduated from the Sunlight Mountain Resort and AVSC programs. McKennis, who has won one World Cup downhill in her lifetime and finished with a third-place medal in the 2018 World Cup Finals, is out for the season with an injury.
She plans to return next year, and said she was excited that teammate Lindsey Vonn is also going to ski a few events in 2019 in her pursuit of breaking the overall World Cup record of 86 wins. Vonn had to skip her favorite venue, Lake Louise, because she was injured in a training accident recently at Copper Mountain, but announced Friday morning her intention to return for a limited season next year.
"I think it's awesome and fantastic," McKennis said of Vonn's announcement. "I'm personally looking forward to having a final race with her." During the 2018 Olympics in PyeongChang, Vonn took third in the downhill, followed closely by McKennis in fifth.