At a time when local business owners are constantly pivoting to adapt to ever-changing public health orders that are responding to even more rapidly changing COVID-19 case data, asking about plans for the upcoming winter season seems almost frivolous.
"At this point, it's pretty difficult to look at the winter," said Jeff Hanle, vice president of communications for Aspen Skiing Co.
"It's so far out that we really haven't talked about it," echoed Brad Smith, Red Onion proprietor.
And so it goes regarding President Donald Trump's June 22 proclamation, which came into effect two days later, extending a ban on visas for immigrant workers through the end of the year. Particularly important for the hospitality industry included in that ban is the J-1 visa, which supports many of the international seasonal employees who supplement the labor economy during peak summer and winter tourism months.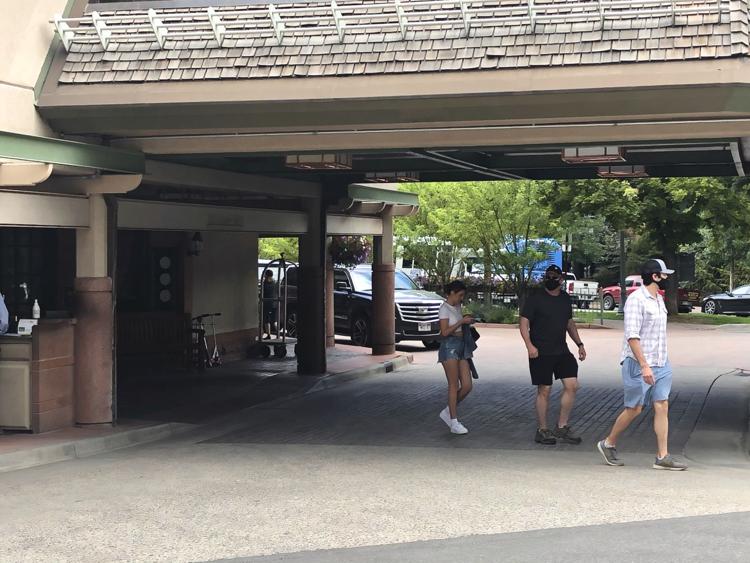 But, Educational Resource Development Trust, or ERDT, work and travel program director Emily Pesavento explained, that ban comes under review July 24 — and then every 60 days thereafter.
"That's by the Secretary of State, Secretary of Labor and Secretary of Homeland Security," she said. "That's kind of what everyone has their focus on as an opportunity to possibly get J-1 visas excluded from the proclamation."
If left in place as is through the end of the year, however, as many as 325,000 individuals could be barred from coming into the country — including about 167,000 temporary workers, according to Migration Policy Institute estimates.
Ski resorts are among the regular beneficiaries of employees with J-1 visas. In a typical year, July and August would be the months that SkiCo begins to consider its J-1 needs, Hanle noted.
"We would have been starting on our J-1 process now for the upcoming winter," he said.
But with the uncertainty that COVID-19 has lobbed at the broader economy — and recognizing that the tourism and hospitality sectors have been particularly hard hit by the pandemic — Hanle said that it's too soon to tell definitively what the 2020-21 winter employment needs will be, especially if there is a second wave of the novel coronavirus responsible for the disease.
"Is it going to come back? Is it not? There's a lot of unknowns," he said. "That being said, this is not a good thing for us. It's not a good thing for Aspen, in general. It's not just the Skiing Company that's relying on J-1 workers."
Smith is one of those Aspen employers who also benefits from being able to supplement his workforce with staff supported by J-1 visas.
"It would definitely hurt us because we usually hire five to six kids from South America for our winter season," he said.
But again, Smith, too, underscored the uncertainty faced by businesses in the coming months.
"If the administration changes in November, then what does that mean? I don't know," he commented.
For now, Smith is focused on the more immediate future. Without his restaurant's bar capacity even permissible under Pitkin County public health restrictions, he's still seen enough business to maintain operations through the warmer months, at least.
"There's a lot of people here," he said. "People don't want to come inside as much, so we just have the patio, and it's been full."
What happens once the colder weather sets in and patio business is no longer viable remains to be seen. And beyond the climate, business influencers also have their eyes on international travel restrictions.
"We've been talking to our people that we work with in Australia and Brazil and the [United Kingdom] and Germany," Hanle said. "Australia, right now, they wouldn't let any of their citizens come to the U.S., so we don't know what that's going to look like six months from now or whatever."
Indeed, according to the U.S. Embassy and Consulates in Australia website, as of July 1, travelers from the United States to Australia, too, would have to adhere to strict 14-day quarantine restrictions — if allowed to enter at all.
"The government of Western Australia has temporarily closed the Western Australian state border and enacted tighter restrictions for travel through aboriginal communities," according to the website.
As the European Union has opened some of its borders to international travel, Americans were not included on the list of acceptable visitors. That decision will be reviewed every two weeks — and if the United States' epidemiological data becomes more promising, it's possible Americans will again be allowed to visit the countries comprising the EU.
For its part, according to the U.S. Centers for Disease Control and Prevention, visitation restrictions are still in place as of July 1 — including for travelers from much of the EU, China, Iran, the United Kingdom, the Republic of Ireland and Brazil.
"There's certainly going to be some hesitancy to travel [and] possibly some bans on travel that extend into the winter," Hanle acknowledged. "We'll continue to grow our domestic market and see what that looks like. That business level will then dictate how many employees we need."
The big chill
Still, if international travel resumes to even close to regular levels this winter, any limitation on J-1 employees will have a direct impact on customer service, he continued.
"If we do see significant levels of skiers and guests coming into town, it's going to be potentially difficult to fill all the job openings. I think most importantly for us, we have J-1 workers that have been returning for years and years and years [as winter sports professionals]," he said. "They have a loyal base of clients who hire them again every year — they're comfortable with them, they speak the same language, a number of things like that. So if the J-1 ban stays in effect, it's harmful for our entire industry and every winter resort."
That concern is a departure from the sentiments outlined in Trump's proclamation, which claimed the purpose of the ban was to protect American citizens' job interests after record-level unemployment claims in the aftermath of COVID-19.
"American workers compete against foreign nationals for jobs in every sector of our economy, including against millions of aliens who enter the United States to perform temporary work. Temporary workers are often accompanied by their spouses and children, many of whom also compete against American workers," according to Trump's signed proclamation.
But, according to Hanle and other Aspen employers, that's not the case in resort communities such as Aspen.
"If we do see significant levels of skiers and guests coming into town, it's going to be potentially difficult to fill all the job openings," Hanle said. "We could see more people in the U.S. seeking jobs, but they'd have to be willing to move into Aspen or into the community — and you know housing and everything else can be a fairly tough time. It's going to be tough, but again, it's an unknown for us. We have no idea what the winter's going to look like yet and what type of international business we might see, what kind of domestic business we might see, so for us to predict what level of employment we might need, we can't do that yet."
Even if international travel restrictions loosen in the event of a decline in nationwide cases in the United States and worldwide, the current ban — if left in place until the end of the year or even with a new administration in November — could have real repercussions in terms of the makeup of a 2020-21 winter season workforce in Aspen, Pesavento advised.
"J-1 students typically visit the U.S. Embassy to apply for a visa a month or two prior to arriving in the U.S.," she said. "Assuming the proclamation is lifted January 1, 2021 — which is far from certain — J-1 applicants will be competing not only with each other for appointments, but also with all the applicants for the other visas suspended by President Trump. Therefore, whereas J-1 students typically spend December to March in Aspen, this year they would be lucky to arrive by February."
It's not the first time employers have been concerned about the future of J-1 visa applicants successfully becoming seasonal employees, despite "decades" of Aspen businesses having a legacy as serving as host employers, as Pesavento described them.
Even as early as October, SkiCo was bracing for a full 25% to 30% decrease in approved J-1 applicants for the 2019-20 ski season, according to Hanle in the fall. The Department of State, meanwhile, insisted that the decline was specific to 2019, if at all.
From 2016 to 2018, Aspen and Pitkin County — which include Snowmass and Woody Creek — the federal government approved 812, 807 and 840 J-1 visas, respectively. The overwhelming majority of those — more than 70% — were in the summer travel/work category, according to a State Department spokesperson in October.
Still, by the fall of 2019, local employers were feeling the anecdotal brunt of yearslong accepted J-1 employees being denied.
"It is with great regret that we inform you that we have begun to cancel a number of independent students for the upcoming Winter 19/20 season due to a shortage of visas," an October email from CCUSA, a leading agency in arranging cultural and temporary work exchanges, started to several Aspen employers. "CCUSA, along with numerous other sponsors, have taken all the necessary steps in rectifying this situation but unfortunately a solution has not come about."
Bill Doherty, general manager at Kenichi, was one of those employers in October to receive that email.
"We usually have anywhere between three and five [J-1 workers] in years past. This time, two out of four were denied," he said at the time. "We'll see what happens with the other two. They're good kids; they're not afraid to get their hands dirty. It's definitely kind of frustrating."
Of course, just five months later, COVID-19 would rock his industry, shutting down in-person dining before eventually allowing 50% capacity, with social distancing, sanitation and mask-wearing ordinances in place.
Smith, too, is taking things day by day, but he remains optimistic.
"We always seem to find people. People are always here," he said.
Optimism is part of Pesavento's mantra, as well.
"We're trying to proceed as if everything's going to be best-case scenario, but there are a lot of points between now and when the students would arrive where we could change course," she said.