Wild turkeys cluck and strut along a resident's dirt-base driveway. A blue heron appears from out of nowhere, majestically gliding through the river canyon in search of prey. A couple of mallards follow the downriver route, their hunter-green heads bobbing in and out of the water as they, too, seek sustenance for the journey ahead.
These are common daytime scenes on both sides of the Roaring Fork River at Phillips Trailer Park, a relatively hidden community about 10 miles northwest of Aspen, where a hodgepodge of mobile homes, cabins and recreational vehicles serving as stationary dwellings contrast with the surrounding landscape of rocky red hills, sun-drenched fields and a riparian wonderland.
The property was owned, maintained and monitored for nine decades by a longtime local family until early 2018, when Pitkin County government paid $6.5 million for 65 acres with the stated goal of keeping it out of the hands of private developers and preserving it as affordable housing.
County consultants began the process of evaluating the trailer park's infrastructure last August and speaking with residents about the community's assets and liabilities. They pinpointed problems relating to the water supply and wastewater systems; potential flood zones and other areas under threat of mudslides and debris flow; homes that don't meet basic Housing and Urban Development standards; and a host of other issues.
County commissioners have held two work sessions on the project this year, primarily to undertake the preliminary goal of defining an overall concept for the development's future. Density was the biggest question, and, presented with three options, the elected officials initially chose the middle ground involving "no net loss" of units. At the second meeting, a majority of commissioners expressed support for some increase above the current 41-unit count, perhaps a total that's between 50 and 60 units.
Many more questions remain unanswered. The property consists of roughly 10 units on the Roaring Fork River, just off Highway 82 (less than a mile north of Gerbaz Way) and another 30 units on the hillside across the river, off Lower River Road. Consultants and staff have recommended removal and possible relocation of six riverside trailers because of the high cost of infrastructure repairs given the small number of units. Other dwellings on the hillside also may have to be removed if they don't meet HUD regulations and can't be relocated to more suitable areas.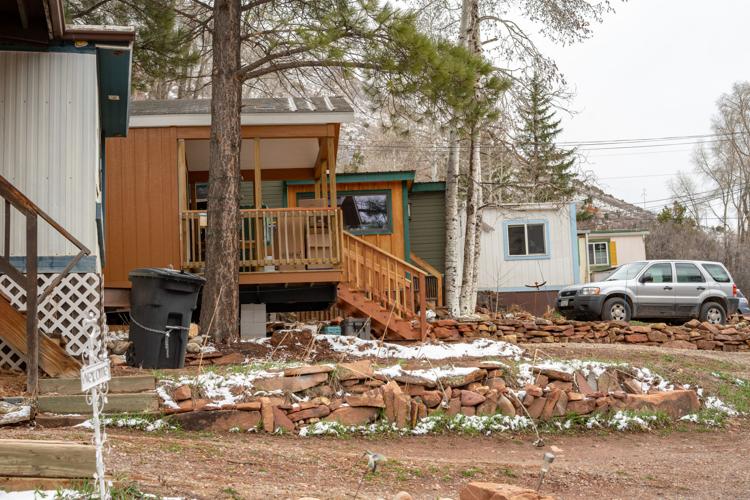 Top concerns include: whether trailer-home owners will be able to purchase their lots at a reasonable price; who will bear the cost of a few million dollars worth of infrastructure repairs; whether the county will compensate riverside and hillside owners for structures that are immobile and can't be relocated; and, who will be able to access the riverside section if the trailers are removed — will it become a public park or space for various county departmental operations?
Other issues relate to the time frame of when local affordable-housing regulations will be applied to the community, and whether some residents will be "grandfathered in" without having to comply with rules relating to full-time residency or annual working hours. Another question mark pertains to where additional units, which may include tiny homes or large lots to accommodate new "double-wide" trailers, would be located within the property. There is a large field on the hillside that may be suitable for such development, but some commissioners want it preserved for agricultural use.
Some residents are anxious about their future at Phillips while others are keeping an eye, at varying levels, on the county's redevelopment process, said Carbondale land-use planner Bob Schultz, one of the consultants working with the county on concepts for the property and outreach to residents.
Last week, Schultz reiterated what he's said all along, that there's no cause for worry at this stage of the process.
"This is going to be a slow-moving train," he said.
Despite the perceived pace of the initiative, which has been framed by the county as a public-health concern, commissioners still want to settle a few matters. They want to conduct a site visit — Schultz said the month of June may be possible — to get a better feel for the property. Some commissioners have said that it's time to start engaging more frequently with residents, as none of the public meetings so far have included an opportunity for them to provide direct comment.
Schultz said that with the first phase of the planning effort complete — dealing with the density question and other preliminary matters — there will be more chances for county officials, consultants and residents to begin a dialogue about the aforementioned questions. Schultz has already met with most of the community, which has an estimated population of about 62 people. A handful of structure owners have yet to respond to his email or phone inquiries.

He hopes to create a working committee of homeowners that will assist planners with time frames for relocation and other key topics. The formation of that group is several months away: perhaps late 2019 or early 2020, he said.
"Some owners are saying, 'Tell me when it's time to make a decision.' Others are thinking they'll be fine with whatever happens, but to let them know when the 'big meeting' will occur," Schultz said. "Some want to be highly involved, while others are engaged but they have job and medical issues to deal with. Some people are hoping to stay while others are planning to leave. I think more than half of the unit owners would prefer to buy their lots."
He discounted the notion that the initiative is progressing fast without much direct input from residents.
"The question of future density was No. 1 on the list of direction we needed from commissioners to start the process," Schultz said.
With that issue largely settled, now planners and county commissioners can proceed to other matters, quickly or not.
High-side thoughts
Ron Bates, a Phillips resident for the past six years, said his primary concern is that his home sits within a flood plain, even though it's high upon the hillside. That's because of its location next to a drainage area. He also doubts he'd be allowed to relocate his trailer, because of its age.
Bates said in the long run, he'd prefer to remain in the community.
"It's rural and remote, but not far from shopping areas. The houses seem close together, but it's not too crowded. And there's good fishing on the other side of the river," he said.
Bates said he's open to the county's changes for the area, but noted that his future there largely depends on being able to stay where he's at. Until the county's plans are more concrete, he's not going to make major improvements to his dwelling, such as possible additions.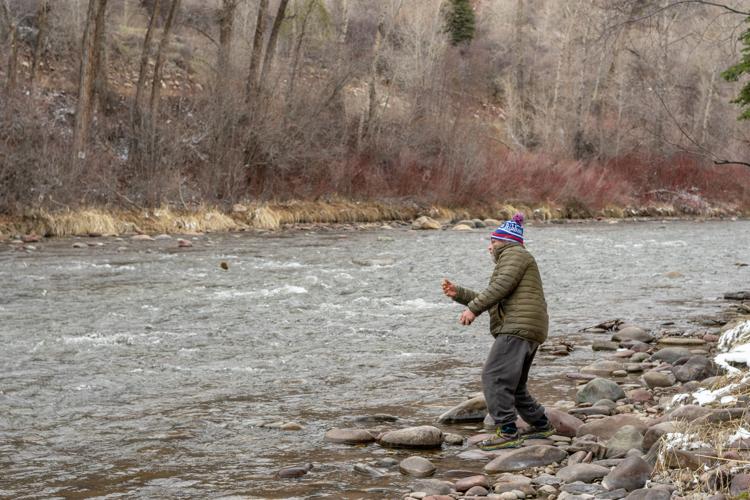 While the majority of the residents own their structures, some are renters. And more than a few of them also are interested in what will become of the place they've come to call home.
Lucas Cardell, who has lived in the Roaring Fork Valley for more than a decade, is an Argentinian who works in the valley under an athlete's visa. The professional snowboarder, who is also employed by a valet service, has resided on the hillside for more than three years.
He said he enjoys the camaraderie of the Phillips community. Though he's currently a renter, he would like to remain in the trailer park long-term, perhaps as a lot owner.
"I love living here," Cardell said. "I feel like the people in the neighborhood care about each other. I would be open to possibilities here to invest."
He said he has felt more comfortable in the Phillips area than other areas of the valley where he's lived over the years. Cardell is one of the few Spanish-speaking residents of the trailer park.
"It's kind of like where I grew up in Argentina, a place where everyone knows their neighbor," he said. "I like living in a rural community, a little bit away from the 'Aspen bubble.' Everybody here waves at each other, despite any personal differences we might have."
Cardell said he only has a few minor issues with the community, such as limited public-transit access — the Woody Creek Shuttle operates seasonally — and occasional water and plumbing issues. He also doesn't understand why the "street lights" are located behind the trailers, not in front, which brings too much illumination into his bedroom at night.
He'd also like for the county to provide the added convenience of on-site dumpsters for trash and recycling. Overall though, he's happy to be where he's at.
"If you get the opportunity to live here, you appreciate it," Cardell said. "You want to stay here, enjoy it and help other people."
Down by the riverside
Stephen Keasler, a trailer owner on the riverside, enjoys the community for many of the same reasons that the hillside dwellers do. He likes the natural beauty, the seclusion, the proximity to towns like Aspen and Basalt.
Keasler has owned his structure for about two decades. He lived elsewhere for several years and rented out his home, but returned in 2012. His chief concern is having to leave the property into which he's put a lot of time and money. County officials and consultants have indicated that the riverside residents are at risk of having to relocate far sooner than any hillside residents because of the state of their infrastructure and the area's flood-zone status.
He knows that his structure is a less-than-ideal candidate for relocation to the hillside because of some additions he's made in recent years. He hopes that commissioners rethink the idea of forcing the riverside residents to move.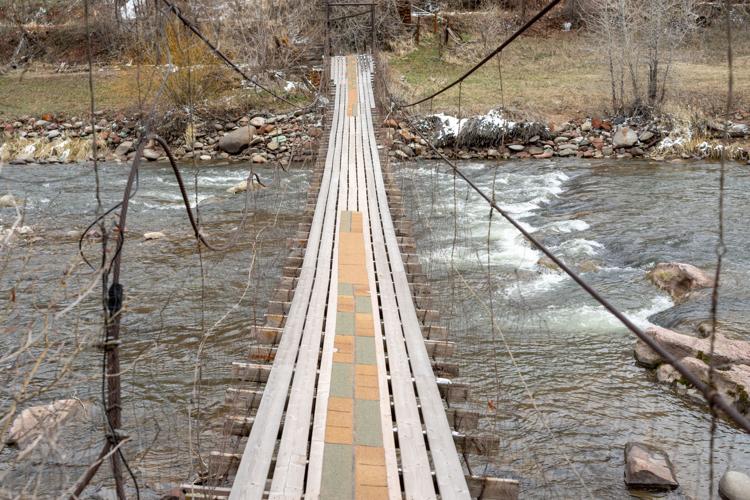 Keasler believes he's been a dutiful part of the community, working with neighbors to clear out briars and other forms of debris, not only on the Phillips property but bordering state land where public fishing is allowed. "We've kept the trails cleared over the years so that people in the community, or anyone else, can get down to the river without too much trouble," Keasler said.
He has questions relating to compensation for his structure, should he be forced to move. He noted that he's been paying property taxes for 20 years.
"It would seem as though we would get some sort of consideration for that," he said.
Keasler also would like to see more research and dialogue about letting the riverside residents remain where they are. There are six trailer homes close to the river and four cabins in a higher area that the county owns and rents out. Perhaps by not renting out the cabins, the carrying capacity of the water and wastewater system could accommodate the six trailer owners, allowing him and his immediate neighbors to remain, he said.
"I couldn't be happier living down there," he said. "And we've always taken care of the area, whether it's picking up limbs that have fallen or trash on the road."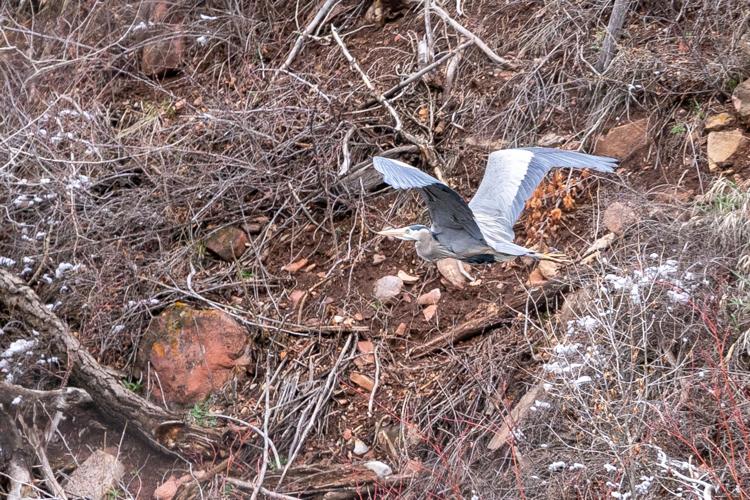 Keasler said the county should investigate the reasoning behind the Federal Emergency Management Agency's designation of flood zones in the area.
"From what I understand, those are FEMA lines drawn from a satellite picture," he said. "I've never seen the water come over the banks of the river and I don't know that anybody has. Flood-plain concerns usually come from reservoirs and big dams that are up above. The only reservoir I know upriver is Grizzly, and it's little, and it's used to control Lincoln Creek."
To Keasler, the county and its consultants could work more creatively to find a way to allow some of the riverside residents to remain.
"The concern for flooding, I don't get it," he said. "During heavy snow years — and I've seen a lot of them — I've never seen the water rise to the top of the bank."
One of the reasons he purchased his home in 1998 and has remained there was because of the abundance of space on the riverside. Though he could be in line for a hillside lot in the future, he would prefer to reside in an area that's not as dense.
"It's a comfortable lifestyle," he said. "I love the serenity and being next to the river. When I'm off from work, I don't leave the house much. I live a camping life down here."
All in good time
Schultz, the county's consultant on most things Phillips-related, said the community can afford to be patient with regard to the issues that have yet to be addressed by commissioners.
Aside from wanting to hear directly from the residents, commissioners also have sought information from Schultz to help inform their decisions, such as demographic data on the people who live on both sides of the Phillips property. Schultz, who has been compiling the data, said that out of respect to the privacy of the trailer owners, he's yet to provide that information, but he will once most of the owners been apprised.
He's also been working to address misperceptions. Some residents tend to be away from the community for long stretches of the year and they don't think they will qualify under future-imposed affordable-housing rules to live on the reconfigured Phillips property. Schultz said residents have been "pleasantly surprised" to learn they only would be required to live on-site for a minimum of nine months out of the year.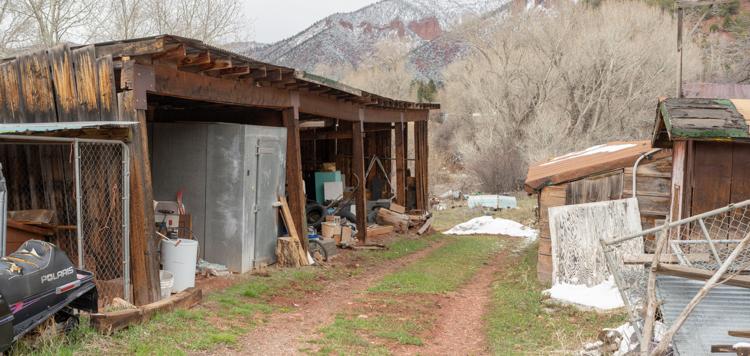 Commissioner Patti Clapper, who has lived in the Smuggler Mountain Park community — a collection of mobile homes — in Aspen since 1987, has expressed a lot of interest in what happens at Phillips. Like Schultz, she said many concerns will be addressed in due time.
"To me, the key issues right now are water and sanitation, and fire safety," she said. "Also the flood plain; we can't have residents living in a flood zone."
Clapper said she doesn't want to see residents displaced. While the riverside residents are most likely to be displaced, she noted that some of the riverfront land is on state property, not county property, and the relocation or removal of structures may not happen as quickly as some residents may believe.
"We're still working through a lot of those [property-line] issues," she said.
She said it makes sense for elected officials to gather more information before meeting directly with residents. That way, commissioners will be able to answer questions and address issues more intelligently than they would without having all the facts.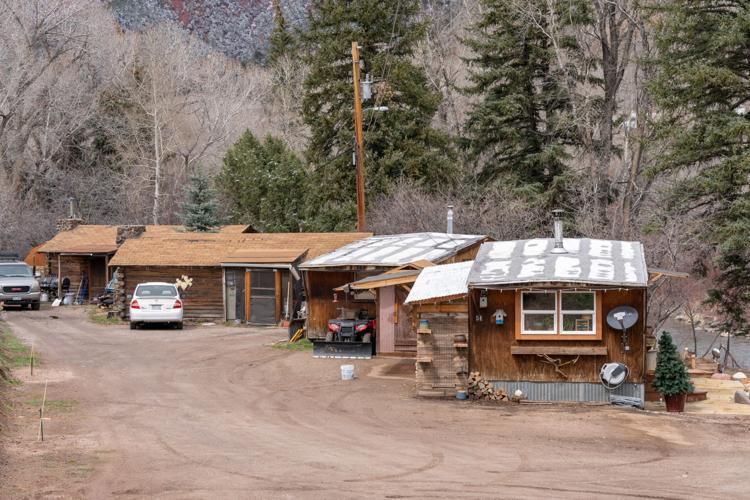 "I don't want to go in there and not have the information and mislead them," she said. "I want to be able to answer their questions and then move to the next step of making concrete decisions."
With regard to the imposition of Aspen-Pitkin County Housing Authority regulations on Phillips residents, Clapper said the county may be able to "grandfather [in]" some residents so that they aren't required to move. Later, if they sell, the new owners would be subject to residency and work-hour rules.
Basically, the county is looking to make the Phillips community safer while retaining its affordability, she said.
Chief among Clapper's concerns — giving structure owners a chance to own the land beneath their homes.

"Homeownership is one thing, but homeownership when you own your land is home security, and I think that's critically important. If you talk to any of the residents in any of the county's other four mobile-home parks, the key thing is that they own their land," she added.