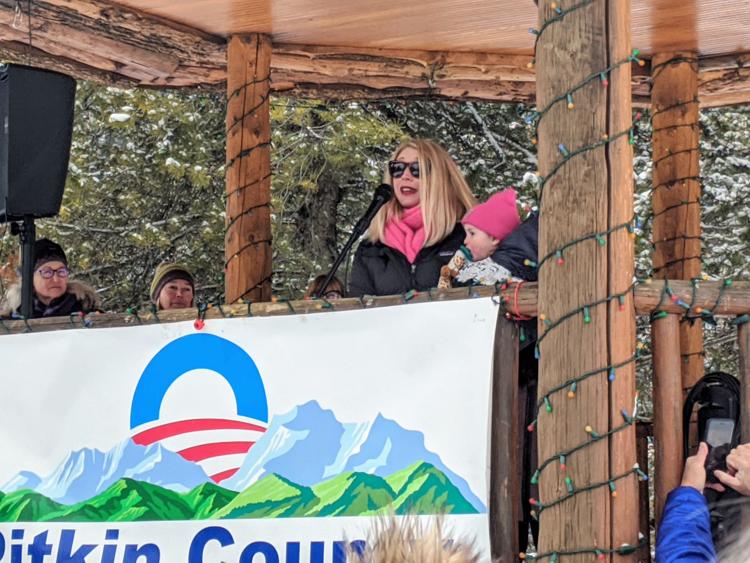 Megan Reilly is a self-proclaimed powderhound. She's a proud patriot. And, of course, she's also a woman.
None of those identities are mutually exclusive, as was evident Sunday, when Reilly donned American-flag themed leggings and a star-bangled tutu to both of the women's marches that took place in Aspen alongside the fourth annual national movement.
The first of those "marches" is distinctly Aspen in that it doesn't involve marching at all, unless you count the short trek from the Silver Queen gondola to the top of the skier area to put on gear.
"We ski down from the top — which is the highest march in the nation [at 11,250 feet] — then we come down, right down Silver Bell and Deer Park and Spar Gulch, and we chant," Reilly said.
The former Aspen Skiing Co. employee was joined by about 20 or so fellow female skiers in braving single-digit temperatures on the top of Aspen Mountain to kick off the day's festivities.
"It was so cold this morning! It was about 3 degrees, but 11 inches of snow, fresh powder!" she said, adding that a ski patroller escorted the group down the mountain.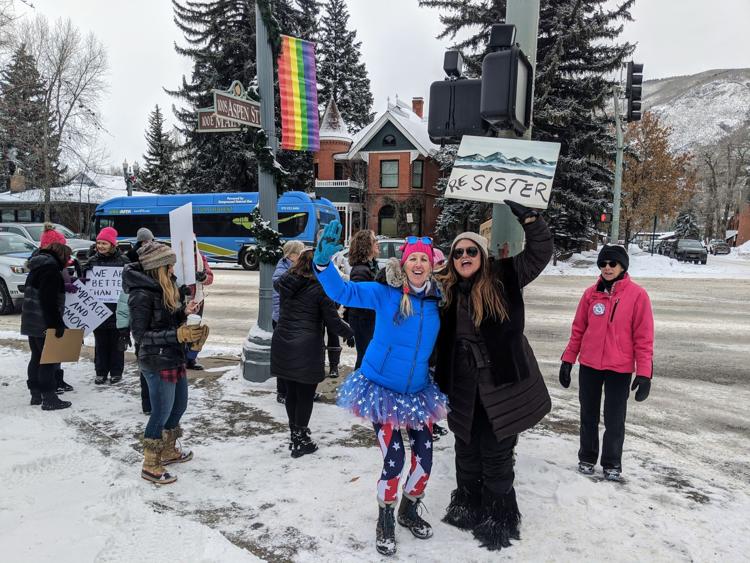 Reilly organized the ski component of the women's march four years ago to coincide with the national efforts. She and a small group of others approached Skico about the idea, and with the quick signing of a waiver and a patroller to ensure everyone's safety, the concept became reality.
"We were thinking, 'Aspen is such a unique place. Everyone comes here to ski, so why don't we add the ski to the march?' It was just kind of a way for us to get our energy out, plus we could ski and then go to the march — on a powder day, we wanted to go to the march, but we wanted to ski as well!"
While some of the group dispersed afterward, Reilly then went directly to Paepke Park, where the Pitkin County Democrats were setting up the sound system at the gazebo for their 10-speaker rally preceding their own march to the fountains in the downtown core.
Reilly herself is a Democrat, so she was an enthusiastic member of the crowd of about 50 or so in the park — but, she emphasized, the partisan politics of the early afternoon were a departure from the morning ski march.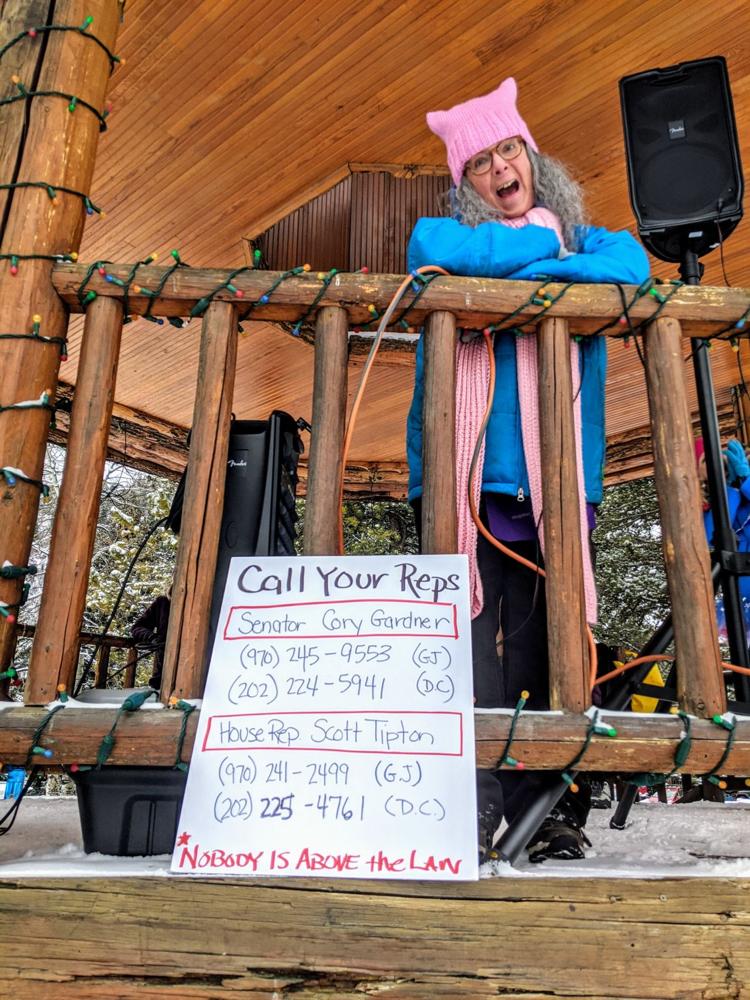 "We're not trying to be party related because it's gotten so extreme," she said of the unaffiliated ski march. It's women of action coming together in a like-minded, peaceful kind way. It doesn't matter what party you're of."
The Democrats' march, too, echoed a call for civility in political discourse — in fact, the theme of the afternoon was "decency and truth," said Betty Wallach, administrative vice chair of the Pitkin County Democrats.
"We find that in short supply in the national administration," she said. "If people have signs, we encourage them to be positive — only good signs."
Like the morning ski march, the decency-and-truth motiff of the Democrats' rally was also unique to Aspen, Wallach added.
"This is a big deal for the town," she said.
At least if the lengths of travel some speakers were willing to go is any indicator, Wallach wasn't the only one to feel that way. Colorado House Representative Julie McCluskie battled traffic out of Denver Friday and spent the night in Summit County en route to Aspen. U.S. Senate hopeful Stephany Rose Spaulding ventured from Colorado Springs to address the Aspen crowd.
"Yesterday, she spent six hours on the road, driving up from Denver to Summit County, got up this morning and drove here to Aspen to speak here for four minutes," Wallach said of McCluskie.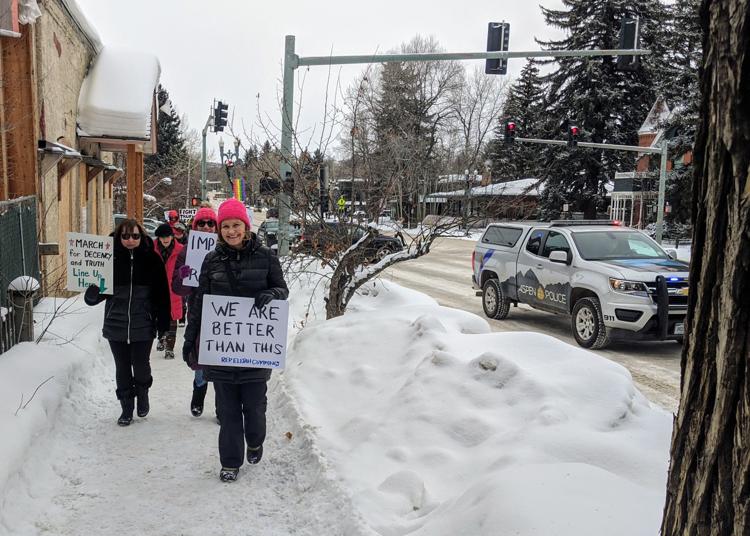 She didn't waste those four minutes, during which time the state representative highlighted some legislative victories, from worker compensation to sex education in public schools.
"This past year, we passed Colorado's Equal Pay for Equal Work [Act]," she said to boisterous cheers. "We fought for that for years and finally saw it across the finish line. We also passed a comprehensive sex education bill for Colorado public schools. It's important that we not just teach abstinence when we talk about reproductive health; we have to teach the whole truth. We have to teach young men and women what their choices are when it comes to sex, and I'm so proud that we are doing that in our high schools and middle schools today."
McCluskie also outlined pending legislative goals heading into the 2020 session.
"This next year, we're fighting for family: the Paid Family Leave Act that will allow men and women to stay home with their newborns or a sick and dying loved one, and make sure that they're compensated during that time when they need space for the people they care about the most," she said of the bill that, if passed, would accommodate up to 12 weeks' leave and pay up to $1,000 a week — though that compensation would depend on a person's income and wouldn't take effect until 2024.
She also didn't shy away from speaking frankly about abortion access as a right.
"I will be working with Sen. [Kerry] Donovan to work for the most vulnerable women in our state to make sure they have access to abortion in the rural parts of our state without having to travel to Denver to make sure they are taken care of," McCluskie, herself a mother of two, said.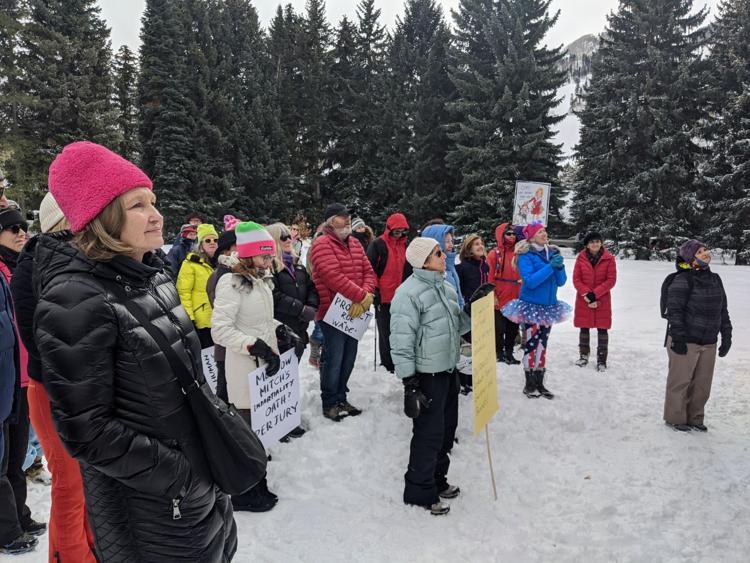 McCluskie wasn't the only mother vocal about women's reproductive rights. Appearing with her new daughter on the gazebo that served as a stage Saturday, Pitkin County Commissioner Kelly McNicholas Kury addressed the topic in a series of truths she espoused as the framework of her speech.
"We all know this election is high stakes, and the themes of today's march are the themes of the election: restoring truth and decency to our political lives," she said. "Truth: more women in office lead to more ambitious climate policy. Truth: More women in office pass more worker-friendly policies … and I'm so proud to brag that here in Pitkin County, we passed 12 weeks of paid parental leave for our employees. Truth: Women leaders pass civil rights policies. Here's my final truth: Support for abortion rights is at an all-time high, and yet 39 senators signed on to a [legal] brief to overturn Roe vs. Wade. This to me, more than any other issue, shows the distance and departure that truth has from reality in our political sphere today."
In fact, while maintaining decency in speaking their truths, all of the women who appeared on that gazebo spoke boldly of otherwise sensitive topics, from sexual assault and rape to abortion access to the need for a more intersectional movement. And the speakers represented several sectors, from local and state government to the education, nonprofit and legal sectors.
Shannon Meyer, executive director of Response Aspen, and Susan Wrubel, executive director of Aspen Film, rounded out the nonprofit sectors. Colorado Book Award winner Linda Lafferty cited a 17-year-old rape survivor — who as a Roman citizen in 1611 faced her assaulter in Italian court and won — as a current source of inspiration for her own writing. In addition to the commissioner, Aspen city council members Ann Mullins and Rachel Richards spoke passionately. And like McNicholas Kury, 9th Judicial Deputy District Attorney Luisa Berne was accompanied on the gazebo by her daughter.
While holding her daughter, Berne spoke optimistically while acknowledging the work ahead for women's rights.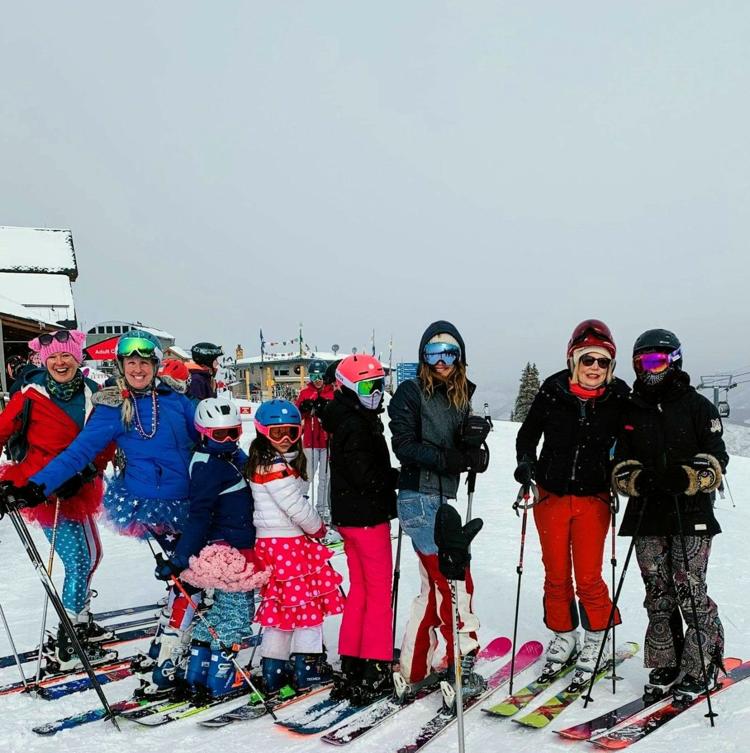 "Our first female Supreme Court Justice, Justice Sandra Day O'Connor, was appointed in 1981. When Justice O'Connor graduated from law school, she couldn't get a job in the legal field. She had to volunteer and work for no pay. Let that sink in — the woman who would become our very first female Supreme Court justice could not get a job as an attorney. Not because she wasn't smart enough; not because she hadn't gone to the right school; not because she wasn't top of her class; but because she was a woman in 1952," Berne said. "I'm happy to report that that's changed a lot. Women like me get jobs out of law school. I think it's important to remember that we don't have to fight the battles our grandmothers did and our mothers did. Wearing pants is no longer a form of protest."
At that, the mostly pant-clad crowd laughed.
"No, what we have to do is really different," she continued. "We have to root out the lingering indignities of sexism. We also need to remember to call out sexism and sexual harassment when we see it — because there are a lot of women who can't. And make no mistake: having the ability to call that out … that's a privilege, and we need to use that privilege to lift everybody up."
The inherent privilege of the mostly white, cisgendered women that comprised large swaths of marchers in the past has been a point of criticism in the movement — but Spaulding, the lone black woman in the Aspen speaker lineup, took that disparity as an opportunity to be "better than this," as one protester's sign read.
"I have heard from candidates at every level across the state and across the country saying, 'We have to fix what has happened,' as if it recently happened," the pastor and university professor said. "The truth is we have been in this since 1619. That is 400 years of systemic oppression and structured privilege. So what we are working to undo is going to take courage and for us to dig a lot deeper than what we believe is on the surface. I am asking us to do what has never been done — because if we keep doing the same thing expecting different results, we are the ones who are insane."
People cheered; passing cars honked in support. And on their route to the fountains, women's voices chanting "Love not hate makes America great" bounced off the snow and ice.