There have been many busy days on the local slopes this season, but most Tuesdays it's very quiet at Sunlight Mountain Resort above Glenwood Springs, even when a class of seventh graders arrive for a lesson.
Absent a powder day, when the lifts turn a half-hour earlier if you buy Sunlight's powder pass (which is triggered by at least 4 inches), the mountain opens at 9 a.m., and rather slowly at that. Last Tuesday in the base lodge — which looks fresh with café-style tables and that day smelled like breakfast and strong coffee — a chiller vibe pervaded. Ski boots were being buckled and stomped into place as the jackets of small tots were zipped. On this late winter day, corduroy and leftover powder beckoned.
Tim Outlaw, who lives nearby, had 51 days on his Sunlight season pass as of last Tuesday in the hopes of making it to 70 this year (in addition to his days on an Aspen Classic Pass).
Outlaw was there for first chair and on a good day may ski until about 2 p.m. Having passed no other cars while driving up Four Mile Road that morning, he laughed while recalling a trip to Breckenridge, where he'd encountered more people in a lift line than he'd likely see all that day at the local hill.
"It's like no other place except maybe Ski Cooper," which has reciprocity with its season pass, he said of the Leadville-area resort.
There can be a weekday when just a few hundred skiers and riders hit the mountain. That will change soon as spring breakers start to arrive for much of March and provide a good heaping of Sunlight's bread and butter.
The groups may hail from Kansas one week, Texas the next, owing to the timing of their school schedules, said Sunlight's spokesman, Troy Hawks.
Child of the '60s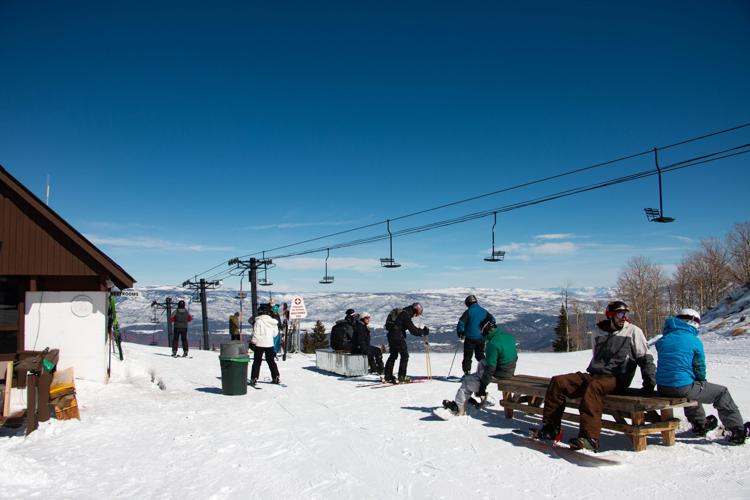 Opened with one lift for the 1966-67 season as Ski Sunlight, the 680-acre ski area was renamed Sunlight Mountain Resort in 1996.
This is Sunlight's 52nd year of operation and Tom Hays' first season as its general manager. He took the baton from Tom Jankovsky, the Colorado Ski Hall of Fame inductee who retains some stock in the area along with Sunlight's primary owners, the Lorentson and Bodnar families.
Hays started here in 1982 as a volunteer patroller and watched five years later when the Primo chair was split from a top-to-bottom lift into two separate lifts. Snowmass' original Big Burn triple chair was purchased and renamed Tercero.
"Quiet is good, but we like busy," Hays said last week, noting that March was looming with special events like the Defiance Challenge followed by a national ski patroller reunion. Bands on the deck and the annual ski shop yard sale would not be far behind.
Those are the kind of days when Charlie Vogel, who was employee of the month for December, by the way, might cook up 150 pounds of potatoes for French fries. But not on this laid-back day, when there's time for a chat between cutting up Rice Crispy treats and stirring a pot of cranberry curry soup.
"We pride ourselves on our value here. You're not paying $150 for a ticket or $19 for a burger," Hays said. Rather, it costs $10 for a burger and fries or on the Tuesday special, $10 for a burger and beer.
For special occasions, or in this case when a crew was shooting promotional video for Colorado Ski Country USA, Hawks will dress up in a Yeti suit. Last Tuesday was one of those days, and it added to Sunlight's small ski area charm and the amusement of the chairlift crowd.
Skier Appreciation Day, which can draw over 1,600 people for the popular January promotion, and a USSA age class race hosted by the Sunlight Winter Sports Club are other times when the Yeti may appear. Those days, as well as during Ski Spree, when the lift corrals overflow and cars are parked well below the lots, are decidedly not like this quiet Tuesday at the end of February.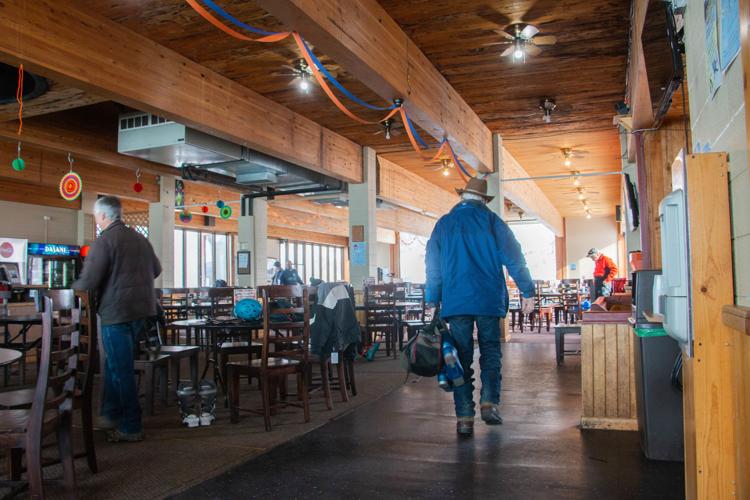 By mid-morning there was already a call for patrol assistance, but most weekdays the six or seven patrollers keep busy with tasks such as using bamboo and ropes to mark or reduce hazards, according to patroller Keith Henderson.
Henderson had time to show a route map of sweep routes and explained the progression of run closures, which start with the East Ridge at 3 p.m. A week ago the patrol helped someone find their lost cell phone by using a metal detector, he said.
At least one patroller is always "wreck ready" from their headquarters atop Compass Mountain, and he said "we can be there within three minutes of an initial call."
"There are days when we have no incidents," Henderson said, but this would not be one of them.
Sunlight sells about 2,000 season passes annually and gives away free season passes to fourth graders in the RE1 and RE2 school district, according to Hawks. Weekdays seem to be the locals' time on the mountain and when employees can catch their breath, said one manager. They cede the area to guests and day ticket buyers over the holidays and on busy weekends.
One of the most happening spots on the mountain this Tuesday was the bar that has the feel of a Midwestern ski area, though nobody was wearing rear-entry boots that day.
Through 1970s-style windows that showcase the day's final skiers, the sun makes the room as toasty as a terrarium. Alas, too soon it begins its late winter-day retreat, and Sunlight starts to set after a not-too-busy day.