Runoff streamflows on the Roaring Fork River, which reached their highest of the season so far on Monday morning, will spike even more later this week when headwaters diversions to the Eastern Slope are cut off as Twin Lakes reaches capacity.
Pitkin County sent out a community alert Monday just before 5 p.m. noting that all rivers are seeing their flows increase this week because of warmer temperatures and a large snowpack still holding on in the upper elevations. This year's snowpack has broken the top 10 on record for how long it has persisted into summer, according to the Roaring Fork Conservancy, and recent warm temperatures have resulted in swollen streams, raging rivers and reservoirs filling quickly.
The Roaring Fork, which has been lining up for multiple, escalating peaks since mid June as the historic snowpack melts, reached 970 cubic feet per second through Aspen Monday morning, which is its highest so far, though it hit 956 on June 15. At those levels, some 35 percent of the naturally occurring flow is diverted through a series of canals and tunnels that collect water from creeks feeding the upper Roaring Fork as it comes down Independence Pass. This system stores water in Grizzly Reservoir, on Lincoln Creek, and sends it in a tunnel underneath the Continental Divide to Lake Creek, on the east side of the pass, where it flows into Twin Lakes and then onto agricultural and municipal users on the Front Range and in eastern Colorado. 
But as Twin Lakes nears capacity, those diversions, currently at 550 cfs, will cease later this week, according to the Pitkin County announcement. 
"Pitkin County officials have been notified by Twin Lakes Colorado Canal Company that [its] storage capacity in Twin Lakes Reservoir will fill on Thursday, July 4," the release says. "At that time Twin Lakes will stop diverting water from the Roaring Fork River and Lincoln Creek through the tunnel no. 1 at Grizzly Reservoir. They are currently diverting around 550 cfs. This water will be released to the Roaring Fork. They do not have an exact time yet when this will happen and will keep us informed."
With no diversions through the Twin Lake system, the river could reach between 1,300 and 1,400 cfs on Friday, according to the Colorado Basin River Forecast Center. Similar situations occurred in 2015 and 2016, resulting in peak flows of 1,680 and 1,160, respectively. In 2015, the river overtopped its banks through North Star Nature Preserve.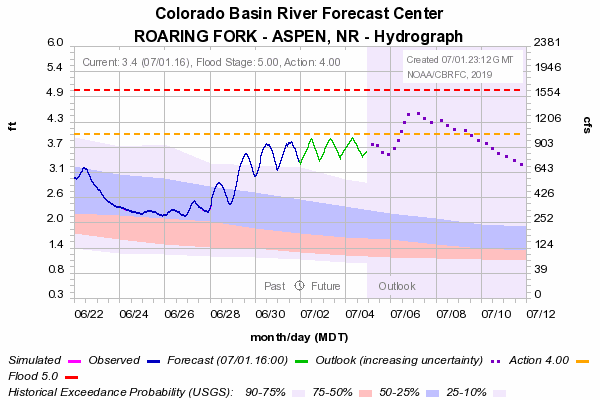 In addition, the Bureau of Reclamation has advised that as of Monday at 8 a.m., releases from Ruedi Dam to the Fryingpan River increased from 400 to 500 cfs. Releases increased again Monday evening from 500 to 600 cfs for the Frying Pan and will remain at 600 cfs until further notice. Increases are expected on Tuesday as well.
Things can happen quickly in a cold, fast moving river, authorities warn. Use extreme caution in or around rivers and streams for the next week or two. Know your limits, be patient and allow the river levels to reach the safe zone before going out, and always wear a life jacket on the water, advises Roaring Fork Conservancy Director Rick Lofaro.
Added Pitkin County Sheriff Joe Di Salvo, "This [runoff situation] will create dangerous river conditions and we want the public to be aware and use caution. The rivers are high, fast, and cold. The river banks can be unstable and we also need to be aware of debris and tree snags." 
The sheriff's office and other public safety agencies will be conducting patrols of known potentially dangerous locations such as the punch bowl and the grottos up Independence Pass. We need the public to use caution, watch your kids and pets.