The first day of the 2021 U.S. Alpine Championships is in the books, with one of the favorites, Ben Ritchie, winning the men's slalom title. An early morning start for the first event in the 2021 U.S. Alpine Championships allowed race organizers to complete two runs of slalom before 11 a.m. on a warm April Monday morning.
Ritchie, a member of the Land Rover U.S. Alpine Ski Team, was crowned the new national champion for men's slalom. He finished with a two-run time of 1:43.11. No other local racers were a serious factor in the competition.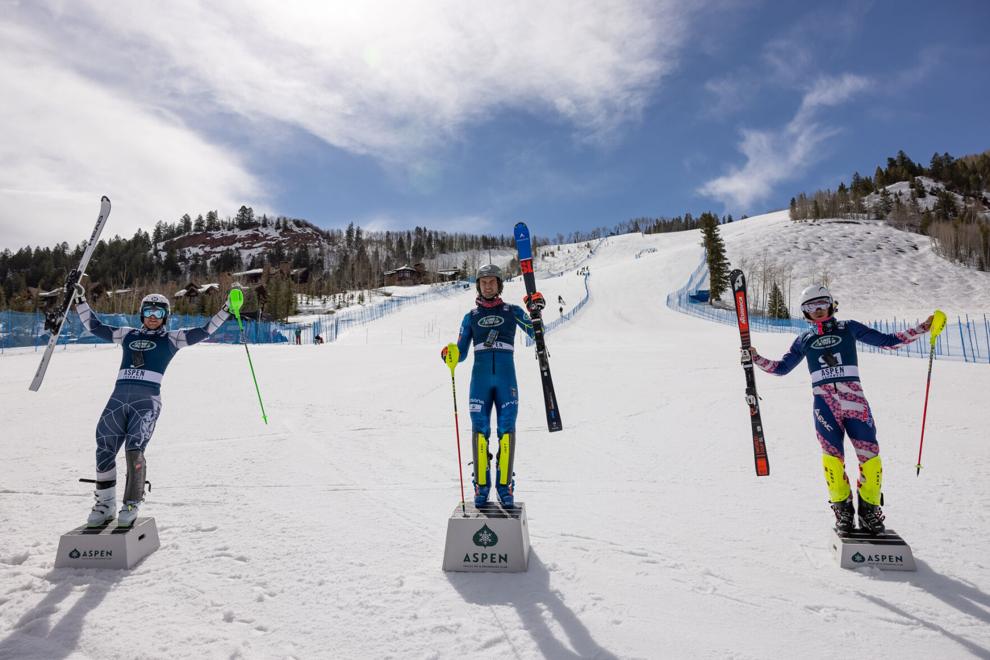 The 20-year-old Vermonter and graduate of Green Mountain Valley School capped off a season where he won slalom gold during the World Junior Ski Championships in March. Ritchie also had a career best 13th place at the FIS World Championships at Cortina d'Ampezzo, Italy, and was victorious in a slalom race on the Europa Cup level.
This is Ritchie's first U.S. Nationals title; on Monday he finished .84 seconds ahead of Erik Arvidsson, 24 — a Middlebury College student who this season scored a top 10 on the World Cup in men's downhill. Garret Driller, also 24, who attended Montana State University, took bronze in Monday's race that was held before a spectator-less venue. Aspen Highlands closed to the public on Sunday.
"I'm happy with the progress I've made this year," Ritchie said in post race remarks, noting a steady increase in his "racing performance."
"It's definitely been a really different season than I would have ever expected. It's had its weird moments with COVID and ups and down with results. 
"I'm excited for what next year holds," Ritchie said of the Olympics planned for Beijing, China in 2022.
Places 4 through 7 of the U.S. Alpine Championships were occupied by racers from Norway, Canada and Australia; Wilhelm Normannseth skied to fourth, Simon Fournier took fifth, in sixth was Gustav Rosberg Voello and Henry Heaydon finished in seventh.
Alex Leever, the former NCAA All American from the University of Denver who skis out of Vail, finished eighth. Leever skied with support from the Team America independent foundation in recent years.
Due to the warm temperatures, the race in the Stapleton Training Center on the face of Aspen Highlands started at 7:30 a.m., with the second run commencing at 10 a.m.
"This morning we all thought that it was going to be one of the worst races of the year here," Ritchie said. "The snow was way better than I expected it would have been, even with the warm weather. Hopefully it will stay like that for the week."
Aspen native Bridger Gile straddled a gate at the bottom of the course and became one of the 33 who did not finish that run due to what was called a tricky course set.
After fast first runs, Jack Bowers of Aspen and Colby Lane of El Jebel were DNF's in Run 2. First run leader Luke Winters also failed to complete two runs.
The U.S. Alpine Championships continue Tuesday with the men's giant slalom and are scheduled to run through April 16 before a spectator-less venue at Aspen Highlands, due to COVID-19 guidelines. Gile could be a factor in the giant slalom as it's the discipline, where he's put the most emphasis during 2020-21.
Check fis-ski.com for start lists and race times. Instagram, Facebook, and Twitter are also providing coverage.
The rest of the 2021 U.S. Alpine Championships' schedule is as follows:
Tuesday, April 6: Giant Slalom national championships, men

Wednesday, April 7: Super-G/Alpine Combined, men

Friday and Saturday, April 9-10, Downhill training for men and women

Sunday, April 11, Downhill national championships for men and women

Tuesday, April 13, Super-G/Alpine Combined, women
Thursday, April 15, Giant Slalom national championships for women

Friday, April 16, Slalom national championships for women