EAGLE — After heart-wrenching statements from midvalley residents whose homes were destroyed by the Lake Christine Fire, and tearful apologies from defendants Richard Miller and Allison Marcus, a judge Monday sentenced the couple to 45 days of jail each, and ordered them to complete five years of probation, 1,500 hours of community service and pay $100,000 in restitution.
In their first public comments, Marcus and Miller fought tears as they told Judge Paul Dunkelman that they were not aware of the type of ammunition she was firing from a rifle on July 3 at the gun range near Basalt. This included an incendiary tracer round that burst through a paper target, ignited tinder-dry brush and exploded into a huge blaze that nearly overwhelmed El Jebel, Basalt and Missouri Heights, according to authorities. Three homes were lost as the fire, which started during Stage II fire restrictions, eventually consumed roughly 12,600 acres, forced the evacuation of thousands and injured at least one firefighter.
Andee McCauley, who with her husband Bill lost their home on Lava Drive in El Jebel, said she would "never wish this on anyone this year."
"The Lake Christine Fire took my home and my security with a hellacious vengeance," she said, talking of the "sheer terror of evacuation" as the fire flowed "like molten lava" down the ridge to their home. "Soot, ashes and tears are all that I have," she said.
Andee McCauley said she continues to grieve for the loss of her grandfather's handwritten journals dating from the late 1800s, her grandmother's pearls — "my daughters and I spent hours looking for those pearls" — and her father's violin, art, furniture, family photos, a large collection of tools, "and so many memories." She ticked off the emotions she felt: shock, hopelessness, depression and anger — a lot of anger. She said she hates the word victim, however, because "I am a survivor."
Bill McCauley said he had invested 30 years into their property, and that "memories are there, the memorabilia is gone. Ignorance of the laws, as far as I know, is not an excuse. I hope to god that these kids figure that out."
"The reckless actions of the defendants destroyed our earthly possessions," Andee McCauley said. "I want to hear something that makes me feel like they actually care about what they have done to destroy my life."
Tearful remorse from defendants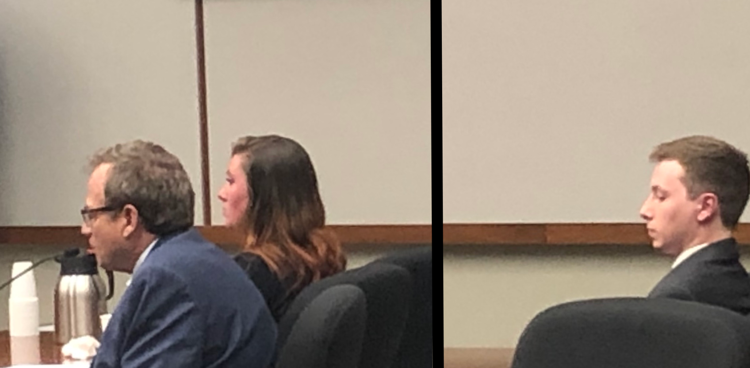 Up to that point, the defendants had mostly stared straight ahead without emotion. But both broke up when they addressed the judge.
Marcus, 22, who pleaded guilty in May to a misdemeanor charge of setting a woods or prairie on fire, said through tears that she wanted the community to know "how truly sorry I am. I did not realize I was shooting tracer rounds. I would not have done so if I had recognized the risk I had created."
She said she has thought every day about the destruction the fire caused and "am so very sorry."
"I wish that day never happened, and I really want to thank and admire the men and women who worked so hard to put out the fire," she said. "I intend to do whatever I can to repair the harm."
Miller, 23, also said his girlfriend was unaware that there were tracer rounds in the ammo tin she was using to load the rifle. He said, haltingly, that he also didn't know that type of bullet was in the tin. Miller said he didn't load the rifle Marcus was using and instead went to a separate part of the range to fire a shotgun.
"Before I know it, I got a call from Alli: 'There's a fire!'" he told Judge Dunkelman.
He had no idea what sparked it, but when he saw the flames down range, "I immediately did everything I could to try to put the fire out myself," he said, anguished — including, according to his attorney, sprinting to the flames and trying to douse them with bottles of Gatorade. "I wish there was more that I could have done. But it happened. I really wish it didn't happen this way.
"To this day I have not been able to put out the fire of regret in my heart. I really wish I had looked and recognized tracer rounds were in the ammo tin. I am sorry."
Like Marcus, Miller pleaded guilty to the same misdemeanor in exchange for three felony arson charges being dismissed.
Victims tell of panic-stricken escapes and saving, or losing, cherished possessions
Kara Williams said her family lost their rental property next to the El Jebel Mobile Home Park, but that her brother-in-law, Cleve Williams, a deputy fire chief in Basalt, and other firefighters managed to save their home on Vista High Drive, with Cleve using a garden hose to spray down the residence.
She described a panic-stricken scramble to grab irreplaceable photographs, her wedding dress, jackets, cell-phone chargers and whatever else they could take amid "the most frightening sight I've ever seen," Kara Williams said, describing the fire at that point as "wild and out of control."
Cleve eventually told his brother, Quent, that Cleve's home had been burnt to the ground, and "we're fighting to save yours," Kara Williams said. She credited a higher power and the heroic actions of Cleve Williams and other firefighters as the only reason her Vista Drive home is still standing.
But she said the landscape has been permanently damaged, with numerous trees burned to a crisp and ponds on their rental property still covered by black, charred trees.
Kerry Williams, Cleve's wife, said their home burned to the ground early on July 5, and every facet of their lives were impacted. She ticked off the mundane with the deeply personal: ice scrapers, hobby equipment, ice cream bowls, mugs, outdoor equipment: gone; "every book that I used to read to my kid, or used as a professional resource: gone." Letters from her grandmother, recipes, hand-crocheted baby blankets, baby videos, family heirlooms, her kids' artwork, "my wedding dress: all gone."
Kerry Williams said the emotional and physical losses were so severe, she was forced to take a leave of absence from her teaching job.
"The last thing I did before leaving my house was pray no one would be hurt trying to save my house."
But at least one injury did occur. Firefighter Tom Dunlop told Judge Dunkelman that he was called out of retirement in the days after the fire ignited, and used a bulldozer to create an access road for other firefighters. Traveling downhill after that effort, his vehicle struck a boulder. It flipped the dozer forward, and the vehicle began rolling, knocking him unconscious. Another dozer operator used his vehicle to ram Dunlop's dozer to halt it, and another firefighter was able to extricate him.
A helicopter airlifted Dunlop, suffering a large laceration that would later be diagnosed as a brain injury, off Basalt Mountain — but only after a Prescott, Ariz. fire crew cut a trail and opened up a landing pad for the copter. Dunlop told the judge that the last piece of glass from the accident was removed from his skull on May 24.
Judge to defendants: You are now part of this history of this valley
Kara Williams and others said the defendants' community-service component needs to be related to the damage caused by the fire. Judge Dunkelman agreed, urging the probation department, which has discretion over that punishment aspect, to order Marcus and Miller to help rectify the damage rather than carrying it out at, say, an animal shelter or another unrelated endeavor.
The judge, saying the plea agreement was fair and just, allowed the defendants to serve their jail sentences through work release, meaning they will be locked up at night and can work during the daytime.
"The two of you are now part of this history of this valley," Judge Dunkelman said. "That's a huge responsibility to be part of the history of a valley like this. But you haven't written the last chapter."
He urged them to show that their statements Monday in court truly reflect their character. And the judge said the jail sentence (44 days with credit for one day served) is not light. When you are a 22- or 23-year-old who's never before been in trouble, when that cell door "closes on you, it's a scary moment."
He acknowledged that physical scars to the landscape, and emotional ones for the victims, are likely to last for generations. As for the latter group, he complimented their strong and united families, and the supportive community as a whole.
"I wish you strength in finding peace as you move forward," the judge said.