Early local election returns showed overwhelming support for a new tax on tobacco products at all retail outlets in unincorporated Pitkin County.
Shortly after 7:30 p.m. Tuesday, the tax had the support of 2,208 voters, or 78 percent, and opposition from 626 voters, or 22 percent, according to the incomplete and unofficial returns. While more than 1,000 more ballots were expected to be counted by the evening's end, Ballot Issue 1A was presumed to be a lock for victory.
"I think the vote was reflective of a community that doesn't smoke tobacco that much," Pitkin County Commissioner Greg Poschman said. "It's hard to imagine the result changing."
And it did not. At nearly 9 p.m., new totals showed the tax had the support of 2,930 voters and opposition from 820, with only a few hundred votes remaining to be tallied.
Poschman, who also is a member of the county's board of health, noted that there was no official campaign tasked with pushing for the tax. It was a grassroots effort that grew from the city of Aspen's successful passage of a tobacco tax two years ago and wound through the county's fledgling board of health and also its public health department last year and this year. In late summer, after gathering information from numerous sources — including Dr. Kim Levin, county medical officer, and Karen Koenemann, county public health director — commissioners decided to place the tax on Tuesday's ballot.
"I think we're doing the right thing," Poschman said. "We're trying to be proactive."
However, he noted the irony of Aspen's longtime standing as a permissive party town, with multiple marijuana purveyors and numerous drinking establishments, which contrasts sharply with local health-conscious attitudes.
"We're a sophisticated community, we have the full range," Poschman said. "There are lots of people here who are self-medicating. It's good to know we're health conscious when it comes to smoking and vaping [tobacco]."
Starting Jan. 1, the per-pack price of cigarettes in the county will increase by $3.20. The figure was designed to mirror the per-pack tax structure implemented by city of Aspen voters two years ago. The rate will increase by 10 cents per year until it reaches $4.
Along with the per-pack tax, voters agreed Tuesday to place a 40 percent tax on all other retail tobacco products.
Poschman and Koenemann have said the money derived from the tax will be used to fund programs aimed at tobacco cessation and substance-abuse prevention. Some of the revenue will go toward mental-health programs as well. The details have yet to be ironed out via the county's budgeting process.
In recent months, Koenemann has been speaking to commissioners about the rise of teen vaping, not only across the state but locally. According to a county news release last month, the state Department of Health and Environment recently reported its ninth case of disease linked to vaping. The county is "stepping up outreach" to people who vape or use e-cigarettes, and their families, to ensure they are aware of the risks, the release states.
"This is a serious disease. We have seen over 30 deaths across the country that were completely preventable. And the people who have died were otherwise completely healthy, young people," Koenemann said in a prepared statement.
Later, she followed up with information from the Centers for Disease Control suggesting that one of those U.S. deaths connected with vaping was recorded in Colorado. The death occurred in Denver a little more than one month ago.
"We just don't want people to put themselves at risk," Koenemann said last week.
As a county employee, she could not promote the ballot item; but Koenemann has been quick to provide information related to the health dangers of tobacco use and vaping. County health officials say the teen vaping issue snuck up on the community quickly in the last few years after Big Tobacco launched alternative products, such as flavored e-cigarettes, that caught fire with youths.
Poschman lauded the efforts of Koenemann, Levin and the county board of health. 
"Karen has been on board for a couple of years and she runs a great department," he said. "She is addressing issues that had gone unaddressed."
Commissioners are expected to take up the issue of raising the minimum age for tobacco purchases from 18 to 21 and also a potential ban on flavored tobacco products later this year.
Aspen voters in favor of keeping excess revenues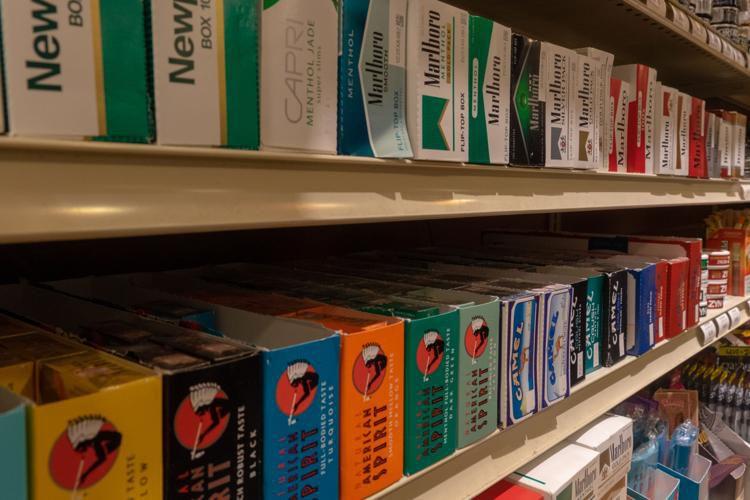 City voters also overwhelmingly supported a ballot question Tuesday asking if the city of Aspen can keep tobacco tax revenues collected over the estimate presented to voters when they approved a dedicated tobacco tax in 2017.
In early returns, Ballot Issue 2A passed with 947 yes votes to 270 no votes, or 78 percent to 28 percent.
In the 2017 election, where 75 percent voted for a tax that escalates from $3 to $4 per pack of cigarettes and 40 percent on other tobacco products, the city estimated that tax would bring in $325,000. Instead, it brought in $436,622 in 2018. Because of the Colorado's Taxpayer's Bill of Rights constitutional amendment, the city was required to go back to voters to ask permission to keep the funds above the estimate published with the 2017 ballot language.
With the approval of Ballot Issue 2A, the city will be able to keep all the excess funds from 2018 and all funds generated by the tax going forward that are above $325,000 a year.
If the tax had failed, the city would have had to suspend collections temporarily or come up with some other way to refund the money. 
Aspen City Council last summer backed a plan to spend the money in partnership with the Aspen School District and its Aspen Family Connections program, as well as Mind Springs Health, to focus on youth substance abuse prevention and awareness. That was identified as a gap in the continuum of care available in the local community and deserving of the funds, if voters approved keeping the excess.
The ballot language as spelled out states that tobacco tax funds can be spent "for the purposes as approved by the voters, including health and human services, tobacco-related health issues and addiction and substance abuse education and mitigation."